We're farewelling summer and the warm weather with a photograph by Sébastien Delbes from one of Osaka's biggest summer festivals – the Tenjin Matsuri. Congratulations Sébastien! Email your best snaps from around Kansai (with a caption telling us about the shot) to photo@kansaiscene.com
[box]
Kansai Scene T-shirt Competition!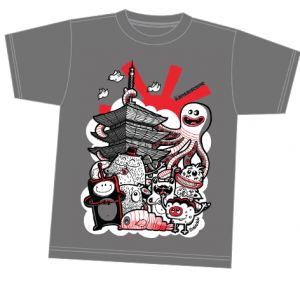 Call for Entries
Love Kansai? Want to share the love on a t-shirt? Get sketching and enter Kansai Scene's 2014 T-shirt design competition. Sponsored by Sweatshop Union T-shirt print shop, Osaka.
The theme: Kansai
Ultimately we are looking for designs that people would actually want to wear. Typography, illustration, graphic design – it's up to you.
The prizes:
One lucky winner receives 10 printed T-shirts of their design, an iTunes gift-card, and will have their work featured in Kansai Scene – the magazine and online. Not to mention the glory of seeing your T-shirts being worn around town!
The rules:
• Design must include the Kansai Scene logo
• You must use our special template (download from website)
• The design must be digital artwork (preferably vector)
• Use no more than 3 flat colors
• T-shirt color itself can be any color you choose
• Max 3 entries per person
• How to enter: Download the entry form at kansaiscene.com/t-shirt-competition/ and send your entries to competition@kansaiscene.com no later than December 7th 2014.
• All entries will be posted to our Facebook page and readers invited to vote for their favorites.
• A winner will be chosen by Kansai Scene on December 10th and announced in the January edition of the magazine.
[/box]