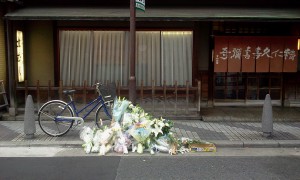 KS has received a poignant photo of the scene of the random knife murders in Shinsaibashi last month. The photo was sent in by reader Ray Franklin and shows the mound of flowers left in tribute to one of the murder victims.
On June 10th, Kyozo Isohi, 36, attacked and killed two people on a busy Shinsaibashi street. The victims were 42-year-old music producer Shingo Minamino and 66-year-old bar owner Toshi Sasaki.
Isohi is unemployed and homeless, and was recently released from Niigata prison serving a term for assault and possession of drugs. After his arrest, he told police that in despair about his finances and his future he bought a knife with the intention of killing himself but unable to go through it, reasoned that if he killed someone, he would be executed.
Osaka's prefectural governor Ichiro Matsui courted controversy by saying that Isohi should have just killed himself and that there were plenty of suicide options that wouldn't bother or harm anyone else.