News
Suma, Kobe rocking on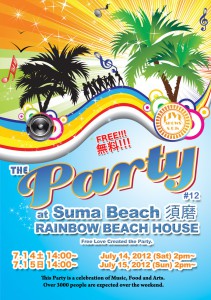 Suma beach, celebrated in popular culture, parties, and eye-catching swimwear is open for summer business, according to Kobe city's website, on July 5 and will remain open until August 31.
The beach plays host to various popular events in addition to the usual attractions of lazing about in the sun. For many people the principal event of the season is Party at Suma Beach #12 at Rainbow Beach House, which this year is happening on July 14 and 15. Thousands of partygoers will descend on Suma for a weekend of music from a huge lineup of DJs, bands and dancers — check the website below.
This year, on the 14th, the fun doesn't have to end when you step off the beach because four popular Kobe venues are ensuring the party continues in town. Iznt, Hobgoblin, Midnight Express and Trinity will be hosting events making two days and a night of constant revelry. See the Kobe Rocks advertisement in this issue of KS and check the hosts' websites for more details.
Party at Suma Beach #12 at Rainbow Beach House
• www.iflyer.tv • Facebook: www.facebook.com/internationalpartyrockers