Books
Best of both worlds?
Japanese at school, English at home – bilingual kids seem to have this language learning in the bag. Or do they? Here's some support for the parents.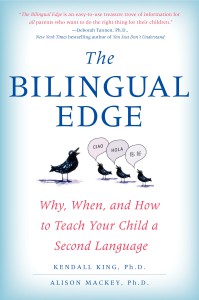 As the saying goes, "When in Rome, do as the Romans do." But in a rapidly globalizing and mobilizing world, Rome could just as well be in the middle of Osaka as in Italy.
There are many reasons that lead foreigners to move to Japan and eventually settle here, but one thing most of us share is the desire to pass on our native language to our children, and help them learn Japanese as well.
Enter The Bilingual Edge: Why, When, and How to Teach your Child a Second Language by authors Kendall King and Alison Mackey, both professors of linguistics at Georgetown University. While both are specialists in bilingualism and second language learning, they are also mothers of young children, so know first-hand the challenges of raising and teaching children another language.
It was when they became parents that they realized how badly a book like this was needed.
"We noticed three things: first, the overwhelming enthusiasm and desire among many, many parents to pro-mote early second language learning; second, widespread misunderstandings about how second languages are learned … and third, a remarkable lack of unbiased, scientifically based – but understandable – information out there for parents," they write.
The result of their collaboration is a fact-based yet easy-to-read book on how to help children learn a second language. While it presents lots of research and data, the information is made user-friendly with sections like "Fast Facts" and "Quick Tips", real-life stories, as well as a wrap-up after each chapter that gives readers the important take-home message.
The nitty-gritty of the book comes in when they begin debunking the myths of bilingualism. We have to start early or we will never learn another language? Not true, they say. While native accents are more easily acquired young, different age groups simply learn differently and can still gain a relatively high mastery of the language. They also caution us on depending too much on technology to teach our children a foreign language. In truth, nothing compares to interaction with a real, live human being, even one with minimal skills in the second language. So counting "ichi, ni, san" while you help your child walk might actually be better than having them watch Japanese cartoons alone.
If you're looking for a well-organized, encouraging introduction on how to raise your children in more than one language – from people who know what they are talking about – this book has what you need.
[box]
Authors' top language tips:
• Even if you are not fluent in the majority language, use it in fun, everyday activities such as playing songs and games, reading them books, and in everyday conversation and routines.
• Use the minority language at home more than the majority language to provide space for that language to grow.
• Mistakes are a sign of progress; it shows that the child is learning. Instead of constantly correcting them, parents are better off engaging their child in conversations and modeling the correct forms.
• Digital media sources are not very effective in promoting second language acquisition on their own. They are better as an add-on to meaningful human interaction.
Author: Kendall King, Alison Mackey.
HarperCollins, 2007. ISBN: 9780061246562
[/box]