Books
Eat up some history
Five years in the making, a Kyoto resident's book looks at affordable eats in a machiya setting.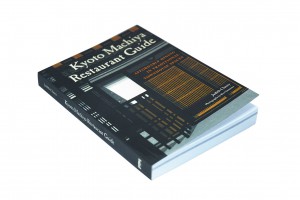 Machiya, the historic wooden town houses of Kyoto, are a distinctive feature of the ancient capital. They were built for merchants and artisans with a shop space at the front and a living area at the rear. The architectural style and concept of the machiya is centuries old, but most of Kyoto's remaining machiya were built in late 19th and early 20th century. However, modern development has seriously threatened this cultural heritage. While the number of machiya continues to decrease, many have been renovated not only as homes but also as cafes, bars, restaurants, boutiques and even hair salons.
Writer Judith Clancy has lived in Kyoto since 1970 and introduced many international visitors to the city's cultural traditions. Noticing the lack of information available in English about the exciting new food culture developing in renovated machiya, Clancy spent five years researching machiya restaurants. The resulting book, which includes a detailed history of machiya with photographs, recommends more than 140 restaurants in different areas of Kyoto serving a variety of cuisines. The emphasis is on lunch at reasonable prices. "Who needs another Michelin guide?" says Clancy. "My book addresses a need for people who are a little adventurous and want to sample what a particular restaurant has to offer."
Clancy also explains that most tourists who come to Kyoto rarely have a chance to see inside a traditional home, and so she has aimed her book at lovers of townhouse architecture and food enthusiasts.
Dining in machiya is a special experience, Clancy says, pointing out the intimacy of the structure, the textural feel of the interior with its earthen walls and exposed wooden beams, and the internal garden. Clancy says she was also encouraged by the increasing number of young chefs setting up in renovated machiya and experimenting with Japanese and international cuisine. "There's a playfulness factor along with the risk," she says. Consequently, almost half the restaurants listed in the guide serve non-Japanese cuisine, such as Thai, Spanish, American and Israeli food, along with the ubiquitous local favourites of French and Italian cuisine. Clancy's justification is that "…since local cooks must use the same markets, almost all dishes, regardless of their national origins, have distinct Japanese ingredients."
Also included in the guide are a lot of historic stone buildings now housing restaurants, such as banks and public offices, which are not strictly machiya. Clancy says this is because she felt they are of great historic value and also deserved attention.
"These buildings are now between 100 and 120 years old, and the handblown leaded glass, hand-set tile floors and high ceilings are still attractive," she says. While realising that lack of money and motivation is the "chief culprit" in the decline of machiya, Clancy hopes that her book will contribute to greater appreciation and conservation of the historic wooden townhouses.
Kyoto Machiya Restaurant Guide: Affordable Dining in Traditional Townhouse Spaces
• Author: Judith Clancy • Stone Bridge Press, 2012 • ISBN: 9781611725490
[box]
Judith's Top 3 Most Romantic Machiya Restaurants
Gogyo (五行)
Tel. 075-254-5567
• www.ramendining-gogyo.com/shop_kyoto
"A ramen restaurant set in the beautiful old house once owned by Morgan Oyuki, the young geiko who married J.P. Morgan after he offered her a million dollars to do so."
Café Chocolat (カフェショコラ)
Tel. 075-211-2357
• www.cafechocolat.cc
"Soft pastel, Chagall-like paintings hang on the walls and of course, there are several rich chocolate desserts to drool over after the meal."
Robinson (ロビンソン)
Tel. 075-353-9707
• www.dreamwks.com/karasuma.html
"An old umbrella factory with a lovely seating area near the garden. The French/Italian cuisine is good and the frequent servings of freshly baked bread will not leave much room for dessert."
[/box]