Books
Zenbu Zen: Finding Food, Culture & Balance in Kyoto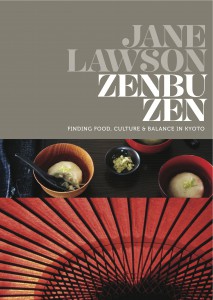 Burnt out after a stressful life as a book publisher in Australia, Jane Lawson escaped to Kyoto to immerse herself in Japanese culinary culture. A chef-turned food writer, photographer and blogger, Lawson had already travelled to Japan more than 20 times since she was a teenager. She'd written two books on Japanese food, but had never lived in Japan for more than a few months at a time.
Zenbu Zen (literally, "Everything is Zen") is Lawson's story of moving to Kyoto and immersing herself in the ancient capital's food culture. "Kyoto is a city of hidden life," she writes in the book. In person, Lawson emphasises it's also the layers of hidden knowledge in Kyoto that fascinate her. "It's a privilege to have people open up and share things with you," she says. Lawson intersperses her journey into Japanese food culture with more than 60 recipes. "There are no teriyaki or sushi recipes here," Lawson laughs while explaining that her book is intended to educate an international audience on real Japanese food. "It's amazing how much flavor you can get out of a few key ingredients, and how much food is connected to the rest of Japanese culture," she says. "I want to share that information."
The books starts with the savoury – a variety of dashi (stock) recipes – that Lawson says is "the most important element required to cook authentic Japanese cuisine" and ends with something simple and sweet – how to make the red beanfilled soft cakes called dorayaki. There are recipes for home cooking-style dishes, street-food snacks, as well as helpful tips on making tricky items such as nama yuba (soy milk skin) and toshikoshi soba (year-crossing buckwheat noodles). Lawson says her aim is for "more people to eat and experience Japanese food themselves."
As balance is one of the themes of the book, Lawson has also detailed her frustrations and stomach upsets. She has suffered greatly (and more than once) from eating sea slugs and becomes "tired of paying exorbitant prices for average kaiseki." For foodies intent on having a quintessential Kyoto culinary experience, Lawson recommends you do your research, "if you are not discerning enough…food in Kyoto can become rather repetitive."
The period of Kyoto life that Lawson describes in her book ended one day before March 11, 2011, when she flew back to Australia. Acknowledging the damage to Japanese food culture caused by the natural disaster, she hopes more foreigners will start to embrace Japanese cuisine and cultivate its unique ingredients. Zenbu Zen is a snapshot in time, Lawson says, but she hopes it also inspires people to visit Kyoto. "Even after 27 years spent pacing between my two 'homes', I have really only begun to scratch the surface of Japan's incredible culture," she says.
Jane Lawson's blog: eatspeakjl.blogspot.com
---
Author: Jane Lawson • Murdoch Books, 2012 • ISBN: 9781741968415
[box]
Jane's Top 3 Kyoto Food Experiences
Takakura (高倉)
Tel. 075-231-5633
"An older husband and wife team run this humble izakaya serving technically perfect fare cooked with great care and passion. It always feels like a privilege to eat here, yet the prices are so reasonable. A real local foodie's joint."
Soujiki Nakahigashi (草喰 なかひがし)
Tel. 075-752-3500
"For beautifully presented, thoughtprovoking kaiseki using locally foraged ingredients. Expect a serious investment of time and money for an experience you won't forget."
A Womb
Tel. 075-721-1357
"A large, unusually modern Zen space serving elegant but relaxed courses and lunch plates – including clever variations on sushi and tempura utilising Kyoto vegetables. Charming service."
[/box]