Books
A blooming brilliant book
A Canadian teacher hitchhikes from south to north following the blossoming sakura, but discovers much more about Japan along the way.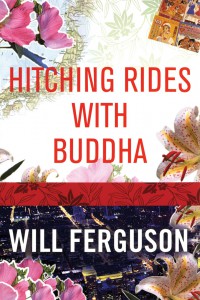 There are many travel books about Japan, but none as passionate, detailed and downright clever as this one. I first stumbled upon it about six years ago, looking for some insight into Japan before I applied for a job here. In hind-sight I couldn't have picked a better guide to tempt me to these shores.
Will Ferguson's adventure began like many – with a suggestion over some booze. While enjoying the cherry blossom with fellow schoolteachers, he vaguely said he'd like to follow the progress of the blooms as they open from southern Japan to Hokkaido in the north. The next day his coworkers were already planning out the trip for him, so a suggestion became destiny. But destiny with one simple rule: he decided to hitchhike the whole trip.
Japanese friends puzzled over this particular detail, gently reminding Ferguson of the efficient Bullet Train. But it's this detail that transforms Ferguson's story from one simply about the efficiency of Japan's public transport (which we all know to be true) to one rich with surprising, quirky and meaningful encounters.
He writes: "To really worm your way into off-track Japan, you need to travel in the company of people who live there. Train passengers… ultimately remain spectators. Hitchhikers are co-conspirators, fellow travellers."
As he travels through big cities and country roads with only his thumb for fuel, Ferguson meets a whole cast of char-acters. His story is less about the blossoms themselves, and more about the people that take him to them. He explains shinto beliefs, Japanese ideals, his feelings about the term gaijin, and many other key cultural concepts in a very simple, observant way.
Though it's not a travel book per se, Ferguson's descriptions of the many towns dotted across his route give a better insight than any Lonely Planet guide. He catches the blossoms in all their glory at Himeji Castle, and throws in some local history as he describes being welcomed by the crowds. Ferguson is knowledgeable, but never big-headed, sliding in the facts as a friendly whisper in the ear only.
Of course, his journey isn't all delightful people and easy travelling, and that's when it really gets interesting. The mean people of Fukui didn't take pity on his rain-sodden form for three hours, and leaving Kanazawa he managed to get arrested for hitchhiking on a national expressway.
Throughout the book, Ferguson writes with an easy tone, as if you're just hitchhiking alongside him, and keeps his chapters short, with not a syllable wasted. A few maps dotted throughout help you keep track of where he is geographically.
Re-reading this book now that I've lived in Japan, I find myself smiling in recognition, yet still finding new and interesting points I want to explore too. This book's a travel guide, a unique insight into Japanese culture and history, and an homage to Japanese people, all rolled into one. Ferguson no longer lives in Japan, but is back in his hometown of Canada with Japanese wife Terumi. Reading his Japanese journal, I'm inspired to hit the road more myself, and can only hope to make even half the memories he did.
[box]
• Title: Hitching Rides with Buddha
• Author: Will Ferguson
• Publisher: Canongate U.S.
• ISBN: 978-1-84195-785-2
Note: Previously published under the title Hokkaido Highway Blues
www.willferguson.ca
[/box]