Feature
A taste of craft beer heaven
In a part of the world where craft beer isn't exactly drizzling from the typhoon clouds, Ai Tani saves the day and aims to deliver us from our combini beer-chugging ways.
It's true that Japan certainly isn't a place that springs to mind when we talk about craft beer. While there may be pockets of beer connoisseurs dotted about the country and a smattering of good micro breweries, this country that sometimes seems to have everything curiously comes up lacking in this field when we compare it to Europe and America. However don't despair Kansai dwellers, for Craft Beer Base offers salvation in these dark, dark times.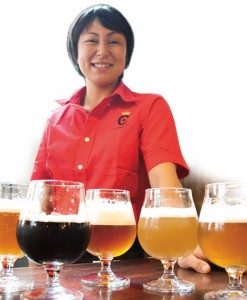 Opened in June 2012 in response to the distinct dormancy of the Japanese craft beer scene, this wholesale establishment is the brainchild of Ai Tani, a Kagawa University economics graduate and ever-growing big name in the craft beer scene.
"In Japan there just weren't a lot of craft beers available, and people were drinking the same beers week in week out," explains Tani. "My mission always has been to spread the word of craft beer and change the culture of how people drink by making beer more of an experience than just a way to get tipsy."
And an experience she provides, stocking more than 300 divine beers at any given time imported with passion from the most micro of micro breweries from Germany to the US to Scotland and everywhere in between. What's more, despire their rarity and the distance many of these beers have traveled, the prices are reasonable, averaging at about ¥450 per 330ml bottle, which can be picked up singly to be drunk on site, or bought in bulk to be enjoyed at home. Tani reveals that her best sellers are the brawny Green Flash West Coast IPA from San Diego, which is a favourite of gaijin bar owners, and Japan's own Baird, which comes from Shizuoka prefecture and, I can report, bears the balanced lightness and "ahhhh" factor characteristic of Japanese craft beers.
The spectrum of brews is best enjoyed in the venue's beer cafe where Tani has created a relaxing setting of ambient Jazz, minimalist wooden décor and bountiful brewing memorabilia from all over the world. To compliment the minimalist theme, Tani has also done the walls in a perfect white that is tarnished only by the inscriptions of big wigs within the craft beer universe. Among those of various brewers, the presence of scribbles from none other than The Brewer's Association president, Charlie Papazian make it plain to see that Craft Beer Base is making some serious waves. Despite her already tangible presence, Tani has no intention of slowing down. She reveals that as well as taking her craft beers on the road to various beer and music festivals and continuing with the various events that have contributed to her notoriety, 2014 will be the year she sets about extending her beer selection even further, aiming for Italian and French brews. In other words, craft beer lovers, you're in for a treat!
[box]
• Address: 1 -2-11, Oyodominami, Kita-ku, Osaka 531-0075, Kita-ku, Osaka 1-2-11 Oyodominami
• Open: 11am–11pm, Thursdays 3pm–11pm
• Tel: 06-6131-7015
• Website: craftbeerbase.com
• Email: ai@craftbeerbase.com
[/box]