Feature
Beyond Kansai: Catching Winter Sun in Okinawa
If you are seeking a subtropical escape from the frigid climes of Honshu this winter, then look no further than the Yaeyama Islands. Located at the far end of Okinawa, Japan's southernmost prefecture, this is as about as far away as you can get from Kansai without leaving Japan! Indeed, the islands were formerly known as the Ryukyus: an independent kingdom that developed cultures and languages highly distinct from those of Japan. While the islands' sandy beaches and coral reefs have long been a mecca for water sports aficionados, the relatively warmer temperatures (with average highs of 20 degrees Centigrade) in Okinawa from December to February lend themselves equally well to onshore explorations. The author visited the small, lush isles of Ishigaki and Iriomote.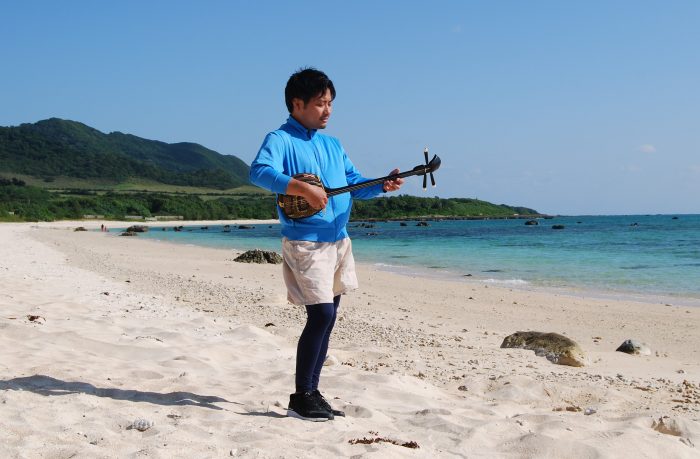 Ishigaki Island – Sandy beaches, blue ocean and a dose of Ryukyuan culture
The best way to explore Ishigaki at your own pace is to rent a car. If not an option, consider joining a small group tour offered by Utakuna Ishigakijima (utakuna-ishigakijima.com), a tour company operated by the Tomoris, a charming wife-and-husband team committed to preserving Yaeyama culture into the future. The author joined a tailor-made excursion to see the islands from a local perspective.
Mr. Tomori grew up in Tonoshiro Village on Ishigaki and knows the island like the back of his hand. He also plays the sanshin, the snake-skin-covered, three-stringed precursor of the shamisen banjo, masterfully. An expert in local folk song, which he learned from his father, he takes the opportunity throughout the full-day tour around the island to serenade guests at his most beloved scenic spots, whether on secluded beaches or mountain tops.
Mr. Tomori drove us up the eastern coast and stopped first at Tamatorizaki Scenic Point, from where stunning views of the ocean gave us a first impression of the beauty of this island. At Funakuya Beach, a long stretch of white sand just beyond that was deserted when we arrived, he withdrew his sanshin and played to the crashing of ocean waves.
We cut through the island's interior to Mt. Nosoko Scenic Point where we treated to more splendid scenery. Depending on the weather and your level of fitness, Tomori-san will accompany you up to its peak (282m) for a 360-degree view of the northern portion of Ishigaki.
The jewel of Ishigaki's beaches is Kabira Bay, which faces out onto an emerald-blue lagoon that evokes a desert island in the Pacific Ocean. Postcard views are to be had from the higher up observation platform located near a small shrine. Swimming is not permitted at here, however taking a glass-bottom boat cruise run by Kabira Marine Service (kabiramarine.jp) of the vibrant coral reefs is a rewarding experience.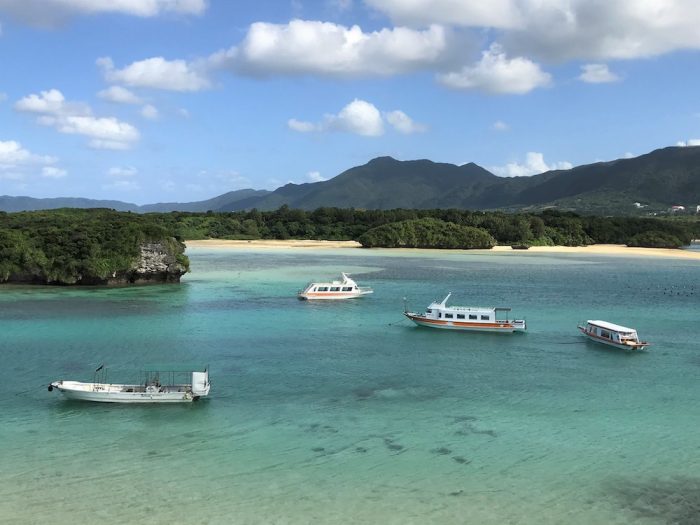 Our final stop of the day was Ishigaki Yaima Village (yaimamura.com), visitors can tour a collection of restored or relocated traditional Ishigaki houses to gain insights into the premodern way of life on Okinawa. Built of a simple wooden frame with a red-tiled roof and the ubiquitous figure of a shisa protective lion-dog sitting guard on top. Most of the houses are about a century old, surrounded by a stone wall fashioned from corals and limestone. As you would expect, the interiors are designed for maximal air flow, but also emanate a sense of harmony with the home's natural surroundings. As for those travelling with children, they will surely delight at the group of squirrel monkeys that frolick in the dedicated garden here and are keen to interact with visitors (and are especially curious as to the contents of your pockets and bags).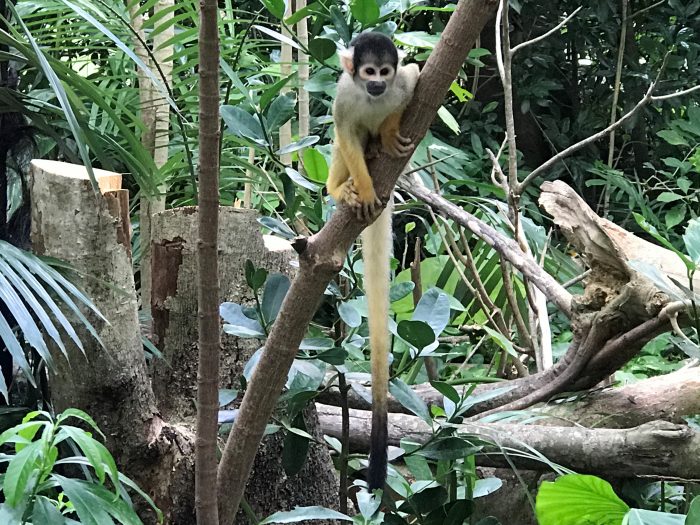 Southern Ishigaki is the island's administrative hub and where most of the population live, as such has a wealth of options for dining and entertainment. Why not try the local specialty: mouthwatering Ishigaki beef at one of the steak houses around Shiyakusho Street and wash it down with some awamori spirit from one of the ten breweries located on the Yaeyama islands, or perhaps an Ishigaki Island Beer.
We stayed at the Ishigakijima Beach Hotel Sunshine on the west coast and enjoy a splendid sunset over the hotel pool and the adjunct ocean. We even caught a glimpse of Iriomote Island, the following day's destination, looming large and mysterious in the distance.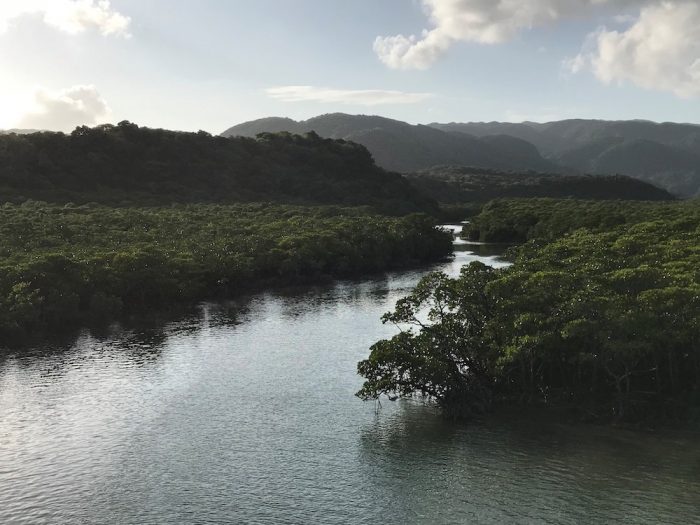 Iriomote Island – ecotourism meets adventure travel in the last jungle of Japan
Early next morning a 35-minute ferry ride from Ishigaki Ferry Terminal whisked us across to Ohara Port on Iriomote. What sets this island, and Ishigaki Island, apart from other Okinawan Islands is its lush primeval jungle that covers 90% of the island's interior, a designated National Park, and its three mountains are among the highest in the Okinawan archipelago. I had hoped to spot the beautiful and rare Iriomote wild cat on one of our night expeditions, but was told that this was highly unlikely since there are critically endangered, with only some 150 individuals left. As I as interested in learning more about them, I headed to the Iriomote Wildlife Conservation Centre in Komi District (www.iwcc.jp), where I also discovered the numerous other species unique to Iriomote, including the crested serpent eagle, the Kishinoue giant skink and the Ryukyu yellow-margined box turtle.
The island's few villages are perched near the coast, along with sugar cane and pineapple plantations, and home to about 2,400 people total, making it considerably less populated than Ishigaki. The main road connects these villages to northern and southern ferry ports at Uehara and Ohara respectively, where visitors can also pick up a rental car. The Urauchi and Nakama rivers, meander their way through the dense jungle, and along their estuaries are large mangrove forests also harbouring rich biodiversity. Tour operator Yaeyama Kanko (www.yaeyama.co.jp), operating out of Ohara Port, offers leisurely mangrove boat cruises up Nakama River. Our guide told us that one fourth of Japan's mangrove forest grows here in this basin alone, with as many as seven different species.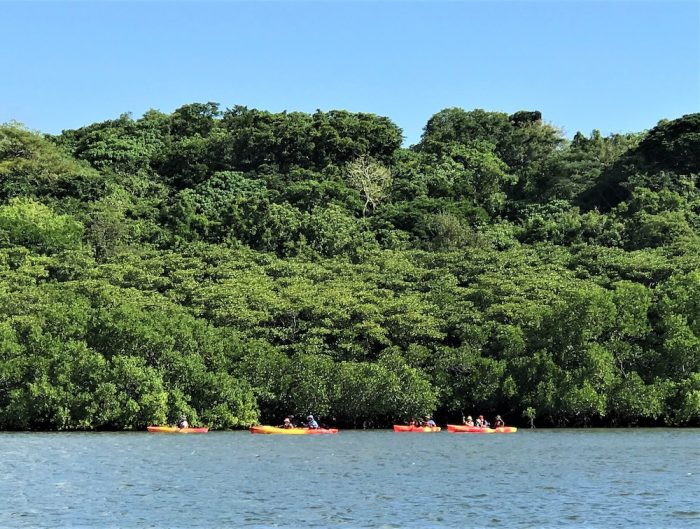 Guided half-or-full-day jungle trekking and canoe tours are more stimulating ways to learn more about this island's nature and wildlife while enjoying breathtaking scenic spots including the waterfalls at Kanpire, nearby Mariyudu and Pinaisara. Tours are run by knowledgeable local guides with private vehicle transfer included, and custom options are also available.
One of them is Mr. Mochizuki of Motti Iriomote Island Trekking Eco Tour (motti-iriomotejima.com). A Kansai native, he relocated to Iriomote 15 years ago and now shares his passion for the island's nature and outdoor activities with guests. We opted for a relatively short and easy trek to picturesque Kura Falls with him, and were impressed by the wealth of knowledge he was able to impart to us about its evergreen broadleaf forests.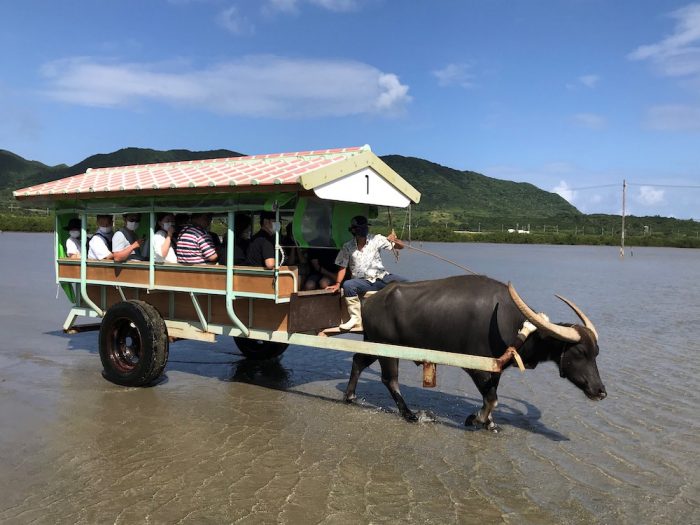 The afternoon called for a relaxing interlude on Yubu Island off the coast of Iriomote from Mihara District (yubujima.com/). The taxi of choice here is none other than buffalo cart. There are some 40 trained Asian water buffalos, known to the locals by name, which trudge the shallow waters between the two isles in 15-20-minutes.
Yubu Island, just over 2 kilometres in circumference, is dubbed the 'flower paradise' and we soon found out why: the entire island is a like a botanical garden. There are, amongst many others, 10 varieties of flowering subtropical palm trees and no fewer than 30 varieties of hibiscus.
The cosy Takemori Inn in the Ohara area and run by Yoichi Takemori and his wife Yukiko, was our accommodation of choice for our final night on the Yaeyamas. The feast of Yukiko's home-cooked dishes, including Yaeyama soba, using fresh local ingredients, was the perfect way to conclude our visit. Heading home, we consoled ourselves knowing this subtropical paradise was only a mere short flight away!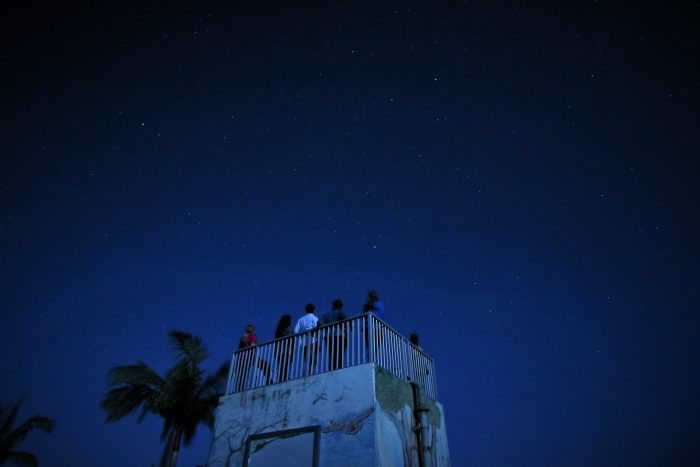 Insider tip: Stargazing
Stargazing after dinner or before breakfast has become a popular activity on both islands and we reconvened with our guide, Mr. Mochizuki, who took us to the fields near Otomi Village we could watch the impeccable night sky of the Yaeyamas in pitch darkness: a revelation for us urban dwellers who could never do this back home without the disturbance of street lighting!
Our stargazing escapades continued the next morning before breakfast, followed by a canoe tour along the Maira River at sunrise offered by Mr. Kamijo from Harubaru Canoe and Trekking Tour (harubaru-iriomote.okinawa).
In 2018, the Iriomote-Ishigaki National Park received accreditation as the first Dark Sky Park in Japan by the International Dark-Sky Association (DSA). Being close to the Tropic of Cancer, the atmosphere is stable and the night sky clear: the perfect conditions to see all First Magnitude Stars, the brightest stars in the night sky, as well as 84 of the 88 star constellations. Remember, though, that while the full moon over the ocean may be a wonderful spectacle, you won't see the stars so clearly on these nights!
Access and accommodation:
There are direct flights between Kansai International and Ishigaki Island with connections at Okinawa-Honten (Naha), operated by JTA, ANA and Peach Aviation (from Nagoya Airport).
Iriomote does not have an airport. From Ishigaki Airport, take an express bus (30mins; ¥500) or a taxi (approximately ¥3,000) to Ishigaki Ferry Terminal, which is the departure point for ferries to Iriomote, some 20km away. Yaeyama Kanko runs frequent high-speed ferry departures to Uehara (40-60min; ¥2,060) and Ohara (40min; ¥1,570) between 7am and 5pm.
There are hotels and guesthouses catering to all budgets on Ishigaki. While accommodation options on Iriomote are fewer, an overnight stay is recommended to fully enjoy all the activities on offer. The author stayed at Ishigakijima Beach Hotel Sunshine, in the new "Ocean Garden" Annex, (ishigakijima-sunshine.net) and at Takemori Inn, the "oldest accommodation on Iriomote" (takemori-inn.net).