Promotional Feature
Catch the Eco Drift in Miyakojima
Miyakojima is a water sports mecca, and home to a unique snorkeling and "slow-diving" tour – free in September and October – where you can discover this underwater paradise firsthand.
Izawa Yasushi has been waging a personal war against the crown-of-thorns starfish, onihitode, for the past 5 years. In that time he has cleared tens of thousands of these coral-sucking predators from the reef surrounding Miyakojima, in a determined effort to protect its reputation as one of the best diving destinations in Okinawa, if not the world.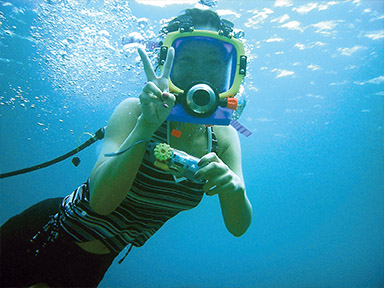 The tourism industry in Miyakojima is rapidly expanding, as word spreads of its crystal-clear waters, pictureperfect beaches and exotic marine life. To reduce the environmental impact of all these funseekers however, Izawa is at the forefront of promoting Miyakojima as an ecotourism destination. By educating holidaymakers and creating environmental awareness, he aims to protect the island, its beaches and marine habitat. Every tour and activity offered by his award-winning company Eco Guide Cafe, is designed to have as low an impact on the environment as possible.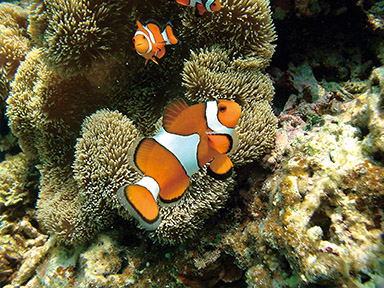 Twenty minutes by ferry to the north-west of slow-paced Miyakojima, lie the virtually uninhabited islands of Irabujima and Shimojijima; access to some of the best diving points and snorkeling beaches in Japan. It is here that you will find yourself knee-deep in the surf, gazing out across an impossibly blue ocean and listening to Izawa explain the three basic principles of his Eco-manner code of conduct.
"No food on the reef. No walking on the reef. No touching the reef." Got it.
Once submerged in the year-round warm water and comfortably breathing through the snorkel, finding Nemo here is not hard. He's everywhere in fact. The coral is teeming with life, with some 100 species of colorful fish of all shapes and sizes inhabiting this underwater wonderland. Thanks to Izawa's efforts, there are no spikey starfish in sight either, and quietly exploring the cove surrounding the idyllic Kayafa beach is a truly magical experience. It is worth remembering to cover up pale limbs (wear a rash guard) and slap on the sunscreen, because the sun is intense here and UV rays are five times more powerful than those we experience in Kansai.
But what if you want to get even closer to the action? Well, Izawa has devised a special beginner scuba diving experience as part of the monitor tour, that he calls Slow-diving. Unlike traditional scuba gear, there is no mouthpiece or complicated breathing apparatus to contend with. Instead, the ingenious full-face mask is supplied directly with oxygen from a tank strapped to your belly and allows you to breath normally, completely unhindered. With the scuba instructor also guiding your movements, it really is diving for dummies as you don't even need to use your fins. Simply enjoy the ride and marvel at the marine life flashing and darting before you. With visibility at least as far as 30 metres, the clarity in this marine wilderness is astounding.
After a few hours in the water, the Eco-lunch bento boxes are handed out. The locally prepared, wholesome and environmentally-friendly meal is contained within a plastic, reusable lunchbox. Refuelled and ocean-ready, the choices are two; back into the ocean aquarium for more sensational snorkeling, or further exploration of the reef from the seat of a kayak and the chance to catch a glimpse of an elusive sea turtle.
At day's end, the fading golden-pink glow of the sun's sign off is sure to add the trip's finishing touch, before returning to the hotel to quench thirsts on the local Orion beer.
Getting There
Flights to Naha from Kansai (2 hours) are inexpensive and operated by Jetstar Asia and ANA. Connecting flights to Miyako Airport (50 mins) are operated by ANA and Skymark. A free hotel shuttle bus will transfer you to and from the hotel.
---
Sign up for a free tour!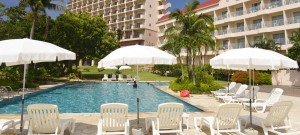 Fancy three days in Miyakojima? Just pay for your flights and two nights' accommodation (see below), and a one-day guided snorkeling/diving monitor tour is completely free. As a monitor, you are simply required to post your experiences of the tour to social media and other websites and become an ambassador for ecotourism. Travel on any three consecutive days between Sep 01–Oct 31, 2014. Simply specify your preferred dates when signing up at webman.jp/monitor-tour
*Please note that this monitor tour is offered only to foreign
nationals.
Accommodation
Accommodation is at the Hotel Breeze Bay Marina, part of the Shigira Resort (nanseirakuen.com) complex – the largest on Miyakojima. Offering accommodation across the spectrum, from self-catering apartments to super high-end luxury villas, the resort also features a stunning 18-hole golf course and the southernmost hot spring in Japan – Shigira Onsen. Rooms are clean and modern and offer fantastic sea views from their balconies. There is a good-sized pool to splash about in, and the hotel's small beach is great for collecting seashells (just don't take them home) and watching the hundreds of tiny hermit crabs weave across the sand at sunset.
*Special rates available for those wishing to extend their stay.
Dining and Shopping
Apart from a daily breakfast buffet and the lunch during the monitor tour, no meals are provided. The hotel has three restaurants on-site, including a teppanyaki restaurant and a buffet dinner option. There is also a shop to buy snacks, souvenirs and to stock up on suncream. Just opposite the hotel is the Ryukyu No Kaze, a semi-open air complex serving izakaya fare and stocking a range of souvenirs including Okinawan Awamori sake and locally-grown brown sugar. It's also a great place to enjoy the melodies of the traditional Ryukyu sanshin (shamisen), with performances every night of the week. A free shuttle bus operates around the grounds of the complex, stopping at the various resort restaurants (Yakiniku, Chinese, Italian) and its other hotels. To explore the rest of the island, visitors need to arrange a taxi or a rental car.
---