Travel
Paradise beneath the waves: Diving in Wakayama
If you think great diving requires flying out of Kansai, here's the happy news. Wakayama's underwater world has all the goods of big-name international sites without the hefty price tag.
"As the seasons change, every day is a different diving experience in Wakayama," says Toshiya Iwasaki, chief instructor of Nanki Seaman's Club. "In the winter, visibility can be as much as 25 meters, with normally unseen, deep-water sea life coming up to diving depths. And in the summer, the Kuroshio current moves close to land, bringing with it tropical sea life from Okinawa and Philippines. It's rare, but even mola mola, manta rays and hammerhead sharks have been seen."
Yes, he's talking about Wakayama – Kansai's holiday spot that's best known for hot springs, abundant fruit and the beach-party town of Shirahama. But this mountainous prefecture also happens to be one of Japan's premier dive spots, which means that scuba-loving Kansai residents have a cheap and satisfying dive destination that's only a car ride away.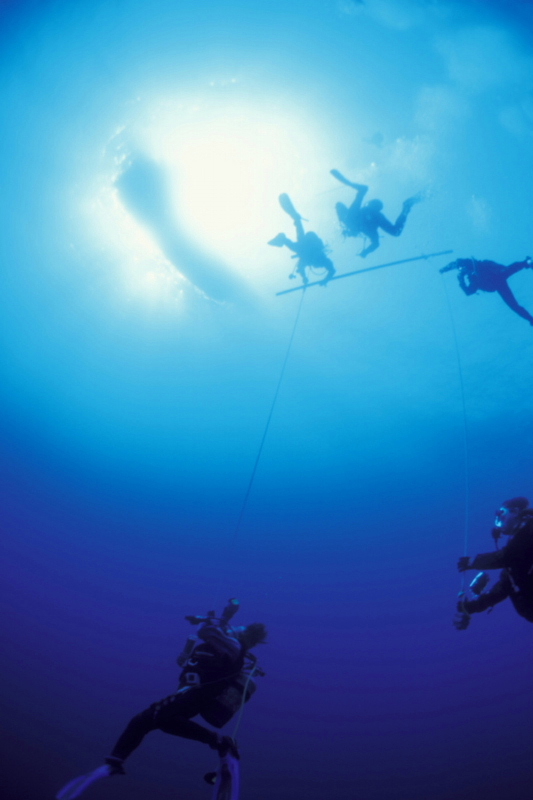 It's 9pm on a Friday night, and we've gathered outside on the Seaman's back porch. Sitting around the oversized hibachi with beers in hand, the charcoal glows red while lobster slowly cooks in its own shell on the grill.
I've just arrived at Kushimoto on the southern tip of Wakayama after wrapping up a day of work back in Kobe. Although I've chosen to take the pleasant four-hour drive through villages and mountains along Wakayama's coast, you could just as easily catch the Kuroshio Express train from Shin- Osaka, which takes only three hours.
For this trip, to keep costs down, I've chosen to stay at the Seaman's hostelstyle lodgings. The second floor of the club house has two large rooms (one men's and one women's) with bunk beds for about 10 people in each room. The rooms are clean, comfortable and reasonable at ¥2,800 a night.
After finishing the lobster and beer, we've come up with a preliminary dive plan for the next day. It'll be three dives, with the first being an advanced level dive outside Kushimoto Bay, and the next two in the calmer waters of the bay.
The next morning, we're up early, grabbing quick bites of toast and sips of coffee as we ready our gear for a 7:30am boat departure. We reach the first site, Ninone, just little after 8am. Being early spring, it's possible that plankton blooms from the warming waters can negatively impact visibility. But on this fine morning the water looks to be unusually clear, which only builds our excitement.
On entry and descent, we're not disappointed. Visibility is 12 to 15 metres. Reaching the anchor at 12 metres, swarms of sea goldies and other brightly colored small fish dart about, flashing gold, blue and silver in the sun. With this abundance of colour, it's hard to believe that we're not diving in the Red Sea, Bali or Okinawa.
Today, only a slight current tugs at us, but the site's normally strong currents make it an advanced dive where sound skills in drift diving are a must. As we descend over the drop off and move along the wall, longnose hawkfish dart in and out of brilliantlycolored soft coral. At 30 metres we reach the sandy bottom where meterlong coral grouper swim lazily about. Down here we also discover several small rays tucked into the sand at the edge of a field of Garden Eels swaying in the gentle current.
For the second dive we head across the bay to Bizen, one of my favorite dive sites. With calm currents and an average depth of 17 metres, it's well suited to both beginner and intermediate divers.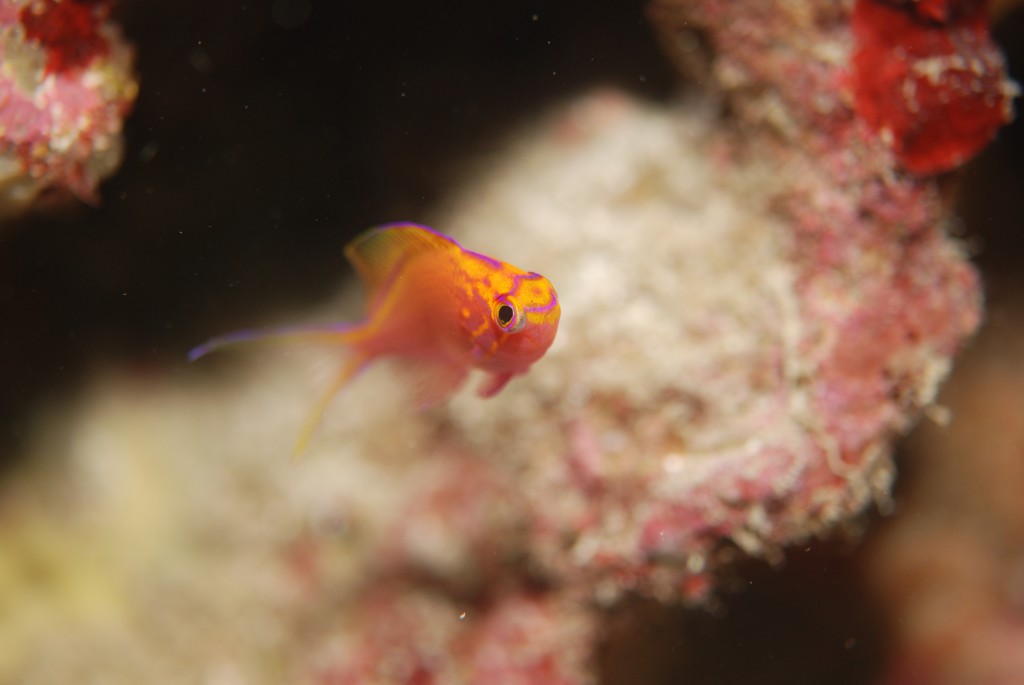 The site is a collection of mammoth, craggy boulders covered in beautifully colored soft coral. We dive down into the alley between two of these massive boulders. Above us, swarms of little sea goldies mix with schools of black and yellow Australian stripey, which remind us we're diving in waters from the tropics. Below, the bright orange, stern-faced azahata groupers swim lackadaisically about, and vibrant neon blue and purple scarbreast tuskfin approach us, hoping for a small crustacean handout. As we exit the alley, bright silver bonito flash by, feeding on a school of sardines.
For the final dive we enter at Glass World, a site known for its sea turtles that. With maximum depths of 12 metres and little current, it's perfect for beginner divers. After swimming across a large patch of white sand we're greeted by a field of huge fan coral. Drifting over the massive structure, we become so entranced by vibrantly colored eels coiled among the coral branches and fat lobsters clinging to the underside of coral fronds that we almost miss two napping sea turtles.
As we drift over the sleepy reptiles, the smaller of the pair is startled and shoots off like a torpedo. The larger one, however, is a little more curious and decides to swim lazily over to inspect our group, delighting us with numerous photo opportunities.
Driving back to Kobe, with the fiery orange sun setting behind the purple silhouette of Wakayama's rugged mountains, I think there is nothing better than the feeling of just having witnessed the wonders of the underwater world. And the thought that I'll be home in time for dinner.
Essentials
Getting There
By train:
JR Kuroshio Express, which departs roughly every hour from either Shin-Osaka or Tennoji, takes approximately 3 hours to Kushimoto.
By car:
Follow the Hanshin Expressway to the Hanwa Expressway, following it south as it becomes the Yuasa-Gobo toll road, then eventually Route 42. Follow Route 42 straight to Kushimoto. Approximately three hours from Osaka, and four hours from Kobe and Kyoto.
Diving Services
Dive Station (English spoken)
¥14,000 for two boat dives 642-1 Kushimoto, Kushimoto-cho, Higashimuro-gu, Wakayama Tel: 0735-62-7717 Email: aki@kushimoto.com Web: www.kushimoto.com
Nanki Seamans Club (Japanese only)
¥18,000 for three boat dives 630 Kushimoto, Kushimoto-cho, Higashimuro-gun, Wakayama Tel: 0735-62-1258 Email: nsc-2007@mb.aikis.or.jp Web: www.aikis.or.jp/~nsc-2007
Lodging
Minshuku Nanki
¥2,500 per person with free WiFi. A 10min walk from Kushimoto station. Tel: 0735-62-6155 Web: www3.ocn.ne.jp/~h21k
Urashima Harbor Hotel
¥5,400 per person. Spacious rooms with an onsen on site to warm up post-dive. Transfer service to and from Kushimoto station is provided. All rooms are smoking rooms. Tel: 0735-62-1011 Web: www.urashimachain.co.jp/harbor
Further Information
www.fourthelement.jp/KansaiDiving
On Facebook join 'Kansai Divers' Or contact the author: davidg@fourthelement.jp