Travel
All that glitters is gold coast
With Jetstar offering specials to the Gold Coast from around ¥50,000, this summer it's easy to escape the humidity without giving up your sunshine.
The state of Queensland is envied across Australia for its weather. Nicknamed "the Sunshine State", one of its most successful and apt tourism slogans is: "Beautiful one day, perfect the next." At no time of the year is this truer than during its winter. From May to August, daytime temps hover around 20°C, with crystal-clear sunny days, a glistening ocean, views as far as the eye can see – and the air-conditioning set to medium.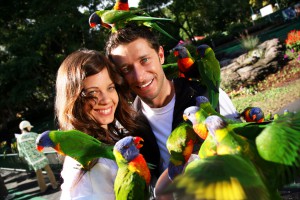 The Gold Coast is a 40km stretch of golden sand beaches and headlands backing onto a lush tropical rainforest hinterland. It was settled by farmers and saw millers in the late 1800s and soon after a string of coastal holiday villages grew up along the length of the coast. A city developed around these hubs, with an economy largely driven by tourism. During the 1950s and 1960s the coast really boomed as one of Australia's domestic tourism hot spots,famous for its relaxed,liberal, board shorts-and-bikinis beach lifestyle.
It all starts at Surfers
Interestingly it was Japanese developers in the 1980s bubble era who lead the charge to further enhance the Gold Coast as a tourist destination, injecting millions of dollars like steroids into Surfers Paradise, transforming it from a kitsch beachside enclave to a towering international tourist Mecca, complete with a Hard Rock Café and McDonalds. Now, the Surfers highrises that line the yellow sand beach are one of Australia's most recognised tourist icons.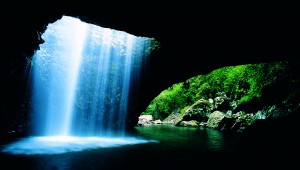 To be honest, most Australians bypass Surfers for the less developed, uncrowded gems that are found everywhere across the coast. But if you ask me, Surfers is the perfect place to start a Gold Coast holiday. After flying in, it's only a 30-minute ride to your apartment or hotel where your holiday can begin. The first thing you'll want to do is head to the beach – which will be no further than 100m or so from wherever you stay – to get some of that famous golden sand between your toes and wade in the postcard-perfect blue water. Water temps in winter are generally about 18°C, which really is a little too chilly for a relaxing dip, but not unbearable if you really must get in.
Get the party started
Wander back through town and start to plan the coming days. Within Surfers alone there are countless restaurants, bars and other attractions, and no shortage of information outlets and brochure stands to give you an idea of all that's on offer.
I recommend you get a feel for your surroundings with 360 degree views at the top of Q1 – what was the world's tallest residential building when it was built in 2002. For the more adventurous, it's possible to venture outside and climb around the building's spire, 270 metres above the beach.
Back at sea level, jump in amphibi-ous sightseeing bus – the Aquaduck – to tour the local beaches and canals, or check out the local attractions like the Ripley's Believe It Or Not! Odditorium or the special effects fun house, Infinity. If you want to get the adrenaline pumping, strap yourself into the slingshot bungee, take a ride on a jetboat, or don a wetsuit and take a surf lesson – you are in "Surfers Paradise" after all!
Beyond Surfers, the coast is your oyster. For families, it's no secret that the Gold Coast is one of the theme park capitals of the world. Between Sea World, Dream world and Movie World, there is something to keep every one happy.Oh,and don't forget the Currumbin Wildlife Sanctuary. Otherwise, check out the tourist brochures and choose your own adventure.
Get back to nature
If you're after a nature-based holiday, you've come to the right place. The hinterland's mountains are full of surprises, like O'Reilly's Rainforest Retreat where you can feed wild rainbow lorikeets, and take the Tree Top Walk along a series of suspension bridges among the rainforest canopy.
Nearby Natural Arch is a cave set deep in the cool rainforest with a waterfall plunging through its ceiling into a freshwater pool below. If you head there in the evening you can catch the sight of the waterfall in daylight, and then the cave illuminated by thousands of glow worms at night.
Back at the coast, make the most of winter's whale watching season by jumping on board a cruise sailing out into the open ocean. There you can marvel at migrating humpback whales heading north from Antarctica to the warmer waters off Queensland to breed. If you're lucky you'll catch some mothers and babies heading back south at the end of the season, or even the famous albino whale, Migaloo.
Kristian Lund is a Gold Coast-based journalist and
also publisher of Niseko's Powderlife magazine and
powderlife.com.
[box]
Getting there and around
Jetstar flies daily to the Gold Coast, leaving KIX in the evenings and flying in just after dawn. Sign up to Jetstar's newsletter to be notified of their specials, which are offered several times a year.Your best bet is to book a transfer to your hotel from the airport, as public transport is not worth the hassle. Once settled, buses are the cheapest and easiest option for getting around, while taxis are convenient but quite expensive and not recommended for long trips.Hire car is a convenient, affordable option, especially if you want to explore the length of the coast and get into the hinterland.
Check out www.experienceoz.com.au/gold-coast for activity ideas.
Where to stay
Sea Temple, Surfers Paradise
8 The Esplanade, Surfers Paradise
Seventy-seven floors of uber luxury right on the beach at Surfers. You really will feel on top of the world.
Mint, Coolangatta
80 Marine Parade, Coolangatta
Host to the world surfing tour's Quiksilver Pro, Coolangatta is the true home of local surfing culture.
O'Reilly's Rainforest Retreat, canungra
Lamington National Park Road, Canungra
Sleep among the sounds of the rainforest and explore the magnificent hinterland.
Where to eat
Dracula's cabaret Restaurant, broadbeach
1 Hooker Boulevard, Broadbeach
Not just a meal, but an evening of entertainment as well at this ever-popular cabaret restaurant.
Oskar's on burleigh, burleigh Heads
43 Goodwin Terrace, Burleigh Heads
Fine dining and spectacular views day or night alongside the Burleigh Heads surfing point.
Currumbin Surf Lifesaving club, currumbin
741 Pacific Parade, Currumbin
Perched on a rock jutting out into the ocean, locations don't get any better than this.
[/box]