Travel
Kinosaki: More Than a Hot Spring Town
Renowned and revered as a hot spring retreat, Kinosaki's visitors in the chillier months are as abundant as the famous snow crabs fished out of the local waters. Yet, there are plenty of adventures and activities awaiting adults and children alike the year round, both in this picturesque town and its environs. With the heat dying down, now is the perfect chance for newcomers, or those who have only experienced this Kinosaki's bathhouses, to discover another side of this welcoming corner of Hyogo Prefecture this autumn.
Kinosaki's Artistic Heritage
Chatting with locals of Kinosaki, they are likely to share that the town has a history of being a muse for artists. They're quick to tell interested visitors that the literary master Naoya Shiga was inspired enough to write the short story At Kinosaki after only a short stay. Shiga isn't the only example, either. Tomori Nagamoto, general manager of English-friendly Kobayashiya ryokan—my lodgings for the night—and contemporary artist, revealed that he produced artworks to pay for his room and board so he could stay in Kinosaki, having fallen in love with the town. This parallels the story of a craftsman named Hanhichi, who, in the mid-Edo period (1603-1868), began the tradition of mugiwara zaiku, or straw craft.
Kinosaki is the only place in Japan where this kind of traditional wheat straw craft is practiced. Several intricate steps allow the artisans who still practice mugiwara zaiku to turn dull straw into jaw-dropping works of art. Essentially, dyed straw is cut, flattened, cut again into very thin strips, and then glued into a stunning kaleidoscope of vibrant colors and patterns. Handcrafted items made by the mugiwara zaiku maestro Toshiaki Kamiya are available for purchase at the Kamiya Folkcraft shop. Budding artists aged 12 or older who want to try making their own straw crafts can reserve a hands-on workshop with an English-speaking guide. Workshops are also offered at the Kinosaki Straw Craft Museum for all ages with limited English.
Mugiwara zaiku is an art form that has been honed in Kinosaki. Visitors can try their hand at making their own artwork or take home a piece by a master artist.
Kinosaki Straw Craft Museum

376-1 Yushima, Kinosaki-cho, Toyooka, Hyogo
Open: 10am-4pm (last entry 3:30pm)
Closed: Wed (If Wed is a public holiday, closed the next day)
Tel: 0796-32-0515 • Entry: Children ¥200; Adults ¥300
Workshops: ¥400-¥1,000 depending on the item. In Japanese only.
www.visitkinosaki.com/things-to-do/straw-craft-workshop/

Kamiya Folkcraft Shop

391 Yushima, Kinosaki-cho, Toyooka, Hyogo
Open: 10am-6pm • Closed: Irregular holidays
HALF-DAY WORKSHOP TOUR: From ¥13,700 per person.
BOOKING FORM: www.visitkinosaki.com/tour-packages/straw-craft-activity-and-craftsman-workshop-tour-with-english-guide/
Rural Kinosaki on Bicycle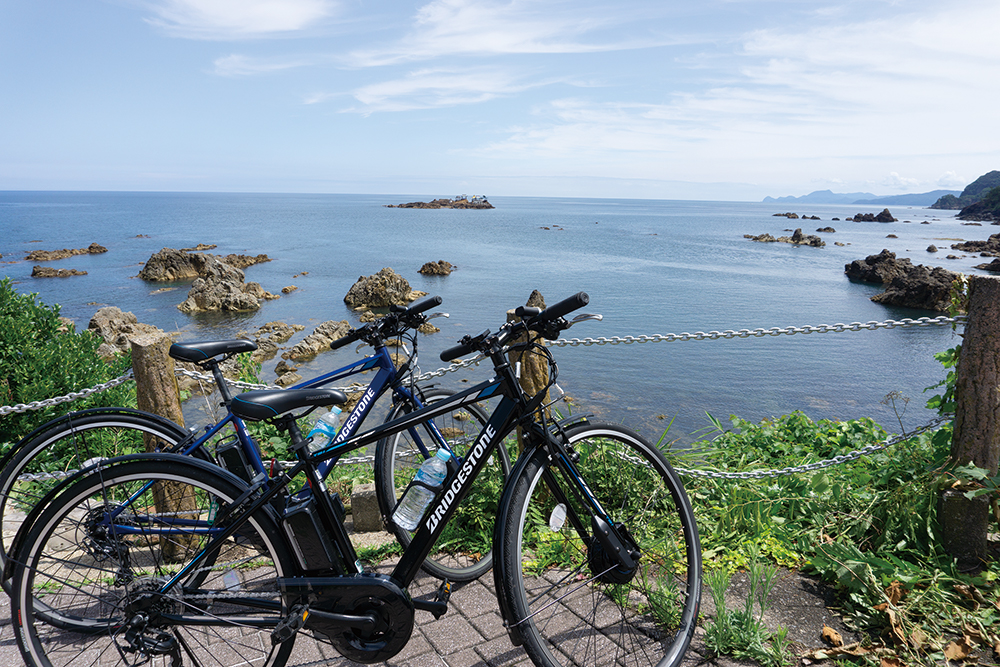 For those looking to flex more than just their creative muscles, an exhilarating cycling tour run by Koyado Enn, an inn located a short distance from the station, shows off the best of Kinosaki and the surrounding area to those riding as a pair or group. The guides passionately show pedalers through the town, highlighting Gokurakuji temple, scenic side streets, and photogenic riverside views.
After highlighting the charms of the town, the tour veers off into Kinosaki's countryside. This section of the tour weaves through backstreets, rice paddies, and over hills (for those who find inclines intimidating, electric bikes are also available). One highlight is a verdant valley where the air, if visited after a spell of rain, is filled with petrichor, dragonflies and frog song; like something from My Neighbor Totoro.
A sizable section of the tour runs along the Maruyama River, where some of Kinosaki's lesser-known vistas can truly be appreciated. This path leads to Futakata Kamaboko, a shop that sells an array of kamaboko, or Japanese fish cakes—the guides will surely share their personal recommendations! A short incline later and the tour leads to the bosom of the Sea of Japan. The outlook offers the perfect spot to have a breather and soak in the views. A point of particular note is a series of Chinese-style pavilions sitting on an islet off the coast nicknamed Ryugu-jo, or Dragon Palace. It was built in the 1950s to honor the centuries-old legend tale of Urashima Taro, in which a fisherman of the same name unwittingly rescues a princess in the form of a turtle and accompanies her back to her undersea palace. Mercifully, the rest of the tour from this point sails downhill back to the town center for a relaxed finish. For those looking for a cheeky bite to eat afterward, a short walk to the sushi restaurant Orizuru is a decadent way to restore all those burned calories.
Kinosaki Riverside Cycling Tours

March to late-November, subject to climate conditions
Morning 9am-12:30pm or Afternoon 1pm-4:30pm
Reservations must be made at least 5 days in advance.
Booking form: www.visitkinosaki.com/tour-packages/kinosaki-picturesque-riverside-cycling-tour/
Kinosaki from Above
If experiencing Kinosaki's glorious outdoors isn't enough from a saddle, visitors might also consider a quick excursion to Mt. Daishi for a panoramic view.
Located west of Kono-yu Onsen, Mt. Daishi is home to an important part of Kinosaki's history. Onsenji Temple, located midway up the mountain, is dedicated to a Buddhist saint who prayed for 1,000 days for a way to save people from illness—resulting in the hot springs that flow to this day. Visitors used to be required to visit the temple and pay their respects before bathing, but now the temple is an optional-but-worthwhile stop! Eager hikers can scale stairs to the temple, or less energetic patrons can take the ropeway gondola. You can even see a highly elusive statue of an Eleven-Faced Kannon Bodhisattva, or Juichimen Kanzeon Bosatsu, currently on show until April 2021. Only displayed for three-year periods every 33 years, this designated National Treasure makes the temple well worth a visit. As for the monks living at the temple, they are not allowed to leave the town until the bodhisattva is returned to its seclusion!
Kinosaki can be admired in its entirety from the top of Mt. Daishi—just one more stop along the ropeway from Onsenji. A popular spot for couples and families, the views from the lookout are breathtaking year round. Take plenty of time soaking in the views before returning to soak in the bathhouses—and grab an onsen-tamago (hot spring-cooked egg) enroute!
Kinosaki Onsen

Access: Buses and JR Limited Express trains connect Kyoto, Osaka and Sannomiya in Kobe to Kinosaki Onsen, which takes between 2.5-3 hours.
Check www.visitkinosaki.com for the latest anti-COVID measures and provisions regarding use of public onsen facilities.

Ryokan Kobayashiya

369 Yushima, Kinosaki-cho, Toyooka, Hyogo
From ¥13,200 per person on a sharing basis, inclusive of breakfast and dinner.
Reservations: www.visitkinosaki.com/lodging/inn/kobayashiya/