Travel
Hot Springs and Hellscapes in Hakone
World-class onsen, abundant history, and spectacular scenery make Hakone an ideal choice for a spring getaway.
Located in the Fuji-Hakone-Izu National Park, the famous onsen town of Hakone is a popular destination for both Japanese and international tourists. Normally thought of as a convenient day trip from Tokyo, the town's many attractions also make it a perfect location for a weekend getaway from Kansai.
For most people, their Hakone trip begins at Hakone-Yumoto Station. If you are changing trains at Odawara, however, you might wish to take a detour first to Odawara Castle. A 10-minute walk from the station's east exit, this picturesque reconstructed castle has a museum on site detailing its history and displaying authentic samurai swords and armor. There is also an observation deck on the top floor with great views out over Sagami Bay.
When you arrive at Hakone-Yumoto, you'll find yourself in the heart of a quintessential Japanese onsen town. The narrow main street is lined with shops selling a mixture of local souvenirs and tasty treats, as well as numerous ryokan (Japanese inns). Many of these open their bathing facilities to day trippers as well as overnight guests, so wherever you're staying, take the opportunity to indulge in some R&R during your visit. And if you're shy about bathing with others, some ryokan have separate baths that you can hire for private use.
From Hakone-Yumoto, the Hakone Tozan Railway runs up to Gora Station. The slope here is so steep that the train has to change directions at switchbacks three times, making the journey quite a unique experience in itself. On the way, stop off at Chokoku-no-mori Station to pay a visit to the Hakone Open-Air Museum. This fantastic outdoor gallery features over 100 sculptures, including an exhibition of works by Picasso.
When you reach Goro Station, transfer to the Hakone Tozan Cablecar. The 10-minute journey will take you to Sounzan, where you can board the Hakone Ropeway. These gondolas will carry you high up over the peaks and steaming, sulfuric valleys to the smoking caldera of Owakudani. This breathtaking sight is one of Hakone's most famous attractions, and it's easy to see why. The 3,000-year-old crater is like something from an alien planet or the depths of hell, with volcanic plumes of steam constantly hissing from the yellowy, arid landscape.
Around the crater, there are some hiking trails, but these are often closed off due to the volcanic gasses, which fill the air with the pungent smell of sulfur. You can still get a good view from the area around the ropeway station, however, where there are restaurants and gift shops, many of which sell the Owakudani's famous distinctive black eggs. These are boiled in the volcanic water – the sulfur turning the shells black – and are said to prolong your life by seven years. If you're lucky enough to visit on a clear day, you'll also be treated to a stunning view of Mt Fuji.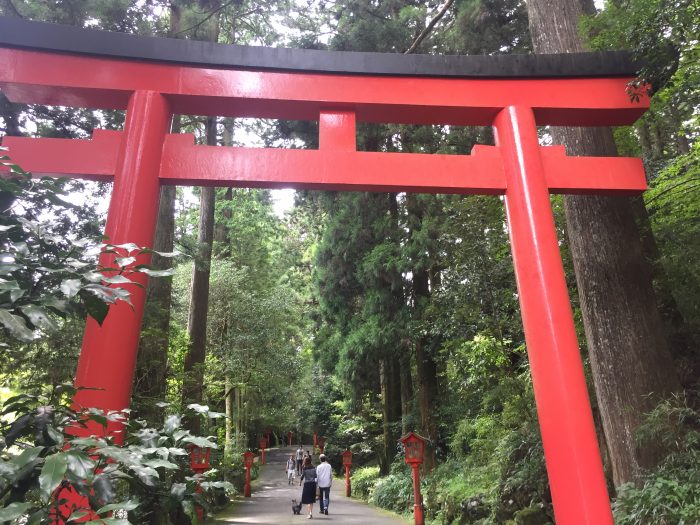 Once you've had your fill of Owakudani, you can either take the ropeway back to Sounzan or continue on to Togendai Station on the shores of Lake Ashinoko. This lake was formed in the crater of Mt. Hakone after its last eruption 3,000 years ago. Today, there are hiking trails around the shores of the lake, and there is also the option to sail from one side to the other on a 30-minute sightseeing cruise aboard a vessel decked out like a pirate ship. Keep an eye out for Hakone Shrine's famous floating red torii gate as you cross.
On the other side of the lake from Togendai Station and the Hakone Ropeway, you can disembark at either Hakone-Machi or Moto-Hakone. One option is to get off at Hakone-Machi and turn left to walk towards Moto-Hakone. On your way you'll pass the Hakone Checkpoint, which was used to control traffic along the old Tokaido Highway that linked Tokyo and Kyoto during the Edo period. Shortly afterward you'll see Onshi-Hakone Park, which juts out into Lake Ashinoko and offers pleasant walking trails and scenic views.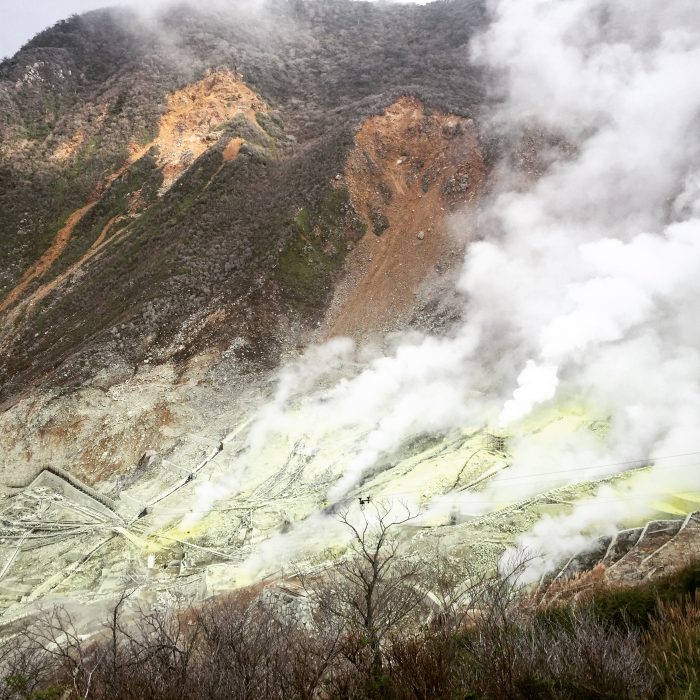 Once you reach Moto-Hakone, keep an eye out for the towering red torii gates that mark the entrance to Hakone Shrine. Most of the shrine buildings are concealed amongst the trees on the mountainside, giving the area a mystical atmosphere, particularly on misty days. For those seeking something more active, hiking trails run up to the peak of Mt. Komagatake behind the shrine.
Before heading back to Hakone-Yumoto, consider stopping off at Amazake-chaya tea house. It is situated on the old Tokaido Highway, and you can either take the bus or hike up a preserved section of the trail to the tea house, which has been welcoming weary travelers for over 350 years. Their specialty is amazake, a non-alcoholic fermented rice drink, and mochi (chewy rice cakes). The bus stop just outside will take you back to Hakone-Yumoto station – or the nearby onsen – once you're replenished!
---
Hakone Free Pass
Odakyu Railways offers a great discount travel pass for visitors to Hakone. The Hakone Free Pass gives you unlimited travel on the Hakone Ropeway, the Hakone Tozan Cablecar and train, the sightseeing cruise on Lake Ashinoko, and a number of buses within the area. Two- and three-day passes are available, and if you're traveling from Tokyo you can get a version that includes a round trip from Shinjuku station. The Hakone Free Pass also offers discounts at selected attractions, including restaurants, hot springs, and a number of museums and landmarks.odakyu.jp/english/passes/hakone
Getting There
From Kyoto or Osaka, take the Shinkansen to Odawara station. From there, transfer to the Hakone Tozan Railway to Hakone-Yumoto. Alternatively, you can take the Shinkansen to Mishima and a bus from there to Moto-Hakone. The Hakone Free Pass can be purchased at both Odawara and Mishima stations. A longer but potentially cheaper option is to take an overnight bus to Tokyo and continue your journey by train from there.
---
Travel Tip
It is possible to see all of Hakone's main sights in one day, but given the distance from Kansai, a weekend trip is preferable. This is particularly true during the busy season. Staying for one or two nights also means you get the chance to experience a night in a traditional ryokan and to really enjoy relaxing in the town's many hot springs.
---