Featured
Island Biking Adventures
For refreshing, sunny ocean views and a break from the daily grind, get on your bike and check out the island-bridge extravaganza that is the Shimanami Kaido bike trail.
Situated along several bridges that connect Onomichi in Hiroshima to Imabari in Ehime, the Shimanami Kaido cycling route is a 70km (44- mile) jaunt that can be an equally casual or challenging escape from the concrete jungle.
There are two starting points to choose from: Onomichi in Hiroshima prefecture, accessible via JR railways; or Imabari, which is only a short LLC flight away via Matsuyama. We elected to start at Imabari. You can pick up your wheels at Sunrise Itoyama, with a choice of "General Use," "Cross," and "Electric Assist" bikes, all for very reasonable rates.
As we had planned for two days of island hopping instead of one, my compatriots went for the comfortable general-use bikes. Thinking I would never need a soft-saddle mamachari, I went with the hybrid cross bike. While having more gears available comes in handy, your rump might be a little tender after a day's ride. Whatever you go with, it's a short uphill climb to the Kurushima-kaikyo bridge that will take you to Island #1: Ōshima.
Ōshima
Though its name means "big island," Ōshima isn't terribly large. But it is hilly. It might be a good idea to think of Ōshima as a warm up. Even if you only plan on taking the intermediate course, Ōshima will probably give you just enough of a challenge to remind you that this isn't always going to be a pleasure cruise. Thankfully, Ōshima is dotted with plenty of shrines, cafés and cyclist pit stops so you can catch your breath, if only to promptly lose it again from the amazing scenery.
If you feel like going a little further afield, the Murakami Suigun Museum has about an hour's worth of pirate and naval-related distractions. From there, you can hop on a boat for the Miyakubo Seto Tidal Current Experience. The violent speed and sound these whirlpools produce will give you an appreciation for the sailors and pirates who dared approach them.
Hakatajima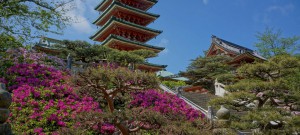 After a short climb, surprising crosswinds await on the Hakata-Ōshima bridge. This leads to the small, yet charming island of Hakatajima. This is the shortest leg of the journey, and it might be tempting to breeze through it. However, the snacks at Marine Oasis Hakata are worth stopping for. Here you can pick up some delicious "salt soft ice cream" and fried octopus legs before kicking off toward Ōmishima.
Ōmishima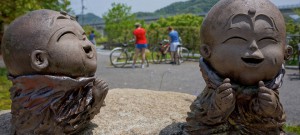 Some of the prettiest views can be found on the largest of the trail's islands. While there are a multitude of places to visit on the island, they will take a while to get to by bicycle. One of our biggest regrets was missing the Ōyamazumi Shrine. The gods there are said to protect soldiers, so military leaders made lavish offerings. As a result, this shrine also has a massive collection of swords and weapons used in the samurai era. Sadly, with dusk quickly closing in, we only had the chance to buy some fresh Ehime oranges from Tatara Shimanami Koen and admire the Kojojima ruins before tackling the Tatara Ōhashi bridge.
Ikuchijima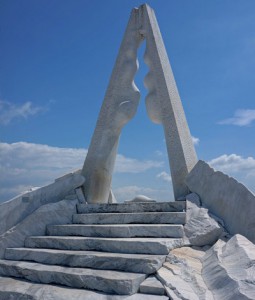 Crossing the Seto inland sea, this 1,480-meter-long (just under 5,000- foot) bridge is the longest askewarched bridge in the world, plus one of the highlights of the trip. It's impossible to not be impressed with this $600 million engineering marvel that connects Ehime and Hiroshima prefectures.
Ikuchijima has plenty of places to spend the night if you are road weary. We chose the Setoda Private Hostel. For ¥4,800 you can get dinner, breakfast, a private room, a nearby beach, and access to an onsen. After cycling all day, we would have gladly paid more.
The next day, we promptly pedaled beside the sea toward the highlight of the trip – the temple Kosanji. Built by a wealthy businessman who was inspired by the love of his mother, this large temple complex is stunning. Gardens, pagodas, moss-covered statues, and vibrant Buddhist art flood your senses. As you make your way through, be on the lookout for the convincing replicas of Nikko Toshogu's Yomeimon Gate and Byodoin's Phoenix Hall.
If you need to cool down, be sure to navigate the temple's cave system. Here you are led through an eerie depiction of Buddhist hell, only to emerge in front of an impressive wooden statue of Kannon, the goddess of mercy. But whatever you do, make sure you hoof it up to the Heights of Eternal Hope for the Future. This purely artistic construct is made of luminous white marble imported from Italy. From the top, you have a panoramic view of the surrounding area. Oh, and if the resident photographer at Kosanji asks you for a photo, do it – he might just give you and your party a free drink at the restaurant.
After quickly stopping by Cafe Dolce for some of their famous gelato, we picked up the pace toward Ikuchi Bashi bridge and our next island.
Innoshima
For many cyclists, Innoshima may seem quite uneventful. However, I recommend the Murakami Suigun Castle. This small castle belonged to the privateers who traded across the Seto inland sea during the Muromachi and Sengoku periods. The castle hosts impressive scenery and a museum detailing the power of the pirate kings of the time. Also, if you're hungry, there is a very small hut at the base of the hill where you can get some delicious Hiroshima-style okonomiyaki and a very friendly welcome from the owner.
Mukaishima
Connected by the imposing Innoshima- Ohashi bridge, Mukaishima will either be your first or final island. This area definitely has a small-town feel to it, with more roads, schools and convenience stores than on any of the other islands. But this was our finishing line, so we cut right through, following the bikeway's trusty blue path to the ferry terminal that would take us to Onomichi. Exhausted, we cruised over the waters to Honshu, thanked our trusty bikes for their service, and promised to return. Whether you opt for an abridged one-day, or leisurely two-day tour, you will be glad you saddled up.
---
• Shimanami Kaido Map and bridge toll information: www.go-shimanami.jp
• Sunrise Itoyama Bike Rental: sunrise-itoyama.jp
• Setoda Private Hostel: setodashimanami.web.fc2.com/eshimanami.html
This time last year, the Adventures in Kansai crew did the Shimanami Kaido bike trail starting at Onomichi and made a short video. To watch, visit kansaiscene. com and click the 'Video' tab.
---