Featured
Craft Beer Corner
Take a load off and quench your summer's thirst at one of these superb Osaka craft beer havens.
Garage39
Another relatively new bar on the ever-growing Kansai craft beer scene is Garage39. Located in Kitahama, this spacious location has an industrial urban feel with picnic style tables in the back (a non-smoking area) and an open patio style upfront – perfect for summer dining and drinking. With a wide range of beers from top Japanese brewers on their impressive 15-tap setup, you're sure to find something to beat the heat in these hot, humid days. With an extensive food menu in English, there's a lot on offer from standard fare like fish and chips, to slightly rarer hors d'oeuvres like the smoked chicken liver. Be sure to ask the friendly staff for their recommended beer and food pairing.
Open: Mon–Sat 5pm–2am • Closed: Sun • Price Range: ¥690 (10oz half pint) ¥1000 (16oz USP) • Food: ¥310–¥3500 • Access: Hommachi or Sakaisuji Hommachi Subway Stns • facebook.com/GARAGE39.jp
Yellow Ape Craft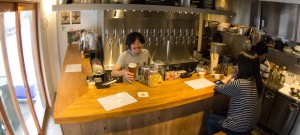 Opened in 2012, Yellow Ape Craft is the original bar by owner and operator Daikichi Kato, who opened Smoke House Ape earlier this year. Boasting 20 taps of craft beers from around Japan, the brands and types of which change daily, this jumps up to a whopping 28 taps during events that Daikichi hosts almost monthly. A small bar area is situated around the taps downstairs with a larger area upstairs for about 16 people. The upstairs area feels more suited to fine dining than a round of pints, but luckily both can be had there. A great selection of pizza, pasta and tapas is on offer and are sure to pair nicely with whatever beer style you choose. Daikichi recommends the Jack Chicken with an IPA.
Open: Mon–Thur & Sat 3pm–12:30pm, Fri 3pm–2am • Closed: Sun • Price Range: ¥650 (260ml glass) or ¥1000 (473ml USP) • Food Price Range: ¥380–¥1300 • Access: Kitahama or Yodoyabashi Subway Stns • facebook.com/YellowApeCraft
Bar Tsuchinoko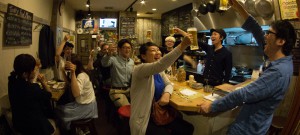 Named after the snake-like creature that is prevalent in Kansai and, as legend has it, can speak and has a penchant for booze, Bar Tsuchinoko is also a play on owner Takashi Tsuchihashi's name. This intimate bar can fit around 13 people at most, but has a nice, cosy air – a spot for the locals to enjoy a pint or two. The bar has three taps – one ji biru, one import, and one with fresh Asahi draft beer. While not the largest selection of brews on tap, Bar Tsuchinoko makes up for it by stocking unique, hard-to-find beers and truly delectable bar treats, like the juicy, medium-rare hind quarter beef cuts, or the hamburg bacon; giant slabs of premium bacon cooked to perfection.
Open: Mon-Sat 5pm-12am & Sun 1pm- 10pm • Sizes: ¥650 (280ml) ¥1000 (435ml) • Food Price Range: ¥350–¥1000 • Access: Yotsubashi Subway Line, Honmachi Stn, 1-min walk • bar-tsuchinoko.com