Feature
Discovering Edo Japan in 12 Houses
A journey through 300 years of Japanese history—and through the archipelago itself—begins at the gate to the Open-Air Museum of Old Japanese Farmhouses. Formerly the gate to a village chief's residence in what is now Higashi Osaka City in Osaka Prefecture, since the mid-1950s it has marked the entrance to this impressive, 36,000 square-meter plot hosting beautifully-preserved examples of historical residences sourced from up and down the country.
The Open-Air Museum of Old Japanese Farmhouses was the first of its kind in Japan. Here you will find 12 buildings constructed during the Edo period (1600-1868), that were painstakingly deconstructed and moved—from as far north as Iwate Prefecture and as far as south as subtropical Kagoshima Prefecture—and rebuilt here in Toyonaka, about a 30-minute train ride from Osaka City. Each has been preserved as a valuable property reflecting the local culture, climate, economy and geography—and served as movie sets for many period dramas. But that's not all: in the museum grounds are well-tended gardens of flowers and vegetables, a pond surrounded by a naturalistic Japanese garden with an ancient windmill from Sakai City in Osaka Prefecture that was used to pump water out of the earth. There are two time-worn, wooden longboats from Shimane and Kagoshima Prefectures. Walking trails loop through groves of bamboo and pine, and benches at the borders of its wide lawns offer a welcome break. It is also a fantastic venue for a picnic (although eating and drinking are prohibited inside the buildings, and alcohol is not allowed anywhere on the museum grounds).
Actually, not all of the buildings here are farmhouses. Among the seven that are, though, is a gassho-style house, so named for its steeply slanted roof that resembles hands pressed together in prayer. It comes from Hida-Shirakawa village, well known for its snow-bound winters that inspired the architecture, and now draws thousands of tourists every year. The house has several wings to accommodate a multi-generational family that once lived there together.
Another house, from an area of Iwate Prefecture known for its purebred horses, has a distinctive L-shape to accommodate people on one wing, and stables on the other. The hearth at the intersection of the "L" kept all inhabitants warm and there was no need to go outside to tend the animals during the bitter winters.
Also exhibited is a teahouse built in the 19th century that stood in three different locations before being moved to the museum; a theater built on Shodoshima Island in the Seto Inland Sea for kabuki, a cherished tradition there; and a granary that stood on a bank of the Dojima River in central Osaka in the days when rice was a form of currency in Japan. There is also a storehouse that would appear highly atypical on mainland Japan; built on two meter high stilts for ventilation and to prevent mice from getting at its contents, as well as providing a shady spot for people to work or play, it is well-adapted to conditions on the far southern island of Amami Oshima from which it came.
Each building has bilingual Japanese and English explanations of its origin and history, with numerous plaques elucidating the uses of various rooms, furnishings and tools. Despite being historical artifacts, one cannot help but sense the presence of its original residents, as though they have just popped out and may return at any moment, pick up their tools and get back to work. Kojima Kumi, the museum's General Curator, says she hopes the museum's visitors will leave with an understanding of not just the architecture of the buildings, but of different lifestyles in the Edo period and how those compare to their own.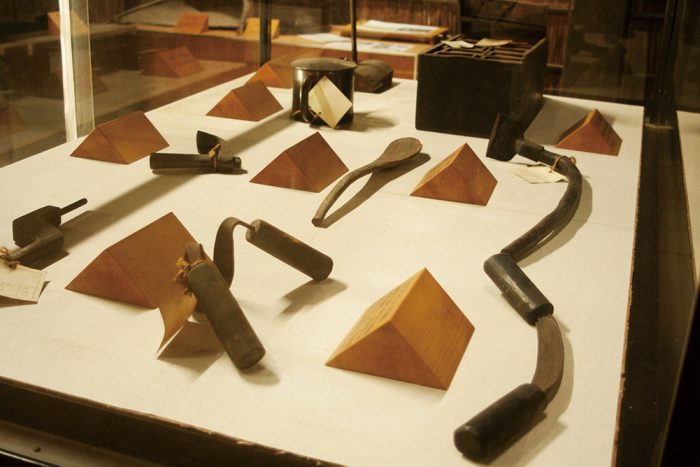 The museum hosts several regular and seasonal events, which are currently on hold until further notice due to the pandemic, including tea ceremonies in the teahouse and performances at the kabuki theater. Visitors can stroll the grounds in kimono (sorry guys, ladies only!), kids can try their hand at traditional Japanese spinning tops, or grind soybeans with an old-fashioned millstone. A number of the guides also speak English.
The museum is open year-round, and the changes of season make for a different experience on every visit. If cultural immersion or simply quiet, beautiful surroundings is what you seek, you can find it here at Japan's oldest open-air museum.
Open-Air Museum of Old Japanese Farm Houses

1-2 Hattori-ryokuchi, Toyonaka, Osaka
Open: 9:30am–5pm (last entry 4:30pm)
Closed: Mon (Tues if Mon falls on a national holiday)
Access: 30-minute walk from Ryokuchi Koen Station on the Kita-Osaka Kyuko Railway (connection via Osaka Metro Midosuji Line) or from Sone Station on the Hankyu Railway
Admission: Adults: ¥500; High school students: ¥300; Elementary to middle school students: ¥200
Tel: 06-6862-3137
www.occh.or.jp/minka/

English-language events are expected to recommence in September. Please check the website for details. The venue requests that all visitors wear a face mask, refrain from touching the exhibits and maintain a 1-meter distance from others.