Promotional Feature
Bar-hop Around Osaka with Magical Trip
Snake your way through hidden alleys and drink in local bars with this new guide service
You're fresh off the plane in Osaka and all you can think about is where you're going to find your first sip of sake, but where to even start? Overwhelmed by the never-ending neon of Dotonbori, the giant plastic food sculptures, and infinite winding alleyways that you're sure to get lost in and never find your way out, you realize you must seek guidance! Luckily Magical Trip is on the scene ready to lead you through the Osaka backstreets to a few of their favorite hidden gems on an Osaka Bar Hopping Food Tour.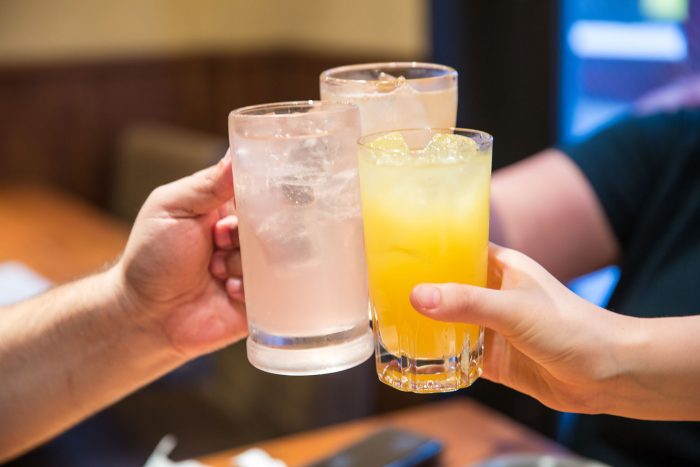 We met our guide, Minami, and our Floridian bar-hopping companions near Namba Station around 6pm then plunged head-first into the labyrinthine, lantern-lit Hozenji Yokocho area. Our first stop of the night was Yokozuna Kushikatsu Hozenji Shop where we sunk our teeth into the classic Osakan dish of kushikatsu – deep-fried meats and vegetables strung on sticks and dipped into a special rich, sweet tonkatsu sauce.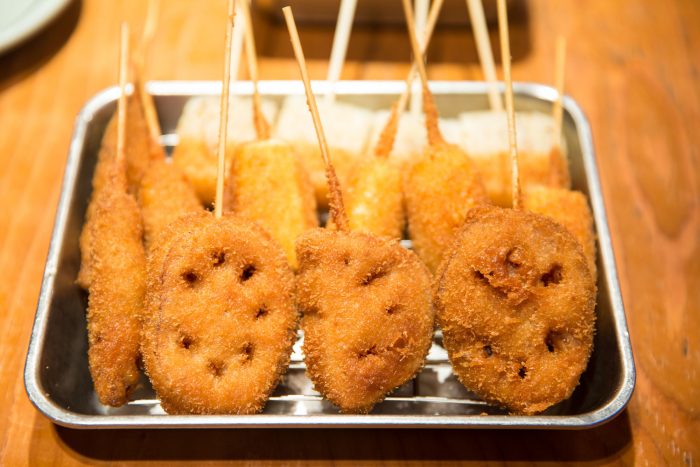 Thanks to Minami, we avoided the double-dipping faux pas many tourists make when eating kushikatsu for the first time; customers share trays of the brown, sticky tonkatsu sauce, so the number-one rule is one-and-done when dipping each crispy, fried morsel! We shared our first kampai clinking cold glasses of draft beer, shochu (liquor distilled from wheat, rice, or potatoes), and chuhai (shochu and soda water with fruity flavors), then downed a couple more before heading out the door.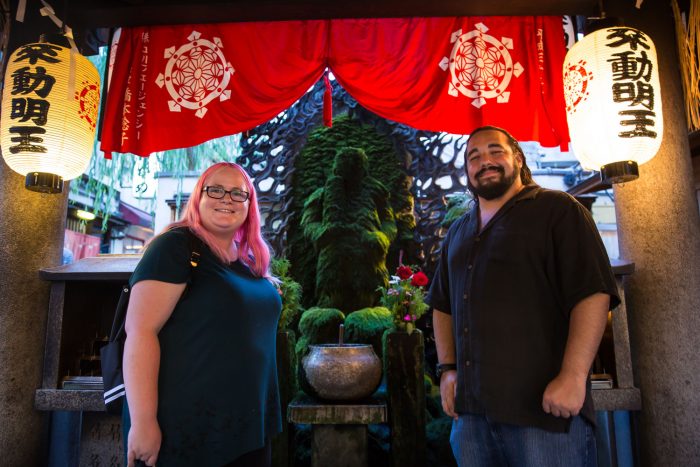 Hozenji Yokocho (alley) is a stone-paved street lined with a plethora of well-established dining options. This location epitomizes the old world of Naniwa (what Osaka was called before it became Osaka) and is buried in the backstreets near Dotombori. The street has been a nightlife hub since the 17th century when the area was a theater district. There is a collection of around 60 small restaurants, izakaya, bars, and eateries in the area behind Hozenji Temple, which is where we went to make an offering before heading to the next bar, tossing coins and splashing water on the moss-covered Fudo-myo statue, known as Mizukake Fudo, and proceeding onward.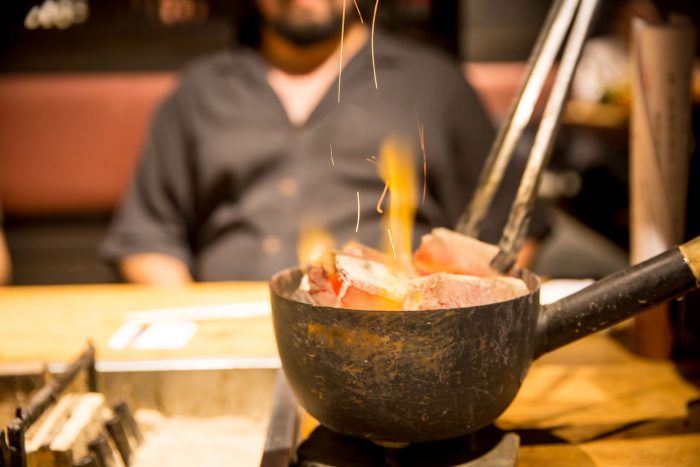 Next up was Hozenji Suigyo no Iori, a quaint, dimly lit restaurant specializing in grilled seafood (we were clued in by the rouge-colored fish sculptures hanging overhead) that you cook yourself over an open flame. Chunks of juicy abalone, scallops, shrimp, and octopus were presented to us on trays with tongs which we wielded to sizzle our seafood morsels over the fire. A few drams of sake down and we were ready to jaunt over to our final destination for the bar-hop – Torame Yokocho.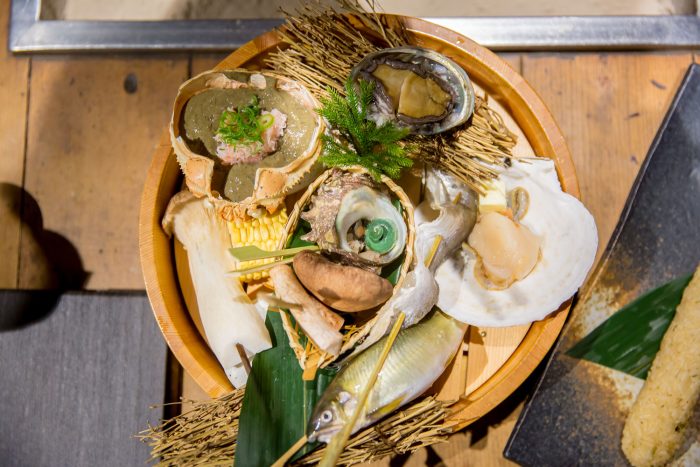 The loud, bustling market-food court venue of Torame Yokocho can be a little intimidating as a first-time visitor who doesn't speak Japanese, but it is a must-visit place for a taste of the quintessential Osakan cuisine and vibe.
Osaka is known in Japan as kui-daore no machi, 'the town that loves to eat,' and there are few places that demonstrate this more clearly than Torame Yokocho. This cluster of restaurants with a large torii gate at the entrance offers the delectable taste of Osaka in a very cool atmosphere, and at very reasonable prices. In the evening, the banter between locals and chefs is in full swing, and customers have the choice of all the typical Osaka foods.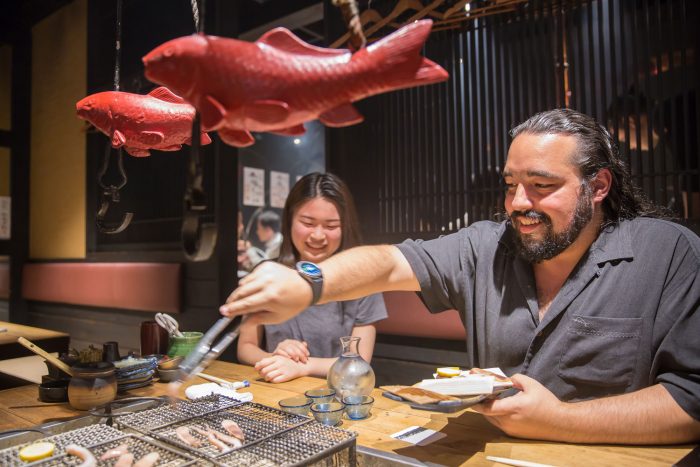 We feasted on yakitori (chicken skewers), takoyaki (golf-ball sized balls of dough with octopus inside cooked until golden brown) and okonomiyaki – the savory pancake consisting of flour, cabbage, egg, and pork or seafood, with scrumptious tonkatsu sauce and Japanese mayonnaise smothered on top. Part of the fun is sitting counterside and watching the cook toss the ingredients onto a hot griddle right in front of you.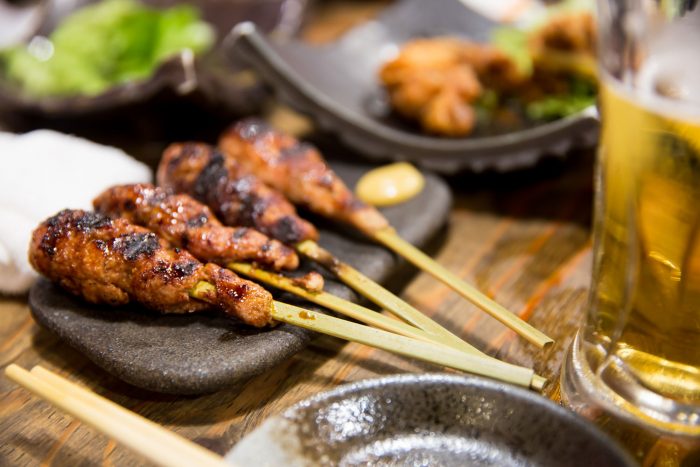 A few kampais later, we were cheerfully escorted back to Namba Station to bid our farewells and continue with the rest of our night.
Our impression? The bar-hopping tour allows you to experience Osaka nightlife like the locals do with a Japanese guide. It cuts the guesswork out of choosing great places to dine and is a huge help with navigating menus that are sometimes in Japanese only. The vibe is very relaxed and it feel like you're just on a night out on the town with fellow travelers you've just met. It's a great way to make friends and make a start in getting to know the city.
Tours can be arranged any night of the week. Check current prices and book yours online through the Magical Trip website.