Feature
A Perfect Long Weekend in Osaka
Discover Kansai's most vibrant metropolis inhabited by famously laid-back citizens with a penchant for the good things in life.
Wandering down twisting neon-lit alleys and buzzing canal sides is one of the many pleasures of exploring Osaka City. Add to that the endless tasty food options and out-there shopping experiences, and suddenly just a day or two in this unique pocket of Japan doesn't feel like enough. Make the most of your time in Osaka with our recommendations for a fun-filled long weekend in the nation's friendliest city.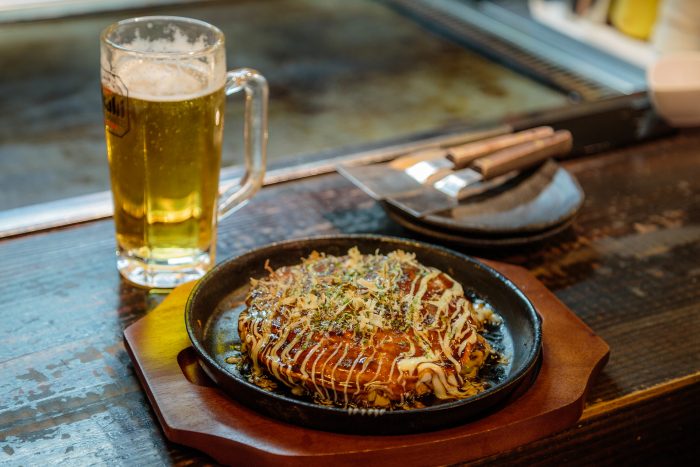 DAY 1

Start the day with a coffee in Horie
Some of Osaka's best coffee can be found in Horie, Shinsaibashi. Boutique coffee houses Mel Coffee Roasters and Lilo Coffee Roasters pour fresh iced or steaming brews in a cozy urban setting.

Shop for offbeat and trendy fashions in Amemura
American Village, known as 'Amemura,' is teeming with one-of-a-kind clothing boutiques stocking an array of eclectic street fashion: punk, goth, skater-style, and Rasta-style as well as designer vintage and urban chic. Kinji in the Bigstep building is a great place to start for vintage, and check out Fugs for items at the bizarre end of the used vintage world.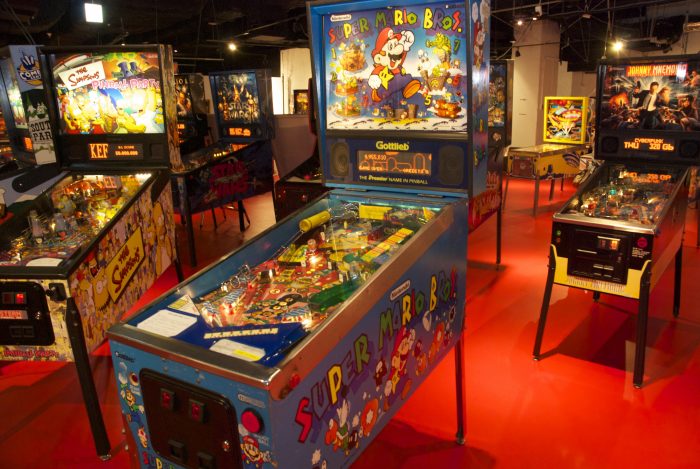 Play pinball on retro machines
Prepare yourself for a wave of nostalgia as you step into the pinball hall of fame that is Silver Ball Planet. Play on machines with classic themes like Indiana Jones, Terminator 2, Batman, and Teenage Mutant Ninja Turtles in one of the biggest pinball arcades outside the U.S.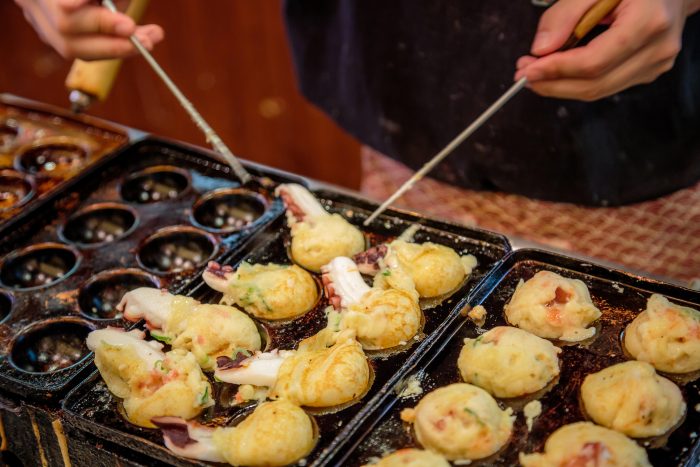 Eat Osaka's favorite street food takoyaki
Hit popular takoyaki haunts like Kogaryu Takoyaki or Donaiya America-mura to try these balls of batter cooked with bite-sized chunks of octopus.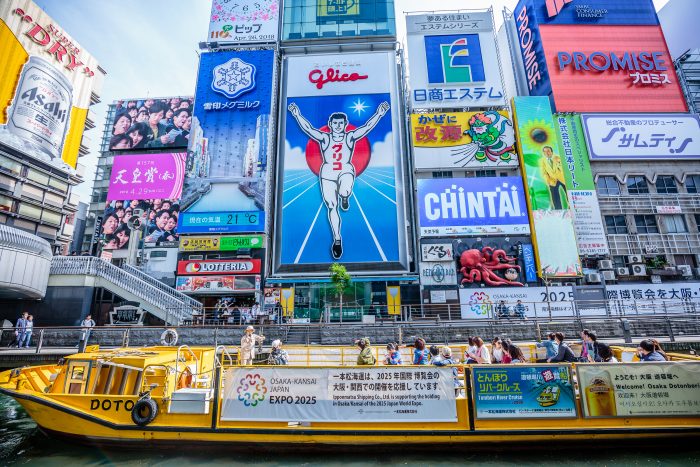 Take a cruise along the Dotonbori
Learn the backstories to famous Osaka sightseeing spots on a 20-minute guided cruise of the Dotonbori canal.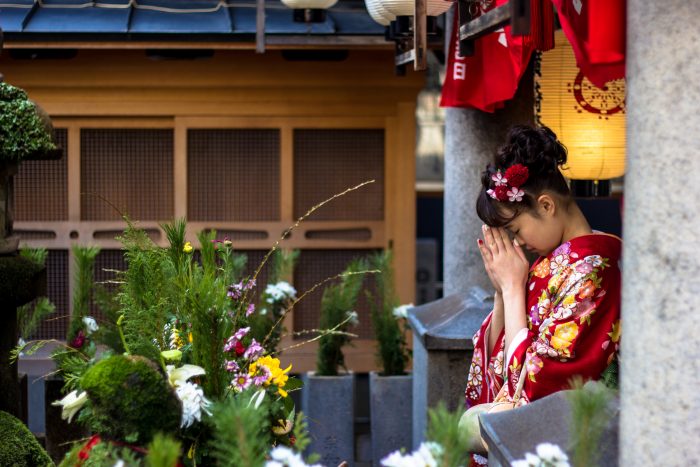 Wander around Hozenji Yokocho Alley
Hozenji Yokocho is a photogenic stone-paved street offering a plethora of well-established Japanese dining options. While you're there, splash some water on Hozenji temple's moss-covered Fudo-myo statue, known as Mizukake Fudo, while saying a prayer and making a coin offering.

Play arcade games in Taito Station
Show off your Dance Dance Revolution moves or taiko drumming skills at the multi-floored Taito Station gaming center. Don't forget to try out the purikura "print club" photo booths where you can decorate your portraits inside the machines.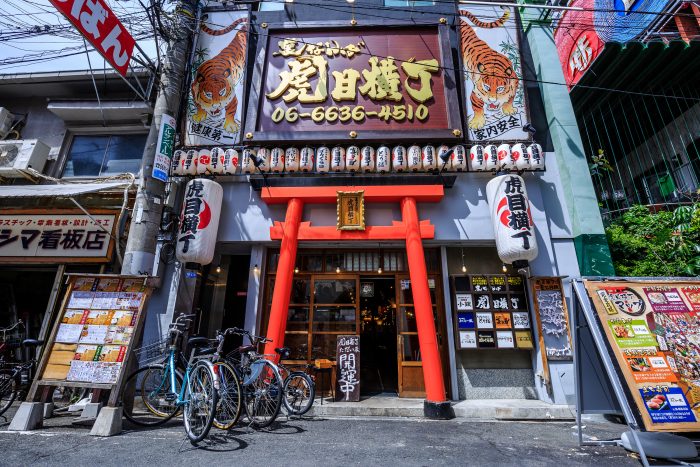 Eat okonomiyaki in Uranamba Torame Yokocho
Order a serving of Osaka's iconic dish made from a flour, yam, egg and cabbage batter with ingredients like pork, squid at Torame Yokocho, a cluster of restaurants with a large vermillion torii gate at the entrance.
DAY 2

Have a picnic in Osaka Castle Park
Roam the expansive grounds of Osaka-jo Koen and pick a spot to spread a picnic blanket and eat a bento lunchbox before visiting the iconic castle.

Look at the city from Abeno Harukas
Take an elevator to the top of Japan's tallest building and marvel at sweeping views of the seemingly never-ending city from 300 meters above ground.

Catch the tram to Sumiyoshi Shrine
Take a streetcar from Tennoji to the photogenic Sumiyoshi-taisha. Walk over the arched vermillion bridge while exploring the beauty of the shrine grounds.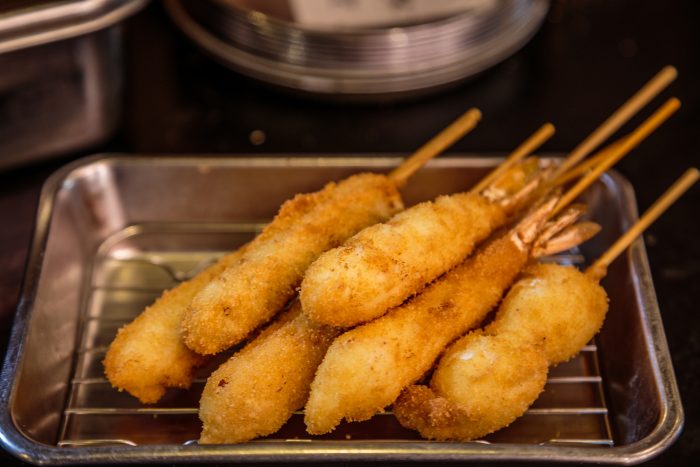 Eat kushikatsu in Shinsekai
Head to one of Osaka's most down-to-earth neighborhoods known as the birthplace of kushikatsu—deep-fried meat & vegetable morsels on sticks. Daruma is one of the original kushikatsu restaurants and is a stone's throw from the iconic Tsutenkaku Tower.

Go to Spa World
Relax in onsen baths and saunas with elaborate Asian and European themes at Spa World.

Drink sake in a standing bar
Try out a classic drop of local nihonshu, or sake, at one of Ura-Namba's standing bars, like Kujira.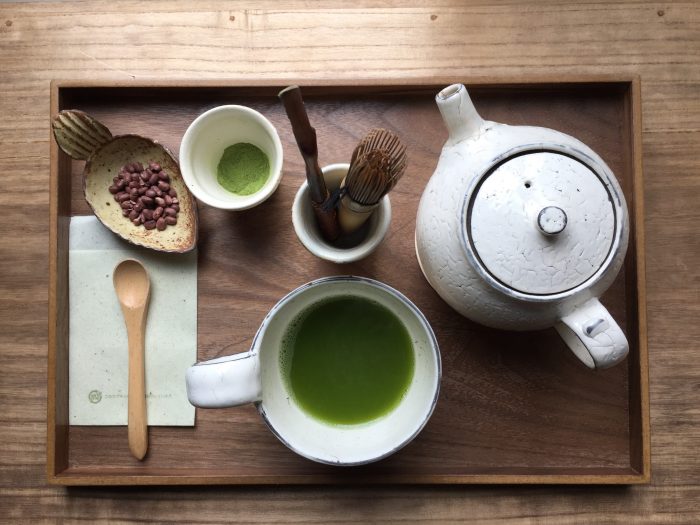 DAY 3

Drink green tea at Cafe Osaka Chakai
No visit to a Japanese city is complete without taking the time to savor a cup of green tea. Drink the finest tea from delicate Japanese pottery at the tranquil Cafe Osaka Chakai.

Say a prayer at Osakatemmangu Shrine
Visit one of Osaka's most important Shinto shrines famous for hosting the massive annual festival known as Tenjin Matsuri.

Stroll around the Museum of Housing and Living
See what Osaka was like during the Edo Period (1603–1867) through recreated houses and neighborhoods. Borrow a kimono for a small fee and stroll along the old streets in traditional dress.

Go shopping in the Tenjinbashisuji Shopping Arcade
Browse the quirky stores in Japan's longest shopping arcade. Afterward, treat yourself to fresh sashimi at the lively and loud seafood restaurant Tottsuan then some local Minoh craft beer at the rustic Beer Belly.

See the city lights at Umeda Sky Building
View the cityscape lit up at night from the observation platform of this spectacular high-rise building in the Kita district.
DAY 4

Roam the shops of Nakazakicho
Visit this retro neighborhood full of nagaya (old Japanese wooden buildings) renovated into artsy shops and cafes. Have brunch at one of the many quaint cafes like 1930 cafe or Public Kitchen Cafe before browsing boutique shops like Jam Pot, whose white, wooden shelves are filled with jewelry and accessories from over 80 different artists in Japan.
There are many 'buy and sell' used clothing stores in Nakazakicho, with Green Pepe being a great place to start.

Watch Sealife at Osaka Aquarium Kaiyukan
Spiral around the eight floors of one of the world's largest and most spectacular aquariums, renowned for its innovative presentation.

Eat sushi in Shinsaibashi
Devour Japan's most famous dish at popular sushi joints like Jinen Unagidani or Hasegawa Shinsaibashi.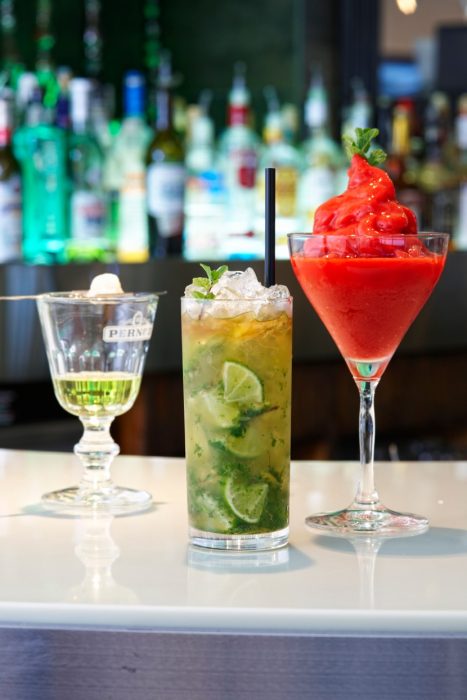 Order a nightcap at a trendy bar
End the day with a mojito at the Mediterranean-style Cafe Absinthe or a lychee martini at the Suite—modeled on a New York hotel suite, it's like stepping into a scene straight out of The Great Gatsby.
Find it…
Mel Coffee Roasters 1-20-4 Shinmachi; melcoffee.stores.jp • Lilo Coffee Roasters Shinsaibashi M Bldg, 1-10-28 Nishishinsaibashi; coffee.liloinveve.com •
Kinji BIGSTEP Bldg, 1-6-14 Nishishinsaibashi; kinji.jp • Fugs 2F Nippo San Tera Kaikan, 2-9-5 Nishishinsaibashi; wa1969.blog.fc2.com • Silver Ball Planet BIGSTEP Bldg, 1-6-14 Nishishinsaibashi; big-step.co.jp • Kogaryu Takoyaki 2-18-4 Nishishinsaibashi; kougaryu.jp • Donaiya America-mura1-16-15 Nishishinsaibashi; donaiya.jp • Tombori River Cruise Ticketing on 1st floor of Don Quijote Dotonbori; osaka-info.jp/en/page/tombori-river-cruise • Hozenji Temple 1-2-16 Nanba; houzenji.jp • Taito Station 15-12 Nanbasennichimae; taito.co.jp • Uranamba Torameyokocho 2-3-15 Sennichimae; xn--5gq699ddyi2op.com • Osaka Castle Park 1 Osakajo, Chuo Ward; osakacastlepark.jp • Abeno Harukas 1 Chome-1-43 Abenosuji; abenoharukas-300.jp • Sumiyoshi Shrine 2-9-89 Sumiyoshi; sumiyoshitaisha.net • Kushikatsu Daruma Shinsekai 2-3-9 Ebisuhigashi; kushikatu-daruma.com • Spa World 3-4-24 Ebisuhigashi; spaworld.co.jp • Kujira Nanbasennichimae 14-18; chiyoshuzo.co.jp • Cafe Osaka Chakai 2-1-25 Tenjinbashi; osakachakai.jp • Osakatemmangu Shrine 2-1-8 Tenjinbashi; tenjinsan.com •
Museum of Housing and Living Tenjinbashi, 6-4-20 Housing Information Center Building 8F; osaka-info.jp/en/page/osaka-museum-housing-living • Tenjinbashisuji Shopping Arcade Tenjinbashi, Kita-ku; tenjin123.com • temma spot temma spot; temma spot • Beer Belly Ikedacho 7−4; beerbelly.jp • Umeda Sky Building 1-1-87 Oyodonaka; skybldg.co.jp • 1930 Cafe Nakazakinishi, 2-5-21; 1930cafe.jp • Public Kitchen Cafe 1-9-12 Nakazakinishi; pkp.co.jp • Green Pepe 3-1-12 Nakazaki; greenpepe3104.com • Jam Pot 3-2-31 Nakazaki; jampot.jp • Osaka Aquarium Kaiyukan 1-1-10 Kaigandori, Minato-ku; kaiyukan.com • Jinen Unagidani 1-8-26 Higashishinsaibashi; jinen.org • Hasegawa Shinsaibashi Stage Bldg 4F, 1-16-20 Higashishinsaibashi; 06-6120-1600 • Cafe Absinthe 1 Chome-2-27 Kitahorie; absinthe-jp.com • The Suite Nishishinsaibashi, 2 Chome−18−18; thesuitejapan.com