Promotional Feature
Osaka Club Scene's Blast from the Past
Maharaja brings back the discotheque saloon from its 80s and 90s heyday.
At the peak of its game during Japan's 1980s bubble-economy era, Maharaja was renowned as the best disco in the nation, with some 60 locations across the country. When the bubble burst, Maharaja went the way of the disco, so to speak, but its revival has begun!
Descending the stairs into Maharaja Minami, the upscale disco atmosphere is readily established; red-and-gold chandeliers hang from the ceiling, mirror balls scatter colorful light fragments onto crisp white walls, and smoke machines fill the air with a cloudy mist. A bucket of Moët sits at the staircase base, a man in a fedora waits to usher in guests, and the DJ pumps out songs like That's the Way I Like It by KC and the Sunshine Band to a dance floor of elated disco goers waving psychedelic glow sticks.
Waitresses in fishnets and leotards tend to paid tables (which can be reserved) and VIP-room guests while grooving to 70's, 80's, and 90's pop (with some top-40 thrown in for good measure). Upstairs a dining area called the "food corner" beckons where guests can order pizza and other light snacks to eat in the restaurant lounge and bar.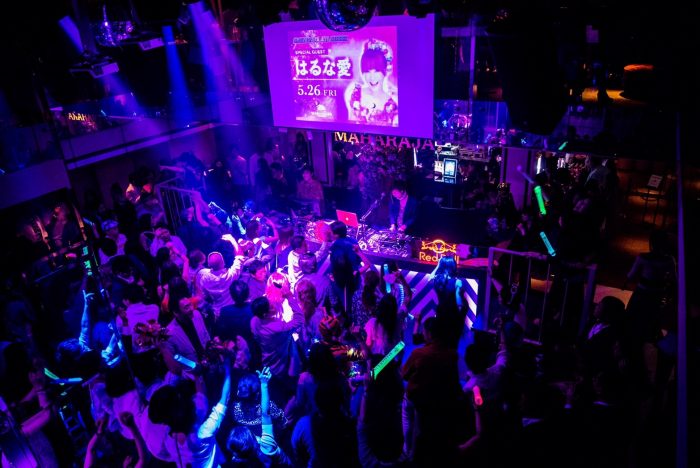 The nightclub attracts clientele with a disco nostalgia — those driving the reviving popularity of discos, as well as those who splurged during the asset-inflated bubble economy. For foreign tourists eager for a Japanese disco experience, this is the place to be.
Reader Offer: Until Aug 31, KS readers can get in for free with the purchase of one drink ticket (¥700)
Maharaja Minami
Address: Osaka, Chuo-ku, Minamisemba 4-10-13 Huque Bldg. B1/B2F
Tel: 06-4704-8066
maharaja-m.jp