Feature
Shikouan Farmhouse stay in Mt. Koya's foothills
A quiet hamlet amidst rice fields and vegetable gardens is the idyllic setting for Shikouan, a traditional Japanese kominka farmhouse. Kominka were once ubiquitous across the Japanese countryside but these days are more often seen abandoned if at all. With the help of students from Wakayama University, its owner, Hiroe Toyohara gave the property new life as a one-of-a-kind accommodation for families and groups to book on a private basis.
Ms. Toyohara arranges all kinds of activities for guests, both on-site and in the neighborhood, whether fruit picking in local orchards or making your own unique piece of bamboo craft. Shikouan is a fantastic option for those looking to spend a low-key weekend with close family and friends in the great outdoors this autumn, all while supporting the rural economy.
The village blessed with "health and happiness"
Shikouan is located in Shiga, a small village in the Katsuragi area of northern Wakayama Prefecture, about an 80-minute drive from the cities of Nara and Osaka. Now less than 150 people live in this rural hideaway in the foothills of the World Heritage Site of Mt. Koya.

This is persimmon land and in autumn the trees in the nearby orchards are loaded with bright orange fruits. The chestnuts from here are also prized, perfect for making the quintessential autumn dish, kuri-gohan (chestnut rice) back at Shikouan's kitchen.
The pace of life is slow in this village of "always happy and healthy" locals. Many of the movers and shakers in Shiga that had gone to the city for work but in later life come back to their beloved satoyama after retirement. The warm-hearted individuals we encountered are eager to share in the simple pleasures of life here with visitors.
Kominka living with modern comforts
Ms. Toyohara is very proud of her 140-year-old traditional home, which she settled on after scouring tens of properties in the area, and is keen to point out its distinct architectural features to guests. The most distinguishing feature is its steep thatched roof. The roof is covered with metal sheets—which is common practice to prolong the life of the thatch underneath—but you can admire this rustic yet intricate work if you climb up into the attic. Going in the attic also allows a closer look at the unique pattern of crossbeams and pillars in a style of architecture called shintsuka-zukuri, that prop it up. The structure of the original house was kept, as well as the furniture, with the bathroom facilities given a makeover to meet modern standards.
A large, fully-equipped dining-kitchen features a long wooden table modeled after a hearth that used to be in this spot and would have been the sole source of heating for the house. It's an ideal perch for a long evening chat over a glass of wine or beer after a day of activities. The local students are expected to finish their work on the tea hut sitting in the back garden—quite different to the tearooms you would find elsewhere—this October, which is also intended as a quiet spot to meditate.
The house is rented to only one party at a time, with three rooms where guests can sleep: two connected Japanese-style tatami mat rooms with futon beds and one separate room with a Western-style bed.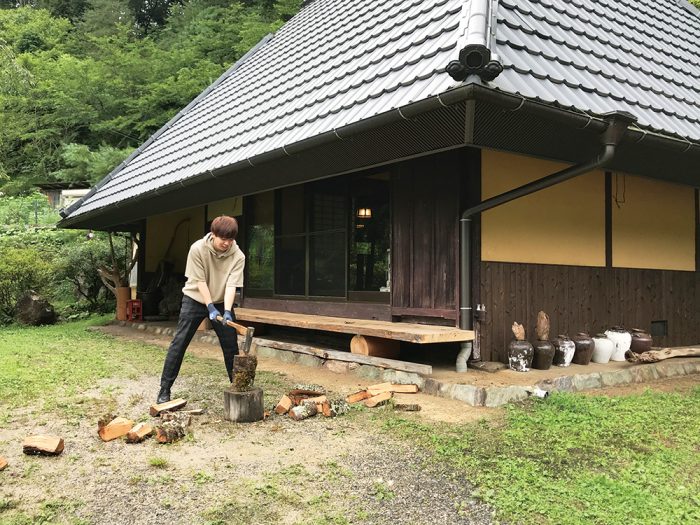 Unique local experiences
While meals are not included in the accommodation booking, Shikouan offers cooking classes with the ingredients provided. We suggest you book pizza-making in the late afternoon so that you can eat what you make for dinner, plucked fresh from the clay oven (that incidentally, resembles Totoro from the Japanese anime, My Neighbor Totoro) built by the students next to the house. Or as an alternative, why not try your hand at making seasonal persimmon-leaf sushi?
There are many more activities on offer which are arranged for guests only and on request. Some activities can be organized year-round, for example, making a fetching lantern from bamboo, turning a wooden tray, or making a piece of kiri-e paper-cut art on a subject of your choice. What you create will be yours to take home as a souvenir of your trip.
Some activities depend on the weather, like chopping wood, and some are a matter of timing, for example, if you happen to be staying on a Wednesday, you can join the local taiko drumming group in their lively weekly training.
All classes and activities are 1-2 hours and taught or run by locals from the village for a fee of between ¥2,500 and ¥5,000 per person.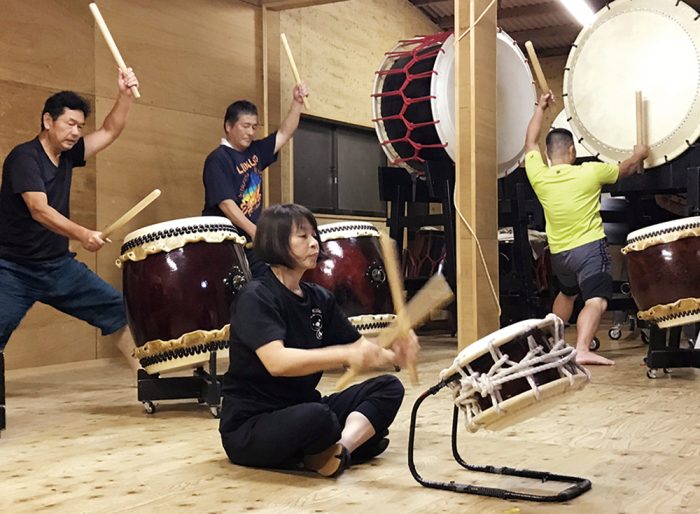 On the path of pilgrims
A short drive by car is the Choishi-michi, a challenging pilgrims' trail that winds its way up to the Buddhist monastery on Mt. Koya (See the following pages of this issue for our story on the route). Keen hikers who would like to conquer the entire 24-kilometer trail should budget about 6 hours to complete it one way. Others may prefer to explore the area by bicycle. There are four road bikes at the house that guests can use freely.
We recommend cycling along a quiet country lane to the scenic Amano Village and visit the shrines of Niutsuhime and Niusakadono, which take about 20 and 30 minutes respectively from Shikouan. These shrines are part of the same Koyasan UNESCO World Heritage site but less well-known.
Niutsuhime is the name of a goddess that has been worshiped at this shrine for over 1,700 years. The 'ni' in the name stands for vermillion, the color of cinnabar. This reddish orange color is believed to have the power to keep away evil, and Niutsuhime is the guardian deity of families in Japan who are engaged in cinnabar mining.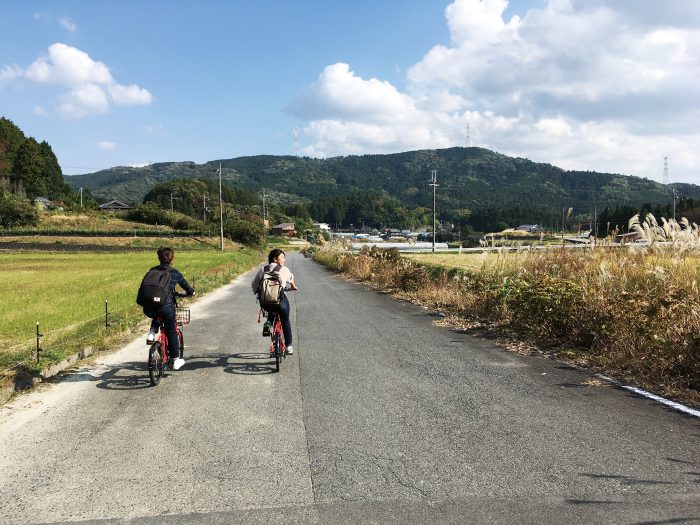 For a fee you can request a private ceremony with a Shinto priest. If you like, your Shikouan host can accompany you and guide you through the ritual. Typical ceremonies are for yakubarai (banishing bad luck) and michi o hiraku (literally "pave the way," or to open up new opportunities). Isn't this just what we need in these troubled times?
Shikouan

233-2 Shiga, Katsuragi, Ito District, Wakayama
Reservations via Airbnb: www.k-kotori.jp/
Access: The nearest train station is Kaseda on the JR Wakayama Line. The Katsuragi Community Bus runs from JR Kaseda via Shiga Village to Amano village. Alight at Kamishiga bus stop, in front of the house.
Find a bus schedule at www.town.katsuragi.wakayama.jp/010/030/20170324175324.html.
National Road 480 runs from Higashi Osaka all the way to Shiga.

Alternatively, use the Kinan Expressway, Katsuragi Nishi IC. A parking space is right by the house. Driving up Koyasan takes 30 minutes from Shikouan.