This autumn, some of the best outdoor experiences are to be had in Kansai's rural countryside. Recreational farms offer urbanites the chance to take up a shovel during the busy harvest season and bring fresh, delicious produce home. And what more enjoyable way to teach the kids a valuable lesson in where their food really comes from?
Here we look at a number of farms offering nogyo taiken vegetable and fruit-picking day experiences and eco tours, as well as ranches that allow children to interact with their livestock and horses. Of course, there is no need to get your hands dirty when it comes to supporting the area's farmers. There are a number of small, dedicated farmer's markets in Kansai's major cities, some monthly and others less regular. There are also a number of larger outdoor events with upwards of 50 vendors, featuring everything from cooking classes to live music.
With the ongoing pandemic, we highly recommend checking for any last-minute changes of schedule and how venues are enforcing anti-COVID measures, including restrictions on those newly arrived in Japan. Markets tend to also be subject to weather conditions.
Harvest Experiences
Midori Farm
Located in Kutsuki, Shiga Prefecture, Midori Farm is an organic vegetable farm run by Chuck Kayser, a passionate farmer from the US. They run private, family-friendly ecotours of the farm and its surrounds three days a week, as well as monthly community events open to all, which they publicize on their Facebook page. During the farming season (March – December), you can sign up to be a volunteer on the farm in exchange for accommodation and meals—ideal for individuals who want a first-hand, immersive experience in an international setting. Have veggies delivered to your door by ordering at the website.
23 Kutsuki-hera, Takashima, Takashima, Shiga
www.midorifarm.net/home-en (contact form)
Mitoro Fruit Park
The wide selection of fruits and flowering trees cultivated at Mitoro Fruit Park means it is able to stay open to visitors throughout the year. This autumn you may be able to catch the tail-end of the grape season, before the time for chestnuts and persimmons begins. Events such as sweet potato picking in September and local community projects such as fruit processing classes and flea markets, both in November, allow visitors to mingle with local residents.
Mitoro 835-4, Kamisocho, Kakogawa, Hyogo
Tel: 079-428-2133 / 079-428-1113
Open: 9am-4pm
Entry: ¥500~¥700 per person
(for chestnut harvesting a charge of ¥1,200/kg applies)
www.mitoro.jp (Japanese only)
Asuka Minpaku
Minpaku in Japan are simple, typically family-owned lodgings. Besides being able to observe everyday life in Japan, the highlight of staying at Asuka Minpaku is that the hosts organize a range of activities for guests to get involved with the local community. When booking a room at one of their two locations in the historical town of Asuka this autumn, be sure to inquire about rice harvesting experiences. You will spend a day with local farmers out on the paddies as they show you the traditional ways of harvesting their prize crop, typically followed by a lunch drawing on delicious local produce.
665 Nyudani, Asuka-mura, Takaichi-gun, Nara
Tel: 0744-54-2516 / 090-7103-6342
www.asuka-minpaku.com/en/
Ranches
Kobe Municipal Rokkosan Pasture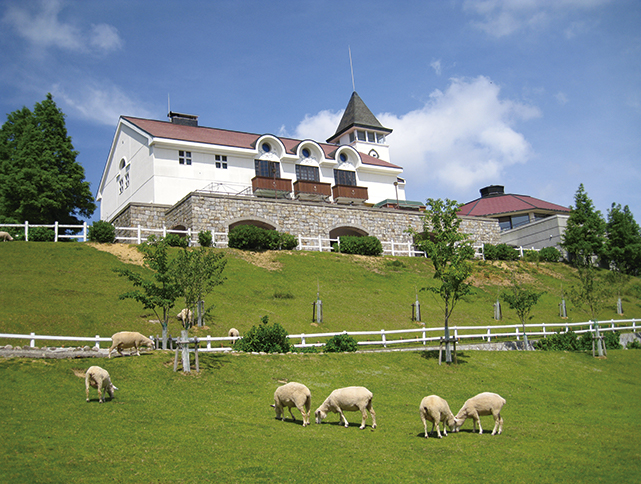 This ranch located on Mt. Rokko is home to all manner of adorable critters, from rabbits to goats and horses. The venue also offers a variety of classes: make your own butter or frozen yogurt, or ice cream for those with a sweet tooth. You can also purchase products made of wool from sheep raised on the farm, with a weaving workshop available for those interested.
1-1 Nakaichiriyamam, Rokkosancho, Nada Ward, Kobe, Hyogo
Open: 9am-5pm (last entry 4:30pm)
Tel: 078-891-0280
www.rokkosan.net (select English from the dropdown)
As a preventative measure against livestock infectious diseases, admission will not be permitted to those who entered Japan from overseas within one week.
Awaji-shima Ranch
For those with young children, a trip to Awaji-shima Ranch is sure to delight. Besides giving kids the chance to get up close to all the loveable farm animals of their bedtime stories, help feed the calves and ride the ranch's ponies, they can also try their hand at milking a cow, or even making their own fresh butter or cheese. Both of these activities require advance booking and the ranch currently only accepts group reservations.
1 Yagiyogikami, Minamiawaji, Hyogo
Tel: 0799-42-2066
www.awajishima.or.jp (Japanese only)
Farmer's Markets
NARA FOOD SHED
In front of JR Nara Station
Third Sunday of the month, 9am–2pm
www.itsufushi.com (Japanese only)

Kyoto Farmer's Market
Sakaimachi Garrow, 681 Maruki Zaimoku-cho, Nakagyo Ward, Kyoto
Schedule irregular, check for updates
www.facebook.com/kyotofarmersmarket
(Japanese only)

Osaka Green Good Link! Market
Namba Shrine, 4-1-3 Bakuromachi, Chuo Ward, Osaka
Second Saturday of the month, 10am-4:30pm. For additional dates held at other locations, check the website.
www.green39.jimdofree.com (Japanese only)

Eat Local Kobe
Kobe East Park (Higashi Yuenchi), 6-4 Kanocho, Chuo Ward, Kobe, Hyogo
Every Saturday, 9am-12:30pm
www.eatlocalkobe.org (Japanese only)

Ashihabara UPMARKET
1-7 Naniwa Higashi, Naniwa Ward, Osaka
Third Sunday of the month, 10:30am-4pm
www.reedjp.org/up/ (Japanese only)