Kids & Family
MIKI HOUSE Wonderland
Make your way to the headquarters of Osaka's international childrenswear brand for a one-stop shopping extravaganza.
One of the first things you notice when emerging from the Yaominami subway station is the large 7-Eleven across the street. Glance a few buildings to your right, however, and taking center stage is the impressive home of Japanese children's clothing brand MIKI HOUSE.
The striking concrete building was completed in 1991 to the exacting standards of CEO and founder Koichi Kimura, whose passion and vision has allowed MIKI HOUSE to grow from strength to strength since its inception in 1971 (read our interview with Mr. Kimura in issue #220). One of his requests, much to the chagrin of his employees, was to use the basement space not as a car park, but as a luxury showroom.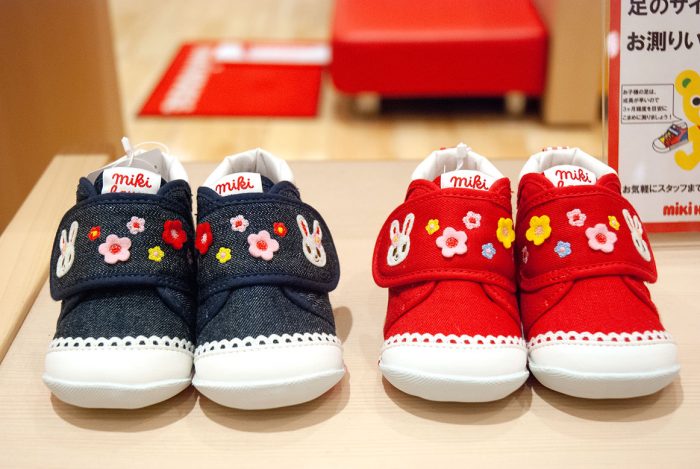 Open five days a week from 11am–6pm, you enter down a set of red-carpeted stairs and find yourself at the center atrium of a semicircular layout of elegant department-store style boutiques, each dedicated to a different line of kids' items from shoes, babywear, books and toys, and even formal wear. Each section is interconnected, creating an immersive MIKI HOUSE wonderland experience.
The MIKI HOUSE line of cute yet high-quality children's wear has been a stalwart of kids' wardrobes for generations. It retains a dedicated clientele eager to see their children and grandchildren dressed in the same brand that they themselves once wore. Whilst they have introduced various sub-brands to cater for contemporary trends, such as the American-casual line Double.B and the playful Hot Biscuits range, the simple red and navy Essentials range emblazoned with the white MIKI HOUSE logo remain the go-to items for nostalgic shoppers.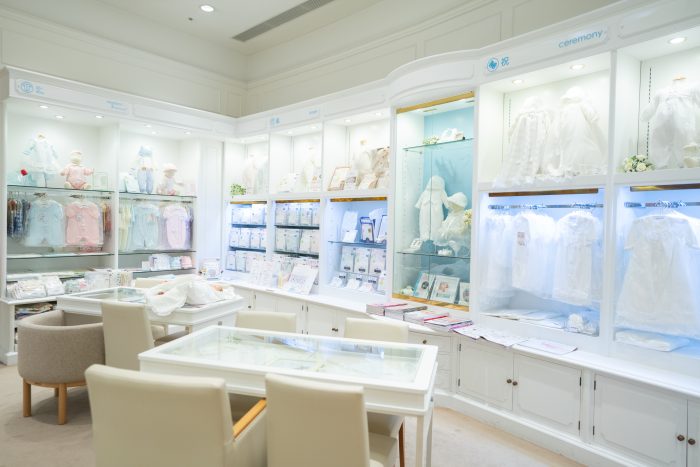 The sheer range of items they produce is astonishing. There is everything from gorgeous baby shoes, luxury cashmere duffle coats, and babygrows to picture books, strollers, and even baby baths, covering sizes from newborn to nine years old. Everything is designed and produced to the highest quality and almost entirely in Japan. The attention to detail is apparent everywhere. Their babygrows are manufactured from the softest cotton sourced from the West Indies and close not with buttons or snaps, but with silk ribbons, allowing for easy adjustment. The logos on their classic tees are not printed but embroidered with extremely fine stitch. It is a hallmark of the MIKI HOUSE ethos that the clothes must not only look appealing, but last.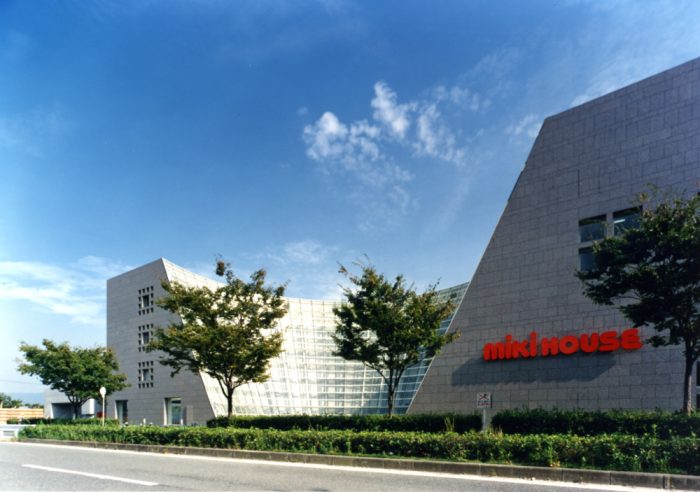 Their line of summer yukata and jinbei (traditional summer clothing) feature Japanese motifs and patterns and prove extremely popular with international customers. Although they operate stores across Japan and in key locations overseas, a major advantage of shopping at their Yao main store is that they can keep nearly all of their items on display year-round. Whilst browsing seasonal items for autumn and winter, you can also find off-season items for the following spring and summer.
There is free parking onsite, a nursing room, resting area, and multilingual staff on hand to assist international visitors. They even offer free one-on-one workshops for expectant mothers on how to dress and bathe a newborn. Whether shopping for your own family, or for gifts for family and friends, MIKI HOUSE is your one-stop shop for the highest quality kidswear. 
MIKI HOUSE Main flagship Store
1-76-2 Wakabayashi-cho, Yao City, Osaka
Open: 11am–6pm
Closed: Wed & Thu
Tel: +81-72-920-2055
Access: Tanimachi Subway line, Yaominami Stn, 1-min walk
*When coming by car please use the MIKI HOUSE Main Office parking lot
*All major credit cards, WeChat, and AliPay are accepted