Featured
Taking care of the kids
Organising childcare in Japan is no child's play. Here's an intro guide to hoikuen for working parents-to-be.
Gaining admission to a Japanese-approved public nursery (ninka hoikuen or just hoikuen) can be daunting for Japanese and non-Japanese parents alike, with mammoth waiting lists and lengthy application procedures. For Kansai mums and dads who landed their little ones spots to start this month, earning a place was likely no mean feat. Admission is competitive but for very good reason. Japanese hoikuen are safe (adhering to very strict national guidelines regarding building structure, staff-to-child ratio, nutrition and general health and safety) well staffed, and affordable. They cater to primarily working parents, who need longer childcare hours than available at yochien (kindergarten), and who don't have time to make lunch boxes every day.
New admissions are taken each April at the start of the academic year, but application deadlines are usually around the end of October of the previous year. It can take several months of research and preparation before parents hand in their applications.
But how do you find a hoikuen? Who can apply? When do you apply?
Here we help you navigate the process.
The first step
For information regarding public nurseries, look to your local ward office or childcare administration office. They can give you a list of all the hoikuen in your city, along with application forms (hoikusho nyusho moshikomisho) and guidelines.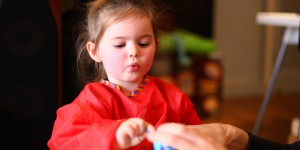 Many popular hoikuen will host group observations, usually once or twice a month leading up to the application deadline, while others can arrange private visits.
Although all hoikuen adhere to national guidelines, they each have a very individual philosophy. Some are very play-orientated, some more geared towards learning and study, music, sport, etc. Some have almost no parental involvement (other than showing up at events like sports day), while others expect parent participation as often as once a month.
Therefore at the initial visit, be sure to ask lots of questions to try to find the hoikuen that will be the best match for your child's personality, your employment style, and personal preferences as to what your child does at daycare.
The application
A hoikuen may or may not have an English speaker, so if you are not a confident Japanese speaker it is wise to bring a native speaker along with you.
After making your visits, it is time to fill in the application. One page is for you to fill out basic information about your child. The other pages are for the Human Resources department at your workplace. Your employer will need to provide an official seal or hanko stating that you are an employee, verifying your working hours, what kind of work you perform, and what your salary is. If any other adults, such as grandparents, are registered as living at your address, you will need to provide similar documentation for them too.
On the application, you will be asked to list your preferred hoikuen. Parents in rural areas often get their first choice, but those in urban areas face stiffer competition. Along with your application form, you will also need a copy of your end of year income and withholding tax certificate (Gensenchoshuhyo) which is issued in December each year. If you are accepted, your proof of income will be used to calculate your basic monthly fee (Hoikuryo).
Securing a spot
The application deadline is usually around the end of October or start of November (although applications are accepted any time, they need to be updated every six months) and you will be informed of whether your application has been successful in February or March for admission in April, which is the start of the Japanese academic year.
Classes are grouped for children by age and children can generally enter public nursery at either four or six months old, depending on the individual hoikuen's policy. If entering the baby class (under age one at entry) you hold the best chance at getting a spot, for the sole reason that there is a full class of spaces available.
After age one it becomes more difficult. Basically your only chance of securing a space is if someone else leaves, you receive a temporary or emergency placement, or the city hall allocates more spaces to a certain age group.
Parents will sometimes find that after being declined at age one or two, they are accepted when their child is three at which time the teacher-to-child ratio steeply declines. So stay positive. Even if you receive bad news, you will remain on their waiting list unless you ask to be removed, and you may receive a nice surprise in a few months' time, or the following year.
Who can apply for public hoikuen?
Anyone can apply for a public hoikuen but priority will be given to those deemed to need the service most. Unlike kindergartens and private hoikuen, which grant access on a firstcome- first-serve basis, public hoikuen admissions are assessed and decided by a panel on an individual case-bycase basis, usually at the local ward office. Children of single, separated, or divorced parents are given high admission priority, as are children of parents who are currently unemployed and receiving welfare, but unable to search for a job because of a lack of childcare. Families without grandparents nearby will often be given priority also. Children with older siblings attending the same nursery will usually be given priority over those who don't have a brother or sister there, and often a generous sibling discount is given.
Can I apply on a temporary basis if I am pregnant or get sick?
Temporary hoikuen places are available and these are most commonly utilised by pregnant women with an older child. This is generally available from their final two months of pregnancy until the baby is four months old. The application process is slightly different, and you will need to visit your application centre along with your Mother and Child Handbook (Boshi techo) to apply. Parents who are unable to look after their children due to disability, a hospital stay, or an ongoing medical condition are also eligible for temporary or part-time hoikuen admission. This varies greatly among individual cities and according to the condition, so contact your local ward office for more information.
Temporary care is also available to families who have been the victims of a natural disaster, a fire, or women who have fled their homes to escape domestic violence. Those attending college, university, or even driving school, are also eligible to apply for a temporary spot.
My child has been declined entry to hoikuen this year. What can I do?
There are a number of other options available, such as kindergartens, or other private nurseries (Muninka hoikuen), which may or may not, be licensed. The standards of care vary enormously between facilities, and they are usually charged per hour or per day, making them significantly more expensive than public facilities. Private facilities only need one licensed teacher (Hoiku shi) to open, meaning it is possible that your child may be cared for by someone without certified experience or training in childcare. However, many parents attest to these facilities being excellent.