Feature
Bringing home the Christmas: Eating out
If you shudder at the idea of brining turkeys or beating eggnog, there are plenty of places that will take the cooking out of your hands this christmas. In Osaka, there will be real stuffed turkey and gravy on offer at stalwart Café Absinthe (¥1,500) and it's sister venue Absinthe Solaar, where there will also be live jazz and illuminations as part of the package (¥6,000). Similarly, The Blarney Stone will be putting on their Irish Christmas dinner of turkey with sage and onion stuffing, veggies, gravy and a dessert (¥2,200).
Those with gigantic appetites should consider Checkers at the Hilton Osaka who will be offering their authentic American-style Christmas buffet for between ¥3500 and ¥4,500 depending on the day. Head to the Hyatt Regency Osaka for annual Christmas Lunch Buffet (¥3,500) at the 1F The Cafe, where the kids can meet Santa between Dec 22–25. Or, if you are looking for a more romantic setting, head up to the 28F The Bay Lounge to enjoy their Christmas Gala Dinner (¥18,000), featuring live music and breathtaking views over the Bay.
Hyogo will be hosting Christmas dinner at the fun-loving Mickey's Club. This year the menu will consist of a deep fried turkey plate with rosemary stuffing, maple-glazed squash, garlic mashed potatoes, gravy, cranberry sauce, gingered mixed veggies and cornmeal buns (¥2,500 per plate with a dessert and a glass of red wine).
In a nod to the romantic side of the festival in Japan, Tadg McLoughlin's Irish Bar in Kyoto will be offering candlelit dinners on December 24 and 25. Diners will be treated to a starter; an authentic turkey roast with sage stuffing, cranberry sauce and a special giblet gravy; plus the Irish favourites of Irish porter and whiskey Christmas cake and plum pudding for dessert (¥4,000). Book early to avoid disappointment.
Of course there are some alternatives for those looking for a new spin on tradition. Clapham Inn in Ashiya will be offering a seasonal minty lamb shank with a Guinness or Heineken, and Tavola 36 at the Swissôtel Namba will again be holding their annual Italian-style Christmas buffet (¥3,900).
Whichever you choose, you can enjoy Christmas your way this year without having to leave Japan. Happy Christmas.
[box]
Restaurants and bars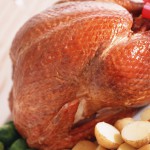 • Tadg McLoughlin's Irish Bar: tadgs.com
• The Blarney Stone: the-blarney-stone.com
• Clapham Inn: facebook.com/claphaminn
• Mickey's Club: mickeysclub.jp
• Checkers: hiltonosaka.com/restaurants
• Tavola 36: swissotel-osaka.co.jp/restaurant
• The Cafe, The Bay Lounge: osaka.regency.hyatt.jp
[/box]