Feature
10 Best Christmas Omiyage
KS has scoured the streets and shopping arcades in search for the best Japanese gifts to send to folks and friends this Christmas.
Nightmare! Or so you might think… but finding interesting gifts for family and friends need not be the daunting task you once thought. Living in Japan exposes you to a range of quirky, and intriguing gifts that would be unique for anyone lucky enough to receive them. Here is a quick run down of captivating omiyage ideas that would be welcomed with open arms this Christmas!
1. Christmas Cookies
¥480 each at The Earth Café, Nu+ Chayamachi
Food always comes to mind when Christmas is involved. Sweets, snacks, chocolates – you name it! Whether you're looking for home comforts or to give the gift of a sugar fix, why not go for something Christmas themed? These scrumptious cookies with various Christmas decorations are the perfect stocking filler for those indulgent individuals!
2. Retro Badges
¥200 each at Standard Bookstore
Christmas is all about children. Even for adults, it's a good time to relive your childhood. Seeing these badges took me back to the times when every kid in school had their backpacks covered in them. Retro images of ketchup brands and movie icons are perfect for invoking anyone's sense of nostalgia. For a more Japanese feel, I recommend the cute Japanese vegetable badges. You certainly won't find those anywhere else!
3. Ridley's Harmonica
¥1,200 each at Te Te, Chayamachi
Japan is a culture known for taking great care of things and using them for a long time. That's why this country is wonderful for finding good-quality retro items. The theme even continues over into making new items seem retro, and this resulted in me finding a brand new retro harmonica! They make a perfect first instrument for children (as opposed to the dreaded pianica!), or even for adults keen to learn a new instrument! Imagine yourselves huddled around the Christmas tree, belting out Christmas songs at the top of your lungs, accompanied by someone on their new harmonica. Happy family moments!
4. Picture Face Masks
¥300–¥800 each at ranKing ranQueen, Namba Station
For anyone who needs a facial treatment this Christmas, treat them to a Japanese one! Each face mask transforms the individual into a dog, cat, weird man, kabuki actor… you name it! The options are endless. What a great gift for those living abroad to get a taste of Japanese culture whilst getting a facial!
5. Ema (wishing blocks)
from ¥500 each at Hozenji Temple, Namba
Most temples sell these beautiful blocks of wood called ema, on which people can write their wishes and leave them at the temple in the hope that whatever they write comes true. Though that's their main purpose, they can certainly act as a creative alternative to your standard Christmas card. Send your friends and family a wish or a prayer this Christmas. Each block is printed with a beautiful image that represents Japan, and will no doubt be a memorable gift recipients won't want to throw away.
6. Japanese T-Shirt
¥900 each at ASOKO
Do you ever find it difficult to fit in? Have you ever been overly praised for doing something simple just because you're foreign? Perhaps you just want to become Japanese? If you, or someone you know answered YES to any of those questions, then this is the perfect gift. With this simple, yet stylish T-shirt declaring your authenticity as a Japanese individual, you will finally blend in with the general public. Never again will someone be shocked that you can read hiragana. Never again will someone stare at you out of curiosity. Never again will someone shout out one thing they know about your country and end the conversation there. Declare yourself Japanese today!
7. Animal Speakers
¥400 each at ASOKO
Christmas can be a difficult time with the pressures of buying expensive things on a limited budget. If you know anyone looking for a brand-new sound system this year, then look no further! These cute animal speakers can boost the sound from your phone to the room, and better yet – they don't need to be plugged into anything! Just place your phone inside to enjoy.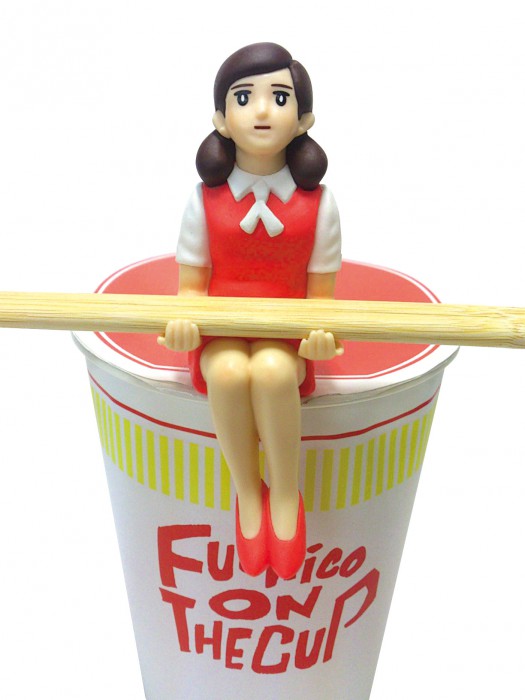 8. Fuchico on the Cup (Cup Ramen lid sitter)
¥1,100 each at Tokyu Hands
Cup Ramen is a Japanese staple, and there is no doubt that you have your favorites. But how many times have you suffered while trying to keep the lid shut as the hot water is doing its thing? Fuchico has the answer to all your cup ramen problems! She will sit over your lid and keep it firmly shut, keeping the heat inside the cup and ensuring the food is cooked properly for your consumption. If Fuchico isn't your ramen girl, a quick walk around Nipponbashi will provide you with many alternatives.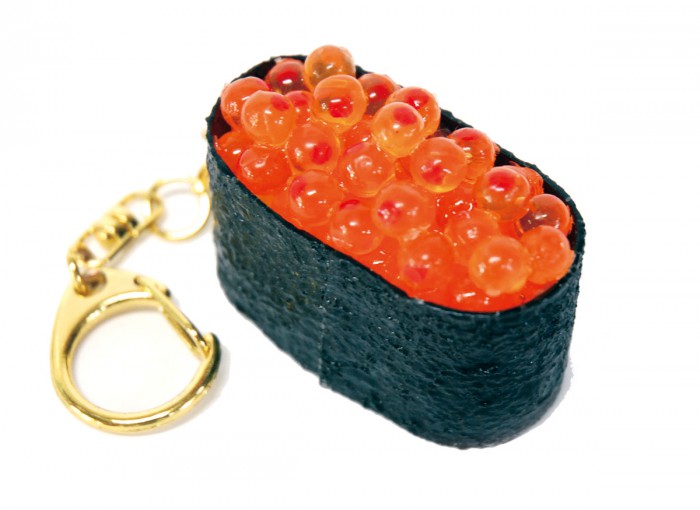 9. Food Sample Key Rings
¥480–980 each at Tokyu Hands
Many are in awe of those realistic food samples you can find at restaurants all over Japan. Some are even disappointed at the dish itself because the sample appears more mouthwatering. This Christmas is your chance to grab a piece of the sample to keep your hunger at bay wherever you might go. A huge variety of these sample keyrings means that you can easily purchase a gift for anyone – a favorite Japanese dish is guaranteed to be available!

10. Minoh Beer
Approx ¥410 each
For those who want convenience but can't handle internet shopping, I have a great recommendation for you right here. Your local convenience store might be selling bottles of Minoh Beer. This is a perfect gift, especially for folks abroad who love their beer, to get a local taste of Osaka. What's Christmas without a little booze in your belly?