Feature
Top Things to Try in 2016
40 places to go and things to do to get the most out of Kansai in the Year of the Monkey! Can you check them all off?
Winter
Enjoy traditional Japanese new-year cuisine. Osechi ryori is a unique traditional dish where every food has a special meaning (check out p18 for a break down). Pick up osechi at a department store or supermarket.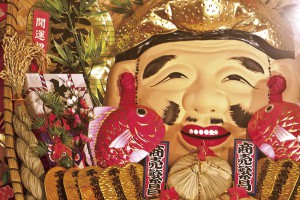 Buy a good luck bamboo branch and pray to Ebisu, the patron deity of commerce for success in business, at the Toka Ebisu Festival. This festival is held at many shrines, particularly in Kansai. Imamiya Ebisu Shrine in Osaka is very popular and is visited by one million people each year.
Around the New Year, many Japanese households, neighborhoods, and communities take part in the annual tradition of mochitsuki – pounding rice to make mochi (rice cakes). A quick online search for "mochitsuki festival" might even bring one up in your area!
Carve up the powder in one of Shiga's winter sports resorts. You can hit the slopes for the day or stretch it out over the weekend at one of the seven resorts that Shiga has to offer.
Bathe in an open-air garden bath, a cave bath, and a waterfall bath, and then top off your day with a full-course crab dinner – all at Kinosaki Onsen.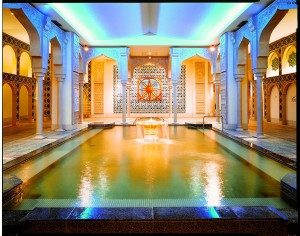 Beat the chill with a day at Osaka's hot-and-steamy Spa World, which provides a rare international bathing experience. Soak in a Greek medicinal bath for an hour and relax in a Finnish sauna house for the next.
Go bargain shopping and get yourself a fukubukuro ("mystery bag" or "lucky bag"). A Japanese New Year custom, merchants make grab bags filled with concealed contents and sell them for a substantial discount. Your bag could contain products many times the value you paid.
Get a grand tour of hell, and have a giant oni (demon) give you the "Paradise or hell check" at Senkou-ji Temple in Hirano, Osaka.
Enjoy delicious, deep-fried whatever you like (kushikatsu) while taking in the kitschy charm of Shinsekai and the night views of Osaka from the Tsutenkaku tower.
Get all romantic at Kobe Luminarie once Christmas time rolls around again. Take your special someone to Motomachi to enjoy the city's famous winter illuminations, put up for two weeks in December.
Spring
Grab a taste of the new season's sake (rice wine) and enjoy the cherry blossoms while touring Kobe's Nada district, the world's top sake-producing region.
Cheer on the local boys at the Osaka spring sumo basho (grand sumo tournament). The competition runs for two weeks in March, and bouts are held daily.
Join the Koinobori (carp streamer) Festa in Golden Week as 1,000 carp streamers fly overhead at Akutagawa Sakurazutumi Park in Takatsuki, Osaka in celebration of Children's Day.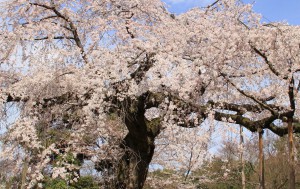 Plan the perfect hanami picnic in one of Kansai's many top cherry-blossom viewing spots: Osaka Castle Park; Shukugawa Park, Nishinomiya; Yoshino, Nara; Maruyama Park, Kyoto; Himeji Castle Park, Hyogo; and the list goes on.
Sample some fine drams on the Suntory Yamazaki Whiskey distillery tour, and don't forget to check out the well-stocked, onsite whiskey library.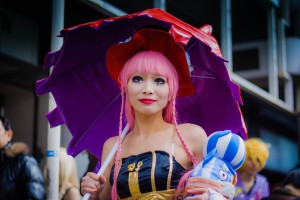 Come in costume or camera-in-hand to check out Western Japan's biggest cosplay extravaganza – the Nipponbashi Street Festa.
Make your own Ramen at Momofuku Ando Instant Ramen Museum in Ikeda, Osaka.
Join the chaos and excitement in Koshien Stadium at a Hanshin Tigers baseball game, or watch the Orix Buffaloes play inside at the Osaka Dome.
Enjoy a two-day extravaganza of live jazz featuring over 300 acts, and more than 3,000 artists, performing in 40 different locations throughout Takatsuki at the Takatsuki Jazz Festival during Golden Week.
Plan your own mini pilgrimage to Koyasan, the Japanese headquarters of Shingon Buddhism. Arrange a temple stay and enjoy the traditional vegan shojin ryori cuisine – the food of the monks.
Summer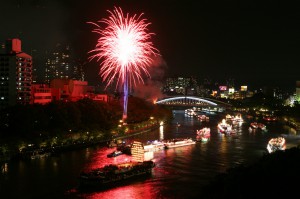 Join in the largest summer festival in Kansai – Tenjin Matsuri – ranked as one of the "Top Three" festivals in Japan. It's known for its boat and land parades, elaborate fireworks shows, and the boat bonfires along the Osaka Okawa River.
Pitch your tent along the shores of Lake Biwa in Shiga and take in the beautiful views surrounding Japan's largest freshwater lake.
Take the ropeway up Mt. Rokko to enjoy Nunobiki Waterfall and the Nunobiki Herb Garden. The observation deck located just beside the top station offers spectacular views of Kobe and is a popular night-view spot.
Try the culinary delights of Kyoto in the narrow, five-block-long Nishiki Market. Lined with more than 100 shops and restaurants, this lively retail market specializes in all things food and is known as "Kyoto's kitchen.
Watch the comedy antics of competitors trying to fly their hand-crafted airplanes over Lake Biwa at the Shiga Birdman festival.
Take part in a whale-watching tour with a veteran boat captain in the sea of Nachi Katsuura, Wakayama.
Explore the red light district of Tobita Shinchi in Osaka for a peek at the seedier side of town. The largest brothel district in western Japan operates largely under the guise of being an area of "Japanese-style restaurants."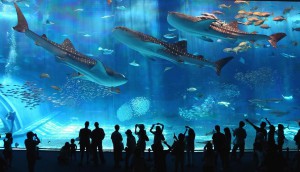 Suma beach is a popular hangout on those sizzling-hot summer days. But if the sand, salt, and crowds are not your thing, consider a midsummer hike in the Suma Alps.
Watch a whale shark feeding session at the Osaka aquarium – Kaiyukan – one of the largest public aquariums in the world.
Get a taste for Kansai's local craft beer, ji-biru, at the Craft Beer Live festival in Namba, Osaka.
Autumn
Devour roasted chestnuts and momiji tempura (fried maple leaves) while hiking through stunning fall foliage to the waterfall at Minoh.
Visit Saiho-ji in southwest Kyoto. Known as Kokedera, meaning "the moss temple," the changing leaves in late autumn create a beautiful color contrast with the moss.
Check out the beautiful traditional Japanese art of ukiyo-e at the Kamigata Ukiyoe Museum in Namba, Osaka.
Get 'spirited away' on your very own Sen to Chihiro experience at Urashima Onsen, in Wakayama – a labyrinthine bathhouse with a cave onsen offering a stunning view over the ocean.
Great for the kids, Mt. Rokko farm, or "Kobe Rokkosan Pasture" keeps many farm animals including sheep, cows, donkeys, ponies and goats. Try your hand at making ice cream, butter, cheese, or soft caramel.
Learn everything you ever wanted to know about Osaka's number one soul food, takoyaki, and then make your own octopus-filled snacks at Osaka's Dotonbori Konamon Museum.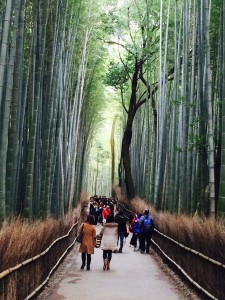 Feed the Iwatayama park monkeys, drink tea among the bamboo groves, and go rafting down the tranquil Hozu river in Arashiyama.
Take a tour of the "Kitchen of Osaka" – Kuromon Market – and sample some fresh sashimi straight off the chopping board. The market contains more than 170 shops selling all kinds of local delicacies, with a focus on fresh seafood.
Get back to nature with some of Kansai's best hiking trails. Odai-ga-hara is high alpine plateau found deep in Nara's Yoshino-Kumano National Park. A loop of this mossy upland offers stunning views and a chance to glimpse some rare plants and wildlife.
Experience some of Japan's finest festivals, including the energetic Kishiwada Danjiri Festival in south Osaka and Kyoto's serene festival of the ages – Jidai Matsuri.