Featured
Secret discoveries
Tanabe City is best known for being the gateway to the Kumano Kodo pilgrimage trails, yet this former castle town has much more to offer.
The majority of visitors pass through Tanabe on their way to the Nakahechi, one of five ancient pilgrimage trails that lead to the Kumano Sanzan – the Three Grand Shrines of Kumano. Little do they know that this historic town on the shores of the Pacific Ocean is worth some exploration and even an overnight stay. Let me explain why.
For a start, downtown Tanabe still exudes the flair of the castle town that it was for 400 years. The Meiji Era reformers did away with the fortress, but the city was spared from destruction during World War II and hence there are still a great number of machiya(traditional townhouses) and yashiki(former samurai residences), not to mention a dozen shrines and temples all in the vicinity of the city center.
The Tanabe Machi-Naviaudio guide(tb-kumano.jp/en/audio-guides/audio_guide) will tell you all about Tanabe's history and about the town's illustrious VIPs – Benkei, Ueshiba Morihei and Minakata Kumagusu – and guide you to places associated with them.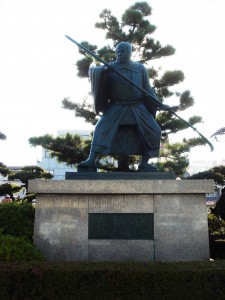 Right outside the Kii Tanabe Station visitors are greeted by a statue of Benkei, a legendary 12th century Buddhist warrior monk. You don't need new glasses if you think that this guy is rather big. Benkei was over two meters tall and of great strength. He was said to be born in Tanabe and is now celebrated at the Benkei Matsuri held in October each year.
A more contemporary celebrity of Tanabe is Minakata Kumagusu (1867-1941), a pioneer naturalist and scientist with all the trappings of a prodigy and eccentric researcher. If you think that you chose a strange research theme at university, consider this: Minakata's research passion was the slime mold, which he collected wherever he went, including during a stint in prison. His great collection of notes and specimens are preserved at the Minakata Kumagusu Archives located in downtown Tanabe (tb-kumano.jp/en/what-to-do/Minakata_Kumagusu).
Aikido enthusiasts will know that Tanabe is the birthplace of O-sensei, aka Ueshiba Morihei (1883-1969), the founder of Aikido. His gravesite, located at Tanabe's Kozan-ji Temple, is a must-go destina-tion for any self-respecting Aikido practitioner(tbkumano.jp/en/aikido).
Visit in early spring and you will be able to delight in an ocean of white ume blossoms at Tanabe's plum orchards. Did you know that Tanabe is the largest producer of umeboshi(pickledplum)inJapanThat's omiyage sorted!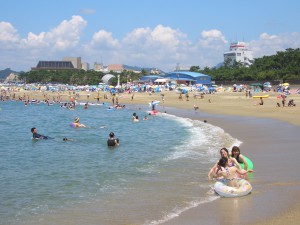 If you come in summer, take a dip in the Pacific Ocean at Ogigahama, Tanabe's very own city beach, or alternatively at Shirahama beach across Tanabe Bay. Shirahama, easily accessible from Tanabe,is a famous onsen resort where a great many of Kansai's couples have tied the knot.
Marrying a local might indeed enter your mind when you watch Tanabe's beauties in their yukata during the Tanabe Festival in mid-July. Don't miss the parade of floats and the horseback archery at the festival before retreating to Ogigahama's beach house for a drink on the seashore while watching the sunset.
Now, here comes a little secret: Tanabe is the gourmet capital of the whole Kii Peninsula. The Kuroshio ocean current sweeping by the shores of Tanabe ensures a constant supply of fresh seafood, and the Kumano Mountains supply wild plants for unique local dishes.
All your culinary needs will be met in Tanabe's Ajijoji, an entertainment area in front of Tanabe Station. In less than one square kilometer, you'll find over 200 izakaya(Japanese-stylepubs)huddled together along small alleys, serving up the best local cuisine (tb-kumano.jp/en/dining/gourmet-map).
Tanabe's citizens are proud of their history and they make every effort to preserve their heritage. Visitors will soon realize that this is a genki machi – a lively city with friendly locals who go about their business with a smile on the face and welcome visitors with open arms. Part cultural destination, part city escape and part pilgrim's paradise, Tanabe is certainly a city that can satisfy all your holiday desires.
[box]
Stay, eat & play at Tanabe's machiya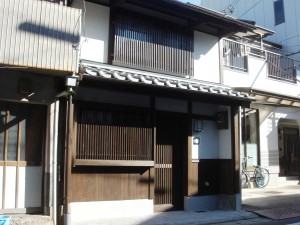 Konyamachiya is a traditional two-storey wooden townhouse that was reformed to suit the taste and needs of modern travelers. Located in a quiet neighborhood near Aizu River, it's the perfect accommodation for a little escape as you'll have the whole house to yourself! The aged, dark-brown wooden beams, white clay walls and the simple yet stylish interior convey a traditional Japanese flair, while the fully equipped kitchen and bathroom gives you all the comfort you want from your home away from home.
Tanabe-shi, Konya-machi 74; Reservation through the Tanabe City Kumano Tourism Bureau: kumano-travel.com/index/en/action_ContentsDetail_Detail/id209
Machiya Café is a 100-year-old traditional townhouse turned café where you can eat delicious home-made pizza baked in a kiln behind the house. This café is run by a non-profit-organisation that helps socially-challenged youths integrate into society. Sasayama, the manager of the café, used to live here and believes that "the house is happy now because many people come to it."
Tanabe-shi, Kamiyashiki 2-6-31; Tel: 0739-20-5595; Open 9am-5pm, closed on Mondays. English menu available. machiyacafe-2choume.sakuraweb.com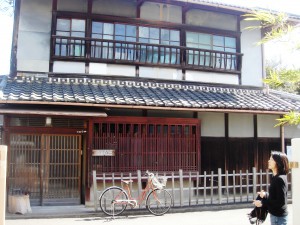 Mojike House, another 100-year-old townhouse, is an art space where accomplished oil painter Hiromoto Naoko lives and works. Her private quarters, an art studio and a gallery, blend in well together manifesting Hiromoto's motto of "living with art; art living with us". She runs a weekly painting school, monthly events and ad-hoc workshops at Mojike House in addition to organizing some "art actions", including the annual Tanabe Arts Festival. One of her favorite workshops is botanical aquarelle painting in the style of Minakata Kumagusu.
Tanabe-shi, Nakayashiki-machi 54; Tel: 080-5542-9745; Prior reservation necessary.
How to get there:
Take the Express Kuroshiotrain run by JR West from Kyoto Station, Shin-Osaka or Osaka's Tennoji Station and get off at Kii-Tanabe. Depending on where you get on the train, it will take 2 hr 35 min to 1 hr 45 min. Please note that not all trains run from Kyoto Station.
Author's tip:
Check out the Tanabe City Kumano Tourism Bureau website, which provides comprehensive information about Tanabe and Kumano in English, French, Chinese and Korean. Their excellent online reservation system facilitates easy booking of accommodation, tours, activities and travel services (kumano-travel.com/index/en/action).
[/box]