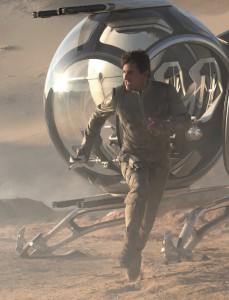 Action, Adventure, Sci-fi
Director: Joseph Kosinski
Starring: Tom Cruise, Morgan Freeman, Olga Kuryienko
There are many things we know for sure about Tom Cruise. Hollywood's highest paid actor, he starred in his first movie at 19, but the role that really launched his career was the cool, risky pilot Maverick in Top Gun(1986). After that he had a string of big hits, playing a range of characters from a hatefuly up pie in Rain Man(1988) to a plucky sports promoter who had to show Cuba Gooding Jr the money in Jerry Maguire(1996). He came to Kansai in 2003 to film The Last Samurai – go out to Mount Shosha in Himeji and the locals will happily show you some of the spots he filmed in. In fact, Japan loves Cruise so much, the Japan Memorial Day Association named 10 October, 2006 Tom Cruise Day in his honour. He's the Hollywood actor who has visited Japan the most, and he always goes out of his way to spend time with his fans, including once catching a bullet train from Osaka to Tokyo and posing for photos with over 100 people.
Cruise's latest offering, Oblivion, which sees him teaming up with the director of TRON:Legacy, is a satisfying combination of solid acting,post apocolyptic earth scenes and Morgan Freeman's gravelly voice. Cruise is a repairman clearing up the mess on earth after an alien war, but does he really know the truth behind it? All the weirder when you remember Cruise actually believes in alien lifeforms,as he's a scientologist. Oh yes, there are many things we don't know about Tom Cruise. His links with the weird world of Scientology. The reasons latest wifeyKatie Holmes decided to call it quits after five years. How exactly he manages to look 20 years younger and buffer than he did 20 years ago. But happily we can be sure that when it comes to acting, he always delivers.