News
Luxury cycling brand launches permanent store in Osaka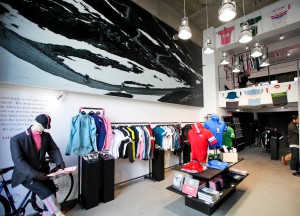 Osaka, Umeda — premium British cycling wear brand Rapha has announced that its temporary Osaka Cycle Club, set up to coincide with the big European Tour races, will become a permanent addition to their global retail outlets.
The Rapha brand is synonymous with style, offering the discerning rider with an upmarket alternative to gaudy lycrawear available elsewhere. From merino wool cycling jerseys to handmade leather gloves, Rapha products ooze quality, albeit at a premium price.
Beyond mere retail outlet, the Osaka Cycle Club (the second permanent store of its kind after San Francisco) offers a place to mingle with other riders, grab a good coffee before or after a ride and enjoy cycling events on the big-screen TV.
[box]Rapha Cycle Club Osaka
Open: 12pm–8pm. Closed Tue. Osaka, Kita-ku, Sonezaki-shinchi 2-6-21 1F
www.esb-japan.com/rapha[/box]