Featured
Amore Mio Italiano
Who doesn't know the bitter-sweet tale of star-crossed lovers Romeo and Juliet, set in medieval Verona? But happily, romance is alive and well in this picturesque city in Italy, making it your perfect Valentine's ticket.

Whether you've got a new Romeo in your life or still looking for your Juliet, Verona can't fail to make you swoon. Its narrow cobblestone streets, which connect several squares lined with impressive villas and majestic palazzi, are ideal for walking arm in arm, sharing amorous glances and whispering sweet nothings. All streets lead to the ancient Roman amphitheatre, the Arena, located in Piazza Bra in the middle of Verona's old quarter. Gladiators would have fought for their lives here during Roman times.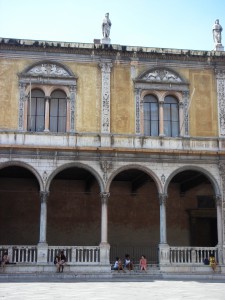 In the late afternoon, you can join other couples on a leisurely stroll around the plaza, or steal a kiss sitting on the steps of the adjunct Palazzo Della Gran Guardia, the Gran Guardia Palace. Get some cheese, bread, ham, olives and a bottle of red wine at a nearby traditional grocery store, and you are well-prepared for a picnic into the Italian night.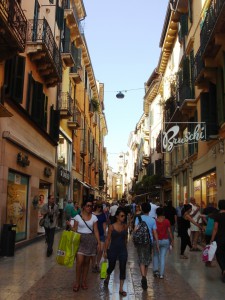 If it is too early during the day for a tête-à-tête after sundown, then treat your darling to a scoop or two of the world's best ice cream from the traditional Gelateria Savoia (www.gelateriasavoia.it) in Via Roma 1 just off Piazza Bra.
Alternatively, go for an Italian meal – pizza, spaghetti, gnocchi, panini, salad, you name it – you can eat it at one of the trattorie, restaurants and cafes which line one side of the square. Sitting on the parasol-covered patio makes also for an excellent vantage point for seeing and being seen, in case you still venture around solo.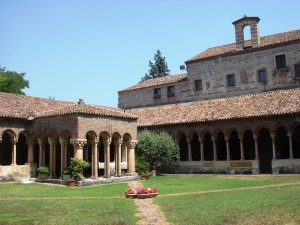 If you come to Verona in summer (mid June to mid September) for a belated Valentine's celebration, and you bring cash to impress, you might want to invite your princess or prince to an opera night out at the Arena (www.arena.it). Built around 30 AD, this is the third-largest amphitheatre in Italy and the perfect décor for staging masterpieces of love and hate and all other emotions in-between. Don Giovani, Aida, Carmen, Tosca, and of course Romeo & Juliet – the world's most famous opera productions are on stage here for the cultured couples among you.
You can buy a glass of Champagne, or even a whole bottle, inside the Arena but it comes at a hefty price. Just do like the locals and discretely smuggle in your own bottle of juice or water and then catch up on wine or other intoxicating beverages after the end of the show. Performances start late in the evening and they last well into the night, which gives a perfect chance to snuggle up for warmth.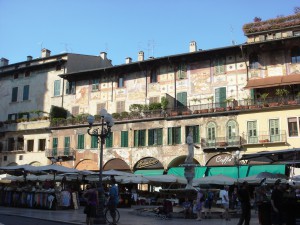 You can easily spend a whole day around Piazza Bra alone, and this would be a day well spent. If you have more time at hand though, then venture along Via Mazzini, Verona's main shopping street for window-shopping of Italian fashion and accessories.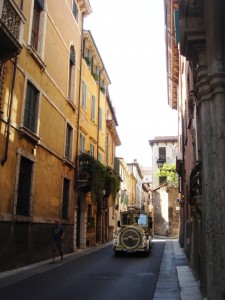 At the end of Via Mazzini you reach a T-junction where a right-turn will take you to Casa Di Giulietta, Juliet's House, and a left-turn will bring you to Casa di Romeo, Romeo's House. These are said to be the houses where the two tragic lovers used to live. The balcony of Juliet's House is the place where young Romeo sneaked in to overhear Juliet vowing her love for him. He answered her longing, and they agree to get secretly married the next day.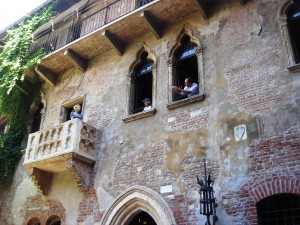 You can re-enact the famous 'balcony scene' for a small fee to get access to the house, but don't expect to be alone with your lover. This place is swarming with eager fans who elbow their way to the Juliet statue in the courtyard for a snapshot with the sweet maiden.
Just around the corner are Piazza Erbe and Piazza dei Signori. The former is a busy square with a market selling fruits, vegetables and all sorts of souvenirs. The main attraction here though is the frescos decorating the houses around this square. The latter is a peaceful square, ideal for escaping the crowds and some quiet intimacy.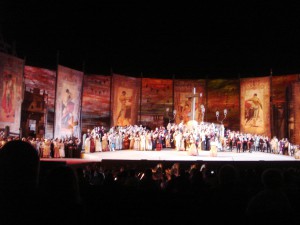 No journey to Verona would be complete without visiting at least one of Verona's brilliant churches, which house impressive collections of fine pieces of art by Italian's Old Masters (www.chieseverona.it). Here, you will find some moments of quiet to contemplate your love or to consider options for the most solemn venue for your big day should you decide to finally tie the knot. Hopefully your parents will be more approving than those given life from Shakespeare's quill.
[box]
Stay
Verona offers a great selection of places to stay. Browse a database of 2 to 5 star hotels and book online at www.veronabooking.com. If you're on a low budget, then try Villa Francescatti, Verona's scenic youth hostel at Via Salita Fontana del Ferro 13/15. A dorm bed costs 18 Euros (approx ¥2000) per person. www.ostelloverona.it/english
Eat
Piazza Bra is lined with numerous cafés and restaurants but prices here might be a little higher. If you feel adventurous, then explore the quiet backstreets and step into one of Verona's osteria where they serve regional cuisine at reasonable prices. For example, Enocibus at Vicolo Pomodoro 3. www.enocibus.com
Getting there
A number of European airlines that serve Japanese airports also connect to Verona. They include: Airfrance, Alitalia, Austrian, Lufthansa and British Airways. Verona Airport is also serviced by Europe's low-cost-carriers, including Airberlin and Easyjet. www.veronaairport.it
[/box]