Food & Drink
Best bird in town
Osaka's only Michelin-starred yakitori restaurant takes the humble chicken to celestial heights while keeping prices down to earth.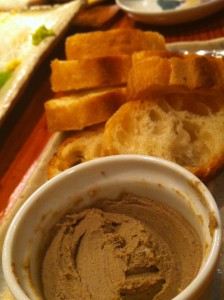 Why, you may ask, would an unpretentious, 20-seater yakitori joint be on everyone's radar? Because in 2009, this establishment became Osaka's only Michelin-starred yakitori restaurant. With its single star, Ayamuya has proven that Osakan street food can hold its own alongside the haute cuisine of Tokyo, and has given Kansai diners another place that serves seriously good food at reasonable prices.
On a recent visit to Ayamuya, I asked owner/chef Takumi Naganuma why he thought his restaurant was included in the Michelin guide. The Michelin judging criteria tends to be both subjective and secretive, so Naganuma said he could only speculate that he was recognized for his commitment to quality and consistency.
Using only free-range chicken grilled over Wakayama charcoal, Naganuma offers four set courses, ranging from the 7-kushi (skewer) course (¥2,200) to the 10-kushi Omakase (up-to-the-chef) "B" course (¥4,900). Both Omakase A and B courses have otsukuri moriawase, a selection of several types of raw chicken sashimi (¥1,600), plus grilled vegetables like shishito (green peppers, ¥350) and yamaimo (mountain yam, ¥400).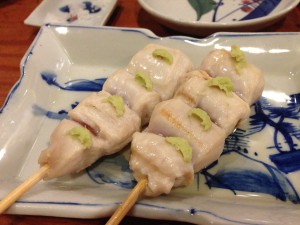 But if you dislike surprises, organs (gizzards, male gonads and the like), or unrecognizable parts, it's best to skip the set courses and order a la carte, where you'll find yakitori standards such as negima (thigh meat with spring onion, ¥340), teba (wing, ¥280), tsukune (meatball, ¥240), and yakionigiri (grilled rice ball, ¥250). Depending on the cut of chicken, choose from shio (salt), tare (standard yakitori marinade) or supaisu (a piquant dusting reminiscent of garam masala).
The drinks menu is compact, but impressive: Suntory Premium Malts on tap, premier cru champagne, Belgian beers, various shochu, and a short, but representative wine list with new and old world selections.
Of all the items sampled on my visit, the highlight was the creamy, Calvados-infused chicken liver pâté (¥950) served with slices of toasted baguette. Allow the ramekin to warm to room temperature and mix the yellow butter in before spreading onto the bread. My companion and I wrestled with each other for the last smear of pâté.
[box]
Sumibi jidori & Bishu Ayamuya
炭火地鶏・美酒 あやむ屋
• Address: Osaka-shi, Fukushima-ku, Fukushima 5-17-39
• Tel: 06-6455-7270
• Access: a few minutes walk from JR Fukushima, Hanshin Fukushima and JR Shin-Fukushima stations.
• Open: Monday to Saturday 5:30pm–11pm. Last order 9:30pm.
• English: limited on menu, very littlespoken
• Price: ¥300 flat entry fee per person; skewers start at ¥180 a piece; VISA card accepted
• Go to dish: liver pâté with baguette
• Best bit: the best yakitori in Osaka
• Worst bit: course menu not recommended for the squeamish
[/box]
Because Ayamuya is so popular, and seats so few, plan ahead to get in. It's best to reserve a seat by phone (Japanese only), but if you pop your head in as the first wave begins to leave, around 8:30-9pm, you may just be able to cruise right in without waiting.
While popular chain-shop Torikizoku may offer the cheapest yakitori in town, Ayamuya has become the gourmet benchmark for yakitori in Osaka. So head over to Fukushima and add a Michelin-starred restaurant to your Facebook page. Your wallet will hardly notice.