Food & Drink
Tamba Gourmet Focus
The idyllic countryside and thriving artisan culture of Tamba Sasayama has long been a draw for urbanites, but more recently the area has also become a gourmet destination in its own right.
The idyllic countryside and thriving artisan culture of Tamba Sasayama has long been a draw for urbanites, but more recently the area has also become a gourmet destination in its own right. While most famous for rustic dishes such as wild boar hot pot, there are a range of sophisticated dining options in the Tamba area these days. And with some of the highest-quality local ingredients around—edamame beans, mushrooms and chestnuts in particular—what better place to start a restaurant? One establishment that has found success in its strictly local approach is Luna Parpados, and while lunch here might not be the most traditional way of experiencing Tamba's famous ingredients, it is certainly one of the most delicious. 
Tucked away down a mountain road a short drive from many of Tamba's pottery workshops, Luna Parpados is a Spanish restaurant run by husband and wife team, Kazunori and Yumiko Suzuki. The Suzukis have embraced their rustic setting by evoking the feel of a cozy cabin with roughly-finished wooden furnishings. A long bench sits outside ready for busy days and piles of logs are stacked against the window to feed the fire. We are shown to a table that looks out at the rolling mountains.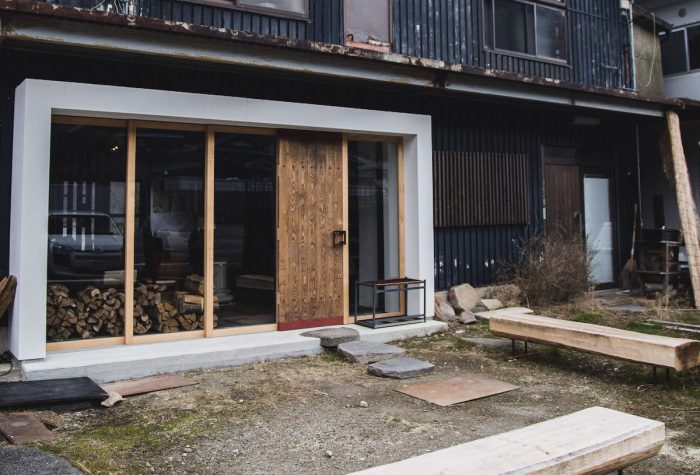 Kazunori pulls up a chair and joins me at the table as Yumiko heads into the kitchen to prepare our special lunch course. Although Kazunori is a chef himself, having lived and learned to cook in Spain as a young man, it is Yumiko who runs the kitchen these days. He is tasked with putting together the menu.
When visitors ask Kazunori what the best ingredients to eat in Tamba are, he always struggles to answer. "I can't think in terms of good or bad food," he tells me with a furrowed brow. "The tart apples we grow here might not be the best for eating raw, but they're unparalleled when roasted. There are no bad ingredients, just better and worse ways of using them." Kazunori's ethos surrounding food is simple: he finds joy in food that some consider imperfect and delights in bringing their flavors to life.
While we sip on Tamba carbonated spring water, one of Kazunori's suppliers drops by with the carrots for the week. Supporting local farmers has always been a key aim at Luna Parpados. The carrots that Kazunori takes are the ones that the elderly couple who farms them are unable to sell. He shows me one that is perfect but for the tiny dent near the base. This, he tells me, is completely unsellable on the commercial market.
Kazunori disappears into the kitchen where his wife has been working busily. A few minutes later he returns with immaculately-presented dishes. Luna Parpados serves all its food on local Tamba pottery, and the rustic tableware is a perfect counterpoint to the restaurant's refined cuisine. As far as possible, Kazunori attempts to let the ingredients "speak for themselves." The seasonal salad has no dressing: after all, why would you want vinegar to mask the fresh crunch of the lotus root, or the sweetness of the stewed beetroot? He also works hard to feature local Tamba-grown produce as much as possible—even untoasted sesame oil he uses is made from locally-sourced sesame seeds.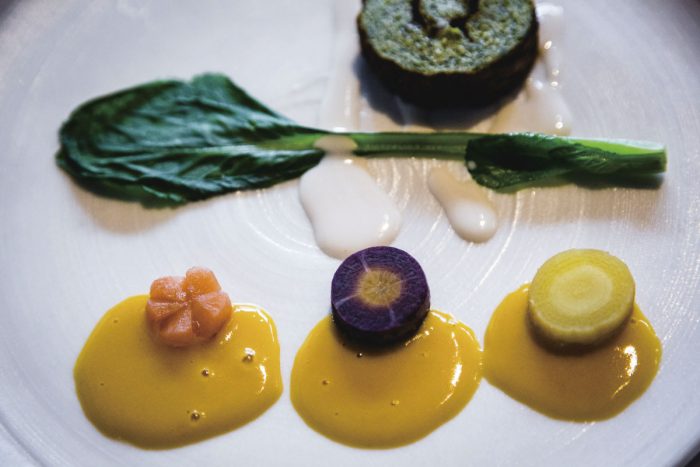 The carrots from earlier make a reappearance in an elegant plate of hors d'oeuvres. They have been turned into a deliciously rich gazpacho, a nod to the restaurant's Spanish influences and possibly the most delectable morsels on the plate. As we enjoy the decadent venison stew, he retells the story of his homestay experience in Spain, and how he ended up enrolling as a visiting student in a culinary school. "I would go back almost every year after that," Kazunori recalls with nostalgia. "I collected recipes and tried them out back here in Japan." While the Spanish influences are evident in Luna Parpados' cuisine, the Suzukis also draw on Japanese cooking techniques now and again. Alongside the gazpacho is a spinach roll cooked in the same style as datemaki, a rolled fish paste omelet that is traditionally eaten at New Year.
The meal is topped off with a strong coffee, and I compliment Kazunori on the delightfully airy and sweet cream puffs—the best I have ever tasted. He quips, with a chuckle, that were Tamba's climate conducive to growing sugar cane, Luna Parpados would surely source that ingredient from here too. 
Luna Parpados
Open from 11:30 am for lunch.
Reservation only.
Courses priced between ¥3,000-¥5,000.
Menu changes with the seasons and availability of ingredients.
Tel: 050-3592-0029