Maître Renard serves fine French cuisine created from organic local ingredients with a cheeky nod to Osaka.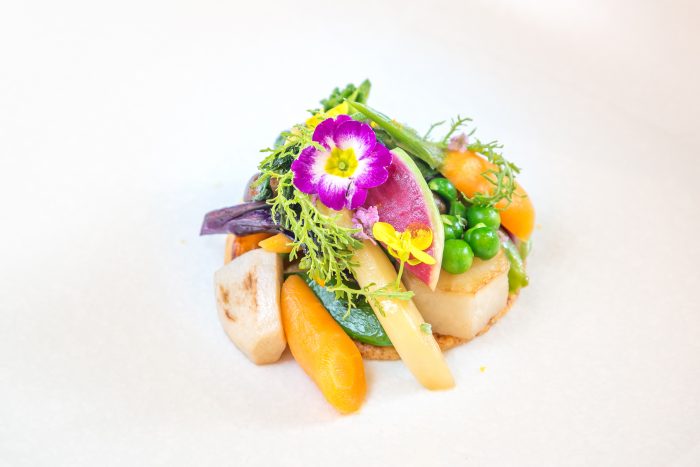 The first hint of Maître Renard's salute to its Osakan customer base is printed on its menu. Two of the three course options, "Menu Maido" and "Menu Ookini," are named after the warm greetings of thanks in Osaka's unique Kansai-ben dialect. The third and fullest course on offer is called simply "Menu Osaka"—a wink to all those die-hard foodies ready to eat till they drop, as the famous Osakan mantra of kuidaore (meaning "eat yourself bankrupt") reveres.

However, the Maître Renard dining experience is perhaps more refined than the average Osakan might be used to. In an intimate dining room whose mellow diffused light complements the minimalist décor and soft background jazz tunes, beauty and sophistication are both in the room and on the plate.

Served on delicate, understated white and cream-colored French crockery, course dishes change weekly and ingredients shift with the seasons. One appetizer staple we sample is a takoyaki-style dish with a twist: octopus and blue cheese inside crispy mini brioche balls. Light, airy, and bursting with flavor, they melt in your mouth, leaving you hankering for more.

Next, Kyoto- and Ginza-trained chef Hirotake Nagano serves us a colorful starter composed of a medley of fascinating organically grown pan-fried vegetables—picked straight from his own farm in Nagaokakyo, Kyoto. Red daikon radish is one, plus an assortment of turnips and three different kinds of potatoes including the pea-sized mukago—the tiniest tuber you'll ever see. This creative all-veg stacked dish is sautéed to perfection with just the right amount of crunch.

A French blood sausage arrives—which can sound intimidating to those not used to that kind of thing—but this light, fluffy package with pork from Okinawa inside a paper-thin crepe, dusted magenta with powdered beetroot, has exquisitely subtle flavors. Perfecting the balancing act is a dainty dob of tangy light-pink apple-hibiscus puree.

Maître Renard celebrated its one-year anniversary this January 15th. Brothers Hirotake and Kozo Nagano opened the Dojima restaurant together just over a year ago. Both born in Kyoto, trained in French cooking, and between them having worked in restaurants in Kyoto, Tokyo, and Paris, they've now teamed up with pastry chef Yusaku Nishikawa to create one of Osaka's most delightful French cuisine experiences.

The restaurant is open for dinner only and Saturday is 'family day,' where courses are half price with a kids' set included. Vegetarians can be catered for, as can vegans if booked at least one week in advance. They can take phone reservations in English, so ring now to book your table or email [info@maitrerenard.jp]. You'll be glad you did.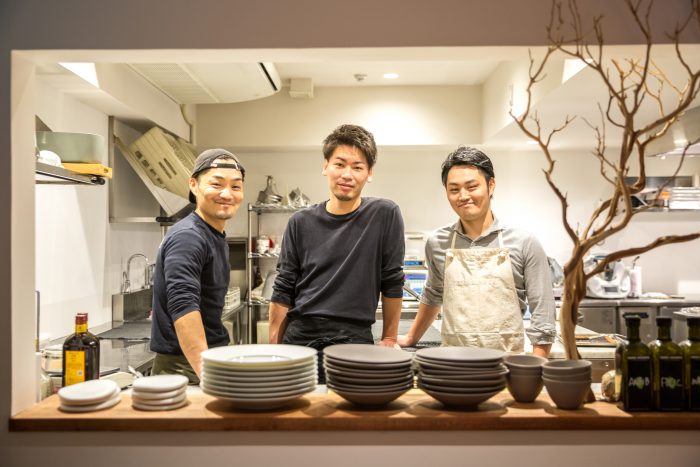 Maître Renard
Address: Hatsune Bldg. 2F, 1-5-4 Dojima Kita-ku, Osaka
Tel: 06-6147-633 (12pm~11pm)
Access: JR Tozai line, Kitashinchi Stn, Exit 3, 5-min walk; Hankyu Umeda Stn, 8-min walk
maitrerenard.jp/english
Open: Course dining 5:45pm–7:30pm (last order); À la carte 8pm–11pm (last order)
Closed: Sundays, 2nd and 4th Saturdays, National Holidays
* Reservations required at least one business day in advance for course meals
* A la carte dining not available on Saturdays