Featured
A breath of fresh air
Just a short detour from the main travel hubs of Kansai awaits the rural haven of Tamba Sasayama. KS discovers that castles, artisan sake, picture-postcard villages and bucketloads of fresh air await the adventurous traveller.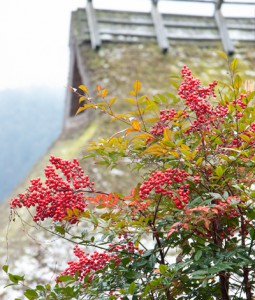 Great Tamba, known locally as Tamba no Kuni, spans the area where Osaka, Kyoto and Hyogo now converge, yet was historically one of the provinces of ancient Japan. Today its towns and villages, despite their prefectural boundaries, share a cultural heritage that offer travelers a fascinating glimpse into both Kansai's feudal past and the daily lives of its contemporary rural communities. Here are some of the area's highlights, perfect for separate excursions or a weekend of exploration.
Sasayama
Sasayama is a great strolling city teeming with hole-in-the-wall museums, galleries and funky cafes, so give yourself time to explore. History buffs should head to Sasayama's very own castle—or the remains of it at least. While the outer walls and moats are relatively intact, as with many Japanese castles today, the remaining central structure—the Oshoin—is actually a very expensive, faithfully reconstructed copy. The castle was hastily constructed in 1609 as a base from which to launch an attack on Osaka by Tokugawa Ieyasu and is notable for its lack of a central tower. Tokugawa was more concerned with function over aesthetics and the tower was never constructed. Today, the Oshoin serves as a museum where you can browse historical artefacts within serene tatami mat rooms.
More history can be found just 15 mins walk away in Sasayama's delightful old merchant quarter where many traditional thatched buildings have been beautifully preserved. Here, the Anma Museum, a 200-year-old former samurai abode, has a fine collection of Edo-period home furnishings, tools and other vintage knick-knacks.
Back in town, a stroll along the Kawaramachi shopping street will take you past restaurants serving the local delicacy Botan nabe (wild boar hotpot) and jolly vendors hawking roasted chestnuts during the winter months and various kuromame black bean snacks throughout the year. Close by, the Old Tamba Pottery Museum and the Museum of Noh Artifacts are both worth ducking into if you need a bit more culture. Real pottery enthusiasts will not want to miss the Tamba Traditional Art Craft park or Tachikui Sue-no-sato (www.tanbayaki.com), a 20-min taxi ride outside the city. Set in the lush Tamba countryside, the park features a unique Nobori Gama inclined kiln, which attracts artisans the world over, notably the famous British ceramic artist Bernard Leach. For full immersion in the local Tamba-yaki pottery, sign up for a hands-on pottery workshop.
---
Getting there
From JR Sasayamaguchi Sta. (Fukuchiyama Line) take the Shinki bus for 20 mins and get off at the Nikaimachi stop. From there you can enjoy Sasayama on foot, beginning with the castle. Stop off at the Taisho Romankan tourist information center and pick up a handy guide map or relax with a cup of tea. Tip: If you want a look at a more picture-postcard style castle, head further up the JR line for 30 mins to Fukuchiyama, where the attractive Fukuchiyama Castle offers great photo opportunities.
Where to stay
A 10-min taxi ride from Sasayamaguchi station, Sasayama-sou (sasayamaso.com) offers traditional Japanese onsen lodging from ¥10,000 per person (based on two sharing) with breakfast and dinner. To enjoy traditional lodging with modern comforts, head for the beautiful Maruyama Village (maruyama-v.jp) and stay in your own private renovated cottage. Dinner is served from the on-site, Michelin-starred Roan Matsuda restaurant. Cost is ¥36,000 per person based on two sharing with breakfast and dinner or ¥30,000 per cottage (sleeps up to 3) for room only. It's a 20-min taxi ride from Sasayamaguchi station.
Sake Symphony
Located near the end of Sasayama city's main shopping street is a museum and shop operated by the 200-year-old Homei Shuzo sake brewing company. The Horoyoi Jokagura facility is actually the company's original Edo-period sake kura, yet now houses a fascinating display of the traditional brewing tools and techniques historically used in the area by its Toji brewmasters. They offer a guided tour for small groups, and free tastings of its variety of craft sakes. Make sure to taste their signature Yume no Tobira infused with classical music (somehow), the bright and zesty Shin Shibori, and a sweet, almost chocolatey sake liqueur produced with local chestnuts. Great for souvenirs.
Tours offered daily from 9:30am–5pm (closed Tuesdays).
Address: 73 Gofukumachi, Sasayama, Hyogo • Tel: 079-552-1133
---
Tamba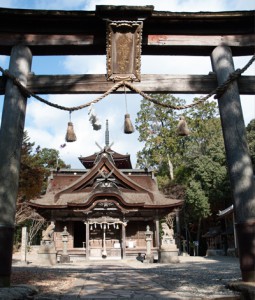 A little further up the Fukuchiyama JR line from Sasayama, in the heart of what is now Hyogo prefecture, lies the charming little market town of Kaibara. Alighting at Kaibara station, a 10-min walk takes you to the ruins of the administrative buildings of the Oda clan Kaibara Han Jin'ya who ruled over the Tamba area for centuries, and the adjacent Kaibara History and Culture Museum. Center stage, however, is the ancient Hachiman Shrine, which towers above town from its perch atop a rocky outcrop. It dates back to the 11th century and was constructed as a branch of the Iwashimizu Hachiman-gu shrine in Kyoto. Access is via a flight of several hundred steps, winding a path up the hill and providing a pleasant stroll to the top. Stepping through the torii gate, you may be surprised to discover that it's one of very few shrines in Japan that also features a bright red buddhist pagoda within the same complex. Chiming the enormous bell at the foot of the pagoda three times will apparently relieve all your worries, regardless of your faith.
At the foot of the hill by the Okumura river, is the original Kaibara Town Hall, a lovely example of Taisho-era architecture. Looming over the river is an enormous 1,000-year-old keyaki zelkova tree. Its giant roots have formed a natural causeway across the river and now provide the foundation for the Kinone bashi bridge (lit. tree-root bridge) that leads into town. Immediately across the road is the small Oda Jinja shrine, further evidence of the Oda clans' importance in the area. Most notably Oda Nobunaga is the man Japanese history credits with having laid the foundations for the unification of Japan, later completed by his successors Toyotomi Hideyoshi and Tokugawa Ieyasu. As one saying goes, Nobunaga did all the hard work and pounded the rice, Toyotomi formed it into mochi and Tokugawa simply enjoyed the fruits of their labours.
Getting there
JR Kaibara station can be reached by train both from Osaka and Kyoto on the Fukuchiyama line.
---
Mujika to my ears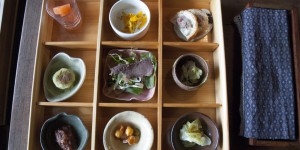 Foodies rejoice. A real gem to be discovered in Kaibara is Japan's first venison speciality restaurant. Mujika opened three years ago in a restored 100-year-old machiya townhouse and serves up a delicious marriage of locally sourced venison and organic vegetables. The lunch course (¥1,680) features a beautifully presented bento-box of nine inventive appetisers and a main dish of cooked-to-perfection strips of venison steak, in a sansho-infused miso dressing. Such is the chef's love affair with deer that even the little square cookies served with coffee contain traces of powdered deer bones (widely used in chinese medicine). A culinary treat.
Tel. 0795-73-0200 • Lunch 11:30am–3pm (Last order 2:30) • Dinner 6–10pm (Last order 21:30 • Website: hayama.main.jp/musica.html
---
Nantan
Hugging the foothills in the lush countryside just 30 km north of Kyoto city in Miyama-cho is the beautiful Kayabuki no Sato, a working village of thatched cottages that rival those of the UNESCO World Heritage village of Shirakawago in Gifu. Grab your camera and take a stroll around the peaceful rural community, which boasts dozens of houses still featuring the traditional kayabuki thatch. Although most are private residences, one has been turned into a museum (¥300) that's well worth a visit for a peek at how these traditional wooden homes might have looked in centuries past. Once inside, you'll be invited to take some tea at the central irori hearth—the only source of heat throughout what must have been extremely harsh winters. To survive the cold, even the cows were kept inside an internal shed and wore special straw slippers to protect their hooves. The museum also provides an opportunity to climb up to the hayloft and gaze up at the heavy weave of straw that makes up the thatched roof itself.
Wrap up this perfectly bucolic day with lunch at Matabe, one of three minshuku guesthouses in the village. Here, tuck into hearty dishes starring local vegetables and river fish all served with miso soup and rice.
---
Getting there
While the best way to reach Miyama is by car, public transport is still an option. From Kyoto, take the JR San'in line to Hiyoshi Station (about 45 mins), and take the Nantan bus to Miyama (approx. 1 hour). There are six connections per day, with the last bus back to Hiyoshi leaving just before 5pm.
Getting there
After your day spent sightseeing it's time to unwind with a soak in the mineral-rich waters of a hot spring onsen. Tamba is brimming with hot springs that are perfect for day trippers, but for those seeking an overnight stay, the Keburikawa hotel in Kameoka is the place to go. They offer rooms with private rotenburo outdoor baths and serve delicious local organic fare at their on-site restaurant. keburikawa.com
---
Train up, boat down
For a fun day trip, take the Sagano Scenic Railway from Arashiyama station in Kyoto to the end of the line at Kameoka. The 25-min journey takes you through the Hozu river gorge past thousands of cherry and maple trees, which provide glorious views come spring and autumn (read: the scenery at other times of the year is less impressive, so best to time this trip with peak months for blossom and fall foliage). When you're ready to make the return trip from Kameoka terminal, hop on a boat heading down the river and enjoy two hours of stunning riverbank scenery (hozugawakudari.jp/en).
---