Featured
The beautiful and damned
It may be called the "big durian" of South East Asia, but Jakarta offers visitors some unexpected wonder in the midst of its chaos.
An open Muslim city
Indonesia is the biggest Muslim country in the world, but unbeknownst to most, it's also an exceedingly tolerant and accepting nation. Tourists are encouraged to visit the city's mosques and participate in religious ceremonies. One place of paramount importance to Indonesian Muslims is Mesjid Istiqlal, the biggest mosque in Southeast Asia. Opened in 1978 by the then President Soekarno, the mosque in the city's centre can accommodate 120,000 people, which it well and truly surpasses during the end of Ramadhan celebrations every year. In 2001 it was famously visited by former Jakartan, US President Barack Obama. Just across the road from the mosque stands the quaint Jakarta Cathedral, built in the early 1900s by the Dutch during their colonisation of the country. In the same district there is also the iconic National Monument, or Monas, which is a viewing tower in the shape of a cauldron that symbolises Indonesia's fight for independence.
A melting pot for the Archipelago's food
There is no better place to taste the nation's diverse cuisine than on the streets of Jakarta. Popular dishes include chicken sate skewers smothered with peanut sauce, bakso meatball noodle soup, pecel lele fried catfish and everyone's favourite fried rice dish, nasi goreng. Jakartans like all of their food spicy, so be prepared for copious amounts of chili and sambal sauce in your meals. For an authentic Indonesian experience, head to one of the Restoran Sederhana chains. The restaurants serve unique dishes from Padang, Sumatra including the famous beef rendang curry. Those with an adventurous palate should explore the streets of Glodok, Jakarta's Chinatown, where you can chow down on sate skewers of a different sort, such as goat, horse, and even cobra meat.
A Mecca for shopping
With over 130 open for business, Jakarta lays claim to having the most malls of any city in the world. At the top of the list is Grand Indonesia, located next to the majestic Selamat Datang fountain in the centre of the city. As the city's biggest and most renowned mall, it encompasses eight floors of designer shops, Indonesian restaurants, rides for the kids, and an 11-cinema multiplex. At the more traditional end of the spectrum, a fun option is Mall Ambassador in Kuningan, which has has the prices and atmosphere of an authentic outdoor market in the comfort of an air-conditioned mall.
Beaches that rival Bali
Just an hour offshore from the hazy smoke lies one of the region's hidden treasures: Kepulauan Seribu, or One Thousand Islands. With its white sandy beaches, crystal clear water, and vast coral reefs, the archipelago that encapsulates 140 islands (not 1,000 as the title prescribes) is surprisingly off the beaten tourist trail. You can scuba-dive, island hop and eat fresh fish caught off the boat. Tour company Expat Travel offers cheap trips around the islands with English-speaking guides and a night's stay on your own private island. For more information check out their Facebook page (facebook.com/expattravelindonesia).
The place to party in Southeast Asia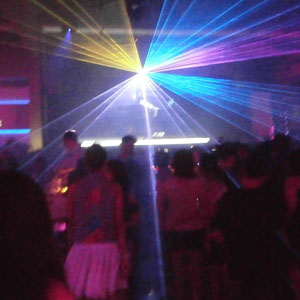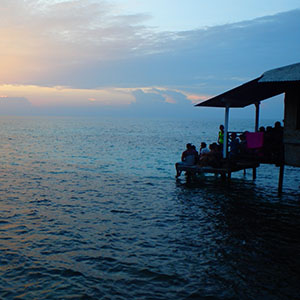 Forget the overpriced drinks in Singapore, go-go bars in Bangkok, and backpacker watering holes of Ho Chi Minh; Jakarta's diverse nightlife has something to offer every partygoer. For a bar hopping, head to Kemang, a funky district alive with pubs, restaurants and hipster locals. If a dance is on the agenda, big clubs such as X2 and Dragonfly regularly host international DJs and are popular with foreigners and locals alike. However, to see the city at its wildest, you can not look past the infamous Stadium, in Jakarta's north. This four-story club built as a medieval castle thumps trance and dance tunes from Friday afternoon into the wee hours of Monday. For all information on the city's vibrant nightlife, check out (indonesiaclubbing.com), which has reviews and event listings in English.
---
Travelling Tips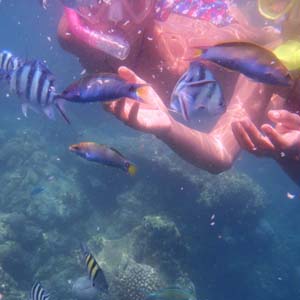 • Be prepared to be patient, Jakarta's traffic is one of the most congested in the world.
• Ride a Bajaj, a traditional threewheel taxi that are everywhere in the city.
• Be careful of your belongings when in crowded areas and on public transport.
• Learn some key Indonesian phrases—the locals love it when foreigners speak some Bahasa.
• Although Jakarta is relatively liberal, still be mindful and respectful of Muslim customs.
When to go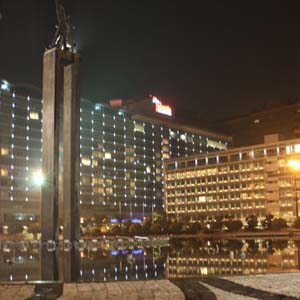 Jakarta traditionally has a dry and wet season. However due to changing climate conditions, the seasons are no longer as clear-cut. The wet season takes up most of the year from November through to June, however it is wettest in January. Be aware too that Jakarta can be prone to flooding. Depending on your reasons to go there avoid traveling during the Muslim holy month of Ramadhan, as many services and stores are closed during the day.
How to get there
Low-cost carriers Jetstar and Air Asia now offer competitive prices to Jakarta from Osaka KIX with stopovers in Singapore and Kuala Lumpur respectively. Garuda Indonesia and Malaysia Airlines offer competitive deals too.
---