Featured
Jam-packed with fun
Take a break and a bite out of Anpanman and his friends at Uncle Jam's Bakery in Kobe.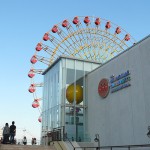 Along the picturesque Kobe Harborland is a magical museum called Kobe Anpanman Children's Museum and Mall. The fourth to open in Japan, the museum, which is dedicated to one of the most popular anime series among young children in Japan, has become the new family day-out destination in Kobe. For the uninitiated, Anpanman is a superhero whose head is made from a bean jam bun known as anpan. The museum, which costs ¥1,500 per adult and child over one year old, is a wonderland of hands-on activities, kid-sized sculptures of all the Anpanman characters, exhibits, slides, play areas and a screening room to watch the show.
Below the museum, there is a whole Anpanman mall that's free to enter. There are a variety of attractions and events including a few restaurants, a hair salon, game center, and many shops with every kind of product available with Anpanman and his friends. Anpanman even performs a dance and makes an appearance for picture ops.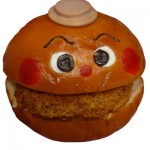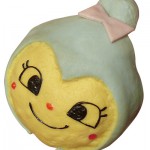 There is also the popular Uncle Jam Bakery where you can buy Anpanman anpan! (Fans will remember Uncle Jam as the kindly old baker who created the bread-headed boy.) Unfortunately, there is often a line to enter the bakery that wraps around the front of the store. But the store always provides entertainment to those waiting through the fun window display where the bakers can be seen hand making new batches of bread. Once inside, the lovely aroma of freshly baked bread fills the shop, delighting excited children and parents. This writer found it difficult to choose among the variety of incredibly cute breads and buns displayed in a buffet style with happy faces like Akachanman and Melonpannachan.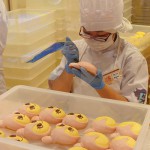 The most popular bun is of course the Anpanman bun (¥300). But, the other buns filled with vegetable curry, blueberry jam, strawberry milk cream, chocolate and custard cream are also delicious options and all come in at a reasonable ¥300. Fun alternatives to the buns are The Frank Footer, a sausage with a bowtie and top hat (¥350), and the Hamburger and potato kids (both ¥380).
If you are traveling with young children or find yourself bored on a rainy day Uncle Jam Bakery at the Anpanman Mall should definitely be on your list of places to visit.
[box]
• Address: Hyogo, Chuo-ku, Kobe, Higashikawasaki 1-6-2 (10 min walk from JR Kobe Station)
• Opening Hours: 10am–7pm
• Price Range: ¥300–380
• Go to dish: Anpanman bun
• Best bit: Cute buns, fun interactive display
• Worst bit: No drinks, No seating
[/box]