Featured
A Gem of an Island
Sri Lanka is emerging as one of the top travel destinations in Asia, with a fascinating cultural and ecological heritage waiting to be explored.
An island of spectacular landscapes, fascinating history and diverse culture, it's little wonder that Lonely Planet designated Sri Lanka as their top tourist destination for 2013. Renowned since ancient times as 'the island of gems', Sri Lanka has an abundance of precious stones as well as many other wonderful natural assets. The beaches are probably the best in Asia – clean, not crowded and perfect for swimming, scuba diving and surfing. The rivers, rainforests and even the arid plains offer magnificent views. You can join an elephant safari in one of the national parks, or go on a whalewatching expedition.
Sri Lankans are friendly and welcoming, and English is widely spoken. The local cuisine is based on fish, vegetables and coconuts, with a tantalising mix of traditional Ayurvedic herbs and spices, and is tasty and nutritious. The country has a deep spiritual heritage – it's considered to be one of the heartlands of Buddhism – and diverse communities of Sinhalese, Tamils, Burghers, Muslims and Malays. The Portuguese, Dutch and British all colonized Sri Lanka, but before that there were centuries of trade with the Arabs. All these influences can still be seen today, making for an enthralling cultural experience. After almost 30 years of civil war, it's a good time to visit Sri Lanka – many areas are opening up and the tourist infrastructure is improving, with better roads and services.
City by the Sea
Most guidebooks aren't very complimentary about the capital city of Colombo. It's certainly noisy, polluted and chaotic. However, it's also full of leafy streets and suburbs (with names like Cinnamon Gardens), excellent restaurants and a burgeoning contemporary art scene. Colombo has an intriguing range of both colonial and modern architecture – from the grandiose 19th century buildings of Fort, to the striking modern design of the Parliament building by Sri Lankan architect Geoffrey Bawa, the pioneer of the Tropical Modernism style of architecture. Bawa's former office is now Gallery Cafe, the city's most stylish eatery. One of the best ways to meet the people of Colombo is to go for a sunset stroll along Galle Face Green – an open space by the sea that was a horse race track in colonial times but now attracts hordes of locals for kite-flying, picnics and paddling in the sea. It's a great place to strike up a conversation, and as the sun sets you can nibble on street snacks such as isso vadai – deep-fried lentil patties topped with prawns.
Going Barefoot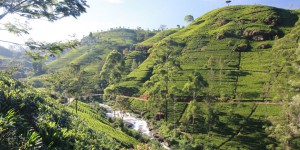 The laid-back beach resorts of Unawatuna and Hikkaduwa on the south and south-west coasts are great places to relax and enjoy the sea and sand. If you catch the train from Colombo you can still see the scars of the 2004 tsunami as you pass through the colourful fishing villages that hug the coastline. Another way to go south cheaply and quickly is by taking the highway bus from Colombo to Galle on the Southern Expressway. Galle is a marvelous old Dutch Fort town with quaint streets of colonial villas, as well as mosques, temples, shrines and churches. There are also plenty of designer boutiques, jewellery shops and art galleries to spend time in.
The east coast is much less visited than the south, as it is more difficult to get there. The journey by train to Batticaloa, also a Fort town, passes through arid plains and chains of lagoons, with some war damaged buildings still visible. From Batti, as it's referred to locally, it's a couple of hours by bus to the town of Pottuvil, from where you take a three-wheeler taxi to the village of Arugam Bay. The bay was heavily damaged in the tsunami, but has recovered to become a popular destination for surfers and the coastline is stunning. The arduous trip will be compensated for by friendly locals, spicy cashew nut snacks and the amazing natural scenery.
The Cultural Triangle
The dry zone of central Sri Lanka is where Sri Lankan civilization began over two thousand years ago, and these ancient sites of the cultural triangle indicate how technologically advanced the societies were with their 'tank' reservoirs and sophisticated water irrigation systems. The 'triangle' refers to the archeological sites of Anuradhapura, Polonnaruwa and Dambulla. At the top of the triangle is Anuradhapura, a major pilgrimage destination with a sacred Bo tree. On the east side, Polonnaruwa has wonderful examples of rock carving, and in the west there is Dambulla, with exquisitely detailed paintings on the walls and ceiling of its ancient cave temples. In the centre of the triangle lies the breathtaking rock citadel of Sigiriya, with its murals of celestial nymphs, and the Buddhist centre of Mihintale. Aside from Anuradhapura, the distances between the sites aren't huge and can be managed by local bus services.
Tea Time
Ceylon tea is world-famous and it is a very important export for Sri Lanka. The vast tea fields – dotted with tea pickers in their brightly coloured saris and colonial bungalows – carpet the hillsides. The train from Kandy, another important site of Sri Lankan Buddhism and culture, winds its way up through the hills to Nuwara Eliya. There's not a lot to see and do in Nuwara Eliya itself, but it's a good base for visiting the tea plantations, where you can see the whole process and sample a fresh cuppa. You can also visit World's End, a dramatic cliff escarpment that marks the edge of the Hill Country and on a good day, has views out over the south coast.
---
Ways & means
Accommodation
From boutique hotels in beautifully restored colonial villas and tea factories converted to luxury hotels, as well as quaint guesthouses with tropical gardens and breezy beach huts – Sri Lanka has accommodation options for all tastes and budgets. In Colombo it's mostly high-end hotels but backpacker hostels are starting to pop-up, and some are both stylish and very reasonably priced.
When to go
Sri Lanka has two monsoon seasons – roughly from April to September in the west and south-west of the island, and October to March in the east and north-east. Generally, the best time to visit is between January and April; however, climate change has disrupted the weather patterns.
Getting there
There are currently no direct flights from KIX to Colombo. Malaysian Airlines offer the most competitive fares and have the shortest connection times. It's also possible to fly there on Cathay Pacific, Thai Airways or Korean Air. Most flights depart from and arrive in Colombo around midnight.
---