Art
Artistic inspiration for your wardrobe
Like the look of this month's cover? You can wear it. Meet the artist Erik, the man behind hand-drawn clothing print brand Viva La Mort.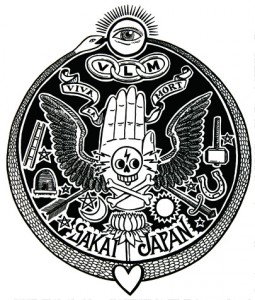 If Japan's original ukiyo-e artists had been given access to a silk screen printer and bolts of plain kimono cloth, there would have likely been some very unique threads on the 17th century streets of Japan. Art just gets a new kind of life when it becomes clothing. Erik from Viva La Mort has long been inspired by the woodblock prints of old; but instead of hanging on a wall, his artwork hangs on people, in the shape of original print T-shirts and bags.
Erik was born in Nevada, and moved to Seattle, Washington when he was 21. "I have been drawing since I can remember, originally inspired by cartooning, then I moved onto graffiti, illustration, graphic design, Japanese woodblock prints and the like. I have also been shooting photos since I was 10 years old and that influences me by placing extreme importance on composition, color and light."
He started making money from his art around the age of 25; everything from sign painting, gallery exhibitions and wedding photos to logo and graphic design, though he's often had another non-art job to help keep his finances afloat.
"I founded Viva La Mort as way to combine art and business in September of 2012 and I have been doing my best to grow the brand since then. Designing graphics and printing clothing and accessories has been a very cool learning process and it has changed the way that I think about line work, and graphics."
Erik first came to Japan in 2002, and moved to Sakai to live about six years ago. "My favorite thing about Sakai is the community. There is a long history here and a great group of creative people that stick together; in work and in play. It's a kinda off-the-radar type place. My least favorite thing about it is the amount of factories/industry and the lack of green/nature. I wish I lived a bit closer to the mountains."
Just like the ukiyo-e artists, all of Erik's designs are hand-drawn; never created on the computer. "I usually finish my illustration work at home, but sometimes it will be started other places, with a quick sketch so I don't forget my ideas. I also sketch in my shop, and print shirts, bags, etc. with my silk screen press."
When asked to describe his style, he says: "Mixed up. I have MANY influences and I like to blend them together. Love graphics. Love graffiti. Love tattoo art. Love animation. Love culture, symbology, traditions, religious imagery… and I love to break tradition by combining things in my own way. I'm not the biggest fan of rules. I think my art/ style is constantly evolving. I have been drawing mostly with screen printing in mind for the last year and a half or so."
He finds it hard to put a timeline on the creation of an image: "The idea is usually in my head for a while before the process of drawing it begins. I will usually look at various pictures, photos, drawings, etc. for reference and then I come up with my own imagery. Usually I start with a pencil sketch and refine it by tracing and finish it with pen and ink. If I am painting, I use everything from water colors and acrylics, to aerosol and sign paint."
Erik's favourite ukiyo-e artist is Utagawa Hiroshige, who he says has "perfect composition and strong, graphic colors." Lately he's been inspired by a more modern artist, Yuko Shimizu. Not the Yuko Shimizu who created Hello Kitty, he points out, but the one based in New York who has illustrated work for big-name brands such as Pepsi and Gap. Erik says: "Her technique and skill is inspiring. She is really masterful at combining things in a dynamic way."
While he has designed many logos, signs, T-shirt graphics and the like as commissions, Erik's main focus now is Viva La Mort, creating unique wear from concept to design to print. Just like this month's cover, which will be made into an exclusive T-shirt. Check it out by popping into the shop (if you make an appointment) or grab his latest designs online, with free shipping in Japan.