Feature
Keep on the grass
Don't let the humid Kansai heat stop you getting outdoors this summer. What you need is some fresh air, shade, and a stretch of open lake to wet your feet in.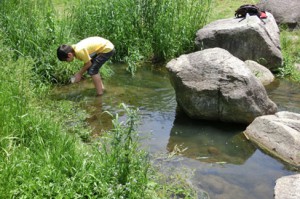 Many a Kansai public park is more desert than oasis. Not so Yamadaike Park. Here the grass has been allowed to grow a little, and the paths have had leeway to take some unexpected turns. This is a park that packs a lot of countryside into a relatively modest amount of space.
Yet some visitors prefer not to stray far from the free barbecue area near the southern entrance. They simply turn up with their equipment, pick out a spot, and settle in for a fun-filled day of burger incineration.
More adventurous visitors will be rewarded as they venture further into the park's interior. The tiniest explorers can enjoy navigating the mighty Amazonian bends of the 10cm deep, brick-lined, paddling stream, while slightly older siblings may prefer tracking down the park's various wellequipped playgrounds.
Then there are parents who wade with their children through the shallows of the park's natural streams, peeking under water plants and turning over stones in the hunt for crayfish, or dragonfly larvae, or tadpoles. Great bonding moments are forged through peering together in wonder at something icky wriggling in a jam jar.
The park can also be enjoyed at a more sedate pace. No matter the time of year, there is always something beautiful to look at, be it cherry blossom, maple leaves, or a hillside covered in lavender. The park's brilliant, varied blooms attract a delightful array of both insect pollinators and senior citizens with cameras. Check the website for the latest blooming news.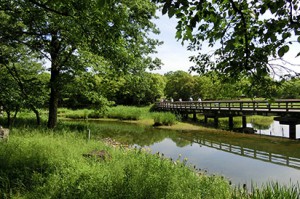 The centerpiece of Yamadaike Park is its sizable lake. True, you can never quite forget the surrounding city, for wherever you look, electrical transmission towers can be seen behind the trees, standing around the perimeter of the park. On the other hand, unlike so many others, this lake is not ringed by a metal fence. Indeed, there are extensive stretches of shore where you can walk right up to, even into, the water. It's hard to overstate the difference this makes. The lake looks like… well, like a lake. It feels like a place that has at least some passing acquaintance with the natural world.
The park still manages to create enough quiet corners to accommodate abundant wildlife. Often it achieves this not with warning signs, but through the more subtle approach of keeping visitors away from some areas by allowing them into others.
There are sections of stream with shallow waters and accessible banks, and then places where the waters are deeper and the reeds have been left to grow high. There are wooden platforms that allow visitors to get right down close to the pond life, but also keep fragile plants safe from trampling feet.
Lucky visitors may be accompanied by a late-afternoon breeze, a moment's relief from the summer humidity.
[box]
Yamadaike Park, Hirakata
• Access: 10-min walk west of Fujisaka Station on the JR Gakkentoshi Line
• Parking: ¥420 for one hour, up to ¥1,030 for 24 hours
• Website: osaka-park.or.jp/hokubu/yamada/main.html (Japanese only)
[/box]