Featured
Foodspotting
Fancy a taste of British Royalty? These hidden gems are truly the bee's knees.
Brighton Tea Room
Authenticity in British fine dining doesn't come closer in Kansai than the dishes you can find at Brighton Tea Room. In fact, the only thing that isn't authentic is the service; it's warm and friendly. The menu is kept simple with an all-day English breakfast and a Branston pickle, ham, and cheese toastie. Vegetarians can breathe a sigh of relief as vegetarian options can be made upon request. A range of teas include your standard Earl Grey to their own unique concoctions such as Toffee Popcorn. Desserts are truly divine, with their Victoria Sponge being my personal favourite. The menu does change occasionally, apparently with flapjacks coming soon! Those missing their Tesco shop can find a few items on sale, from Marmite (the proper yeast extract) to Yorkshire Gold by the box. People often ask me what is authentic British food. Why not come here and find out?
Open: 11:30am–8pm (last order 7:30pm) • Closed Tues • Price Range: ¥500–¥1000 •
Access: Kintetsu Nara Stn, 10-min walk • brightontearoom.com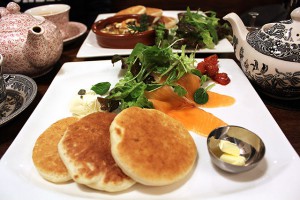 Torrington Tea Room
If you are looking for a posh location to drink afternoon tea as a lord or lady, then look no further than Torrington Tea Room. A wide selection of luxurious teas from Whittard of Chelsea to Taylors of Harrogate ensures that you feel as if you're drinking with a footman by your side. The café sticks to a British look of wooden furniture and dim lights, a slice of English home comfort. The menu offers a range of eggs benedict and a selection of crumpets on a lavish plate dashed with salad and a side option. Those wishing to get their fill of jam and cream can happily dip a knife into a dish to spread elegantly over a scone or two. Tucked away from the busy streets of Osaka, this tea room may trick you into thinking you're dining with The Queen.
Open: Weekdays 11:30am–8pm (last order 7:00pm); Weekends 10:30am–7pm (last order 6pm) • Closed Tues • Price Range: ¥520–¥1650 • Access: Tanimachi-6-Chome Subway Stn, Exit 1, 3, or 7, 3-min walk • torrington-tearoom.com

London Tea Room
A lot of people tend to miss family and friends whilst living away, and some may miss their grandparents. If this is the atmosphere you're looking for, then head over to London Tea Room in Dojima, close to Umeda. At the entrance, you'll see that the place is dotted with British knick knacks collected over the years (including the menu!). Classical music plays in the background and the dark wooden furniture completes the feel. Offerings are both British and non-British (perhaps for those who don't think British cuisine can be regarded as cuisine). A selection of British cakes and scones are certainly the temptations that make you think of Britain. It appears to have frequent visitors so calling ahead may be a good option. There is another branch located in the Hankyu Men's Department Store on the fourth floor should you find the one in Dojima inaccessible. Miss your nan? Visit her front room away from home.
Open: Mon–Sat 7am–10pm; Sun 7am–8pm • Price Range: ¥620–¥1200 • Access: Nishi-Umeda Subway Stn, Exit C69, 1-min walk • london-tearoom.co.jp