Articles
Shake Off Winter with the First Blossoms of Spring
An ocean of plum blossoms heralds the beginning of spring. Time to get ready for your first picnic of the year.
In February, plum blossoms are in full bloom at the Kishu Ishigami Tanabe Ume Orchards in Wakayama. More than 300,000 ume trees cover the hillsides that stretch out right to the Pacific Ocean in the distance. The view is breathtaking.


The best way to celebrate this beautiful season at Kansai's top ume-blossom viewing spot is to rug up, get your bento, and join the locals under the trees.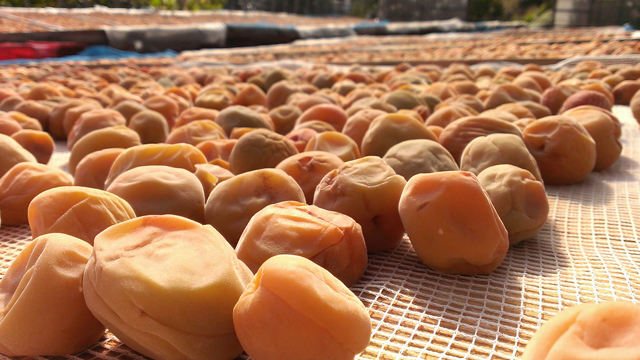 Healthy Plum
The ume tree is originally from China. This distinct species (Prunus mume – common names include Chinese plum and Japanese apricot) is related to both the plum and apricot trees. Although generally referred to as a plum in English, it is more closely related to the apricot. Ume were introduced to Japan in the 8th century. The white flowers greatly inspired Japanese nobility at the time who eternalized them in poetry and art. There are over 100 poems about ume in the Manyoshu (Collection of Ten Thousand Leaves), Japan's oldest poetry collection.
While the blossoms left their imprints on people's artistic minds, the fruits have made it into their bellies. Ume has found its way into Japanese cuisine and in folk medicine for its nutritional and healing properties for centuries.
The most common usage now is umeboshi (ume pickled in salt) and umeshu (ume liquor). In the Japanese way, you start your day with umeboshi, as part of a healthy traditional breakfast, and you finish the day with a sip of sweet umeshu before dinner.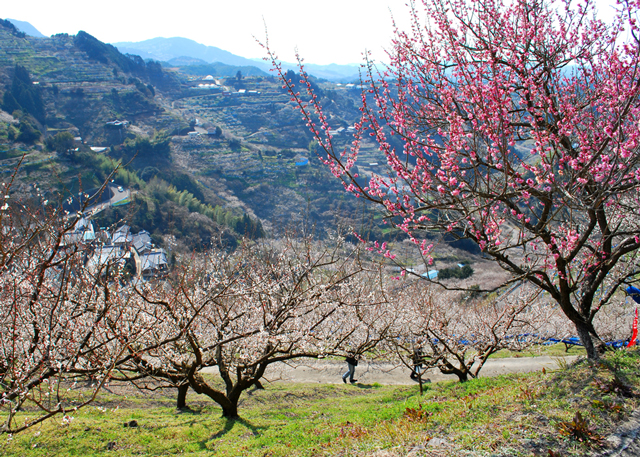 Work with Nature
The small village of Ishigami is hidden amongst the rolling hills that surround Tanabe City, located south on the Kii Peninsula. It is a 30-minute drive from the station to reach the settlement of 30 households. Most villagers are ume farmers and their lives revolve around the ume orchards.
Ume cultivation here is a 400-year-long tradition. At the beginning of Japan's Edo Period, the local daimyo of the Kishu Tokugawa Clan sought ways to make use of the hillside slopes which were not suited to rice farming and other agricultural purposes. He introduced ume cultivation. Over the centuries, Tanabe's ume farmers have continuously built up their knowledge and skills by working closely with the eco-system at their doorstep.
Ishigami is a prime example of a satoyama; a rural landscape that consists of patches of mixed forest, rice fields and grasslands, streams, and points at the border between mountains and flat land. This particular setting and its environmental conditions have been crucial for the successful ume cultivation here.
In 2016, the Kishu Ishigami Tanabe Ume Orchards, part of the Minabe-Tanabe Ume System, were registered as GIAHS (Globally Important Agricultural Heritage System) by the United Nation's Food and Agriculture Organization.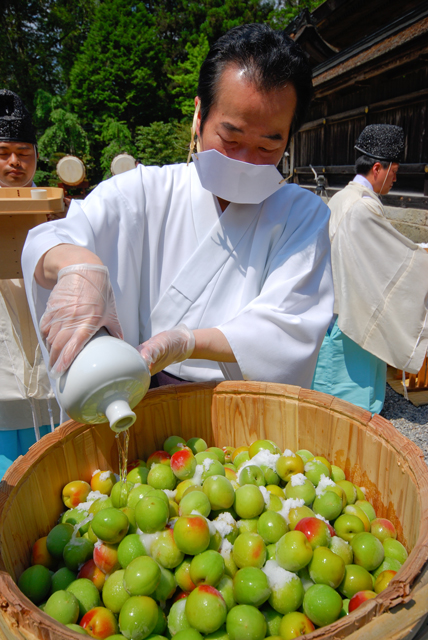 Farmers' Wisdom
Mr. Ishigami, holding the same name as the village, is one of the local farmers and the head of Ishigami Village. He is often found showing visitors around the orchards and explaining the history and specifics of ume cultivation in the area.
The activities of farmers follow the ume season: pruning is done in November and December, followed by soil conditioning in January. When blossoms appear in February and March it is time for pollination by honeybees. Harvesting is done in June and July and processing in August and September.
Green ume, ao ume in Japanese, are picked from the trees in early June. They are used for producing umeshu. Ripe fruits drop into nets spread out under the trees and are harvested from there, to be pickled and become umeboshi from mid-June to early July.
The cultivation of ume secures the livelihood of villagers and it stimulates the local economy. The Tanabe area has the most ume orchards and it is the number-one ume producer in Japan, accounting for 50 percent of total domestic production, or 44,000 tons annually (2012 data).


Kampai!
Nakata Food is one of about 20 ume processors in the area. Nakata started its business in 1897 and now they are one of the biggest employers in the region. Visitors to their factory can watch the processing activities from a walkway while a guide explains the details.
At their large showroom you can sample umeboshi and umeshu to your liking. The impressive line-up of umeshu bottles is too tempting to not try at least one or two shots. Visitors ought to come here by taxi to fully enjoy sampling!
If you do not have a chance to visit Nakata, then Kishu Umeshu de Kampai, located in short walking distance from Kii-Tanabe Station, is the place to go. Set up three years ago, this shop displays a great selection of local brands.
Two tables in the middle of the shop are crammed full with umeshu bottles – another chance to taste your way to umeshu paradise. If you like what you drink, then why not take some bottles home? Foreign visitors can shop tax-free.
The locals love their umeshu so much that, in 2014, they issued the Umeshu Kampai Ordinance. It rules that the first toast at official events in Tanabe must be done with umeshu. This promptly inspired a toasting event at Tanabe's Ogigahama Beach where an assembled crowd of 866 people kampai-ed with umeshu, a world record that entered the Guinness Book of Records.
As the saying goes: "an ume a day, keeps the doctor away." Whether solid or liquid, is up to you!


---
Travel Tips
Kii-Tanabe can be reached by JR Kuroshio Train from Kyoto, Shin-Osaka, and Tennoji.
The Tanabe Tourism Office, located right next to Tanabe Station, provides detailed information.
A series of ume events take place on weekends throughout February.
A 2.5 hour Charter Taxi/Jumbo Taxi Tour is available.

Visit the Tanabe Tourism Office website for details:
tb-kumano.jp
---