Can Bashi
The most authentic Spanish restaurant in town, Can Bashi is run by a husband-wife team who trained for years in Barcelona perfecting the art of cooking Catalan cuisine. The bright red double doors of Can Bashi lead you into a cozy world of rich cheeses, meats, and olives, and a big selection of tapas dishes. As to be expected, there is an extensive range of wine and cocktails (sangria, of course!) to pair with the food. For mains, we recommend the juicy lamb chops, glazed ribs, or classic seafood paella. For something different, try the morcilla; Spanish blood sausage that uses pork blood and fat served on top of fluffy, white beans. The portions can be filling, so it is a good idea to share, especially if you want to leave any room for a cake and ice cream dessert. Opening times can be a little inconsistent, so it's a good idea to call in advance.
• Open: Lunch 12pm–2:30pm; Dinner: 5:30pm–11pm (L.O.22:30)
• Price Range: ¥3,000–¥7,000
• Access: JR Osakatemmangu Stn, Exit 4, 7-min walk
• Tel: 06-6360-4859
• Facebook: Can Bashi
Alloro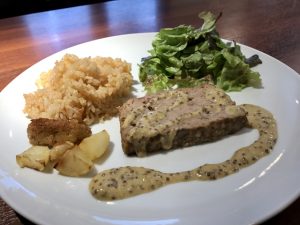 French-style lunches and Italian-style dinners are the trade of owner-chef Yoshi who cooks each dish himself to perfection. Don't be fooled by the plain interior of this tiny restaurant; the flavors in Yoshi's dishes are truly divine. There is no English menu, but not to worry, Yoshi keeps it simple. At lunch, he'll ask you if you want fish or meat and serve you whatever he's created according to your preference (this restaurant could be tricky for vegetarians), for example, grilled fish or meatloaf with rice and salad. The ¥900 lunch sets come with a starter and coffee. The gobo (burdock root) starter soup with mushrooms is full of flavor and so beautifully presented garnished with herbs, spices, and olive oil. The dinner menu is full of authentic Italian pasta options, and bottles of red and white wine line the bar, so ask Yoshi for his recommendation.
• Open: Lunch 11:30am–2pm; Dinner: 5:30pm–10:30pm
• Price Range: ¥900–¥4,000
• Access: JR Osakatemmangu Stn, Exit 4, 10-min walk, Exit 4, 5-min walk
• Tel: 06-6354-3390
• Tabelog: Alloro (アッローロ)
Nero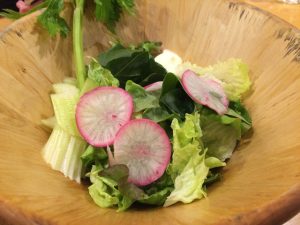 Lunch options at Nero start at ¥900 and the choices are many; charcoal chicken, hamburg steak in a demi-glace sauce, and a T-bone steak are delicious and filling options. For vegetarians, there is the tomato soup, and their famous "market salad" full of bright, chunky vegetables. This beautiful, spacious restaurant is perfect for a quick solo lunch or an elaborate dinner with friends; the sign out front specifies "Stay alone! Stay long! You are all welcome!" and the friendly staff service matches this sentiment. Dinner options are extensive including delicious starter plates to share, like the blue cheese and honey (an amazing combination!). There is a large array of wines that pair perfectly with this tasty Italian cuisine. English is limited but staff members are more than happy to help out with recommendations.
• Open: Lunch 11:30am–3pm; Dinner: 5:30pm–11pm
• Price Range: ¥900–¥5,500
• Access: JR Osakatemmangu Stn, Exit 4, 5-min walk
• Tel: 06-6949-8969
• Tabelog: Nero Charcoal Grill (野菜屋ネロ チャコール グリル )