News
Plans afloat to create new public swimming pool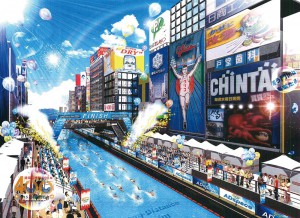 Dotonbori, Osaka— Fancy a swim in the Dotonbori river? By 2015, you could be doing just that, as plans are underway to create an 800m long, 12-15m wide and 1.1-1.4m deep pool there, called Pool Dotonbori.
The river water-fed pool is planned to open on the 400th anniversary of the Dotonbori area, and will feature open water swims and public swimming (¥1,000 for the first hour and ¥500 for every subsequent hour). The pool will also be available for events or sponsors for ¥200,000 for two hours.
Governor Ichiro Matsui proposed the plans back in January, and so far they've been given the green light.
The former Economic Planning Agency director general Taichi Sakaiya, who is now a special advisor to the all-Osaka authorities, added his weight to the plans, saying that as well as generating revenues for the prefecture Pool Dotonbori could also become a landmark destination for the region.