Language
Got Class? Get JALT!
Aim to take your teaching skills further this academic year.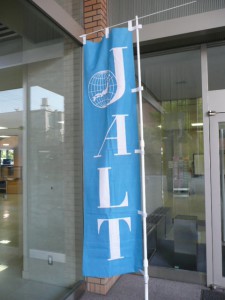 Pop quiz: A native-English speaker living in Kansai would most likely work as A) an international company rep; B) a techie; C) an artist of some sort; or D) an English teacher.
As anyone with jobs A, B, or C can attest, most people will automatically assume that if you speak English then your job is D, which anecdotal evidence suggests is indeed the answer. In Kansai, it's more than likely that anyone you've met who is even vaguely familiar with the English tongue will have taught a language class at some point.
Many of us teach English as a job for only a few years during our adventures in Japan, while others go on to make it a profession, even teaching the teachers. In either case, there are times when both rookie and veteran teachers could use some help, both to boost their morale and to add some tools to their trade. At that point, getting some JALT in your job will make it easier for you, by helping you become a better teacher.
The Japan Association for Language Teaching (JALT) is the premier group for any language teacher (not just English) in Japan who wishes to further develop professionally. Conceived at a language conference in 1975, JALT has grown into an organisation of nearly 3,000 members with 35 chapters and 26 Special Interest Groups. Osaka JALT chapter president, Bob Sanderson, says JALT offers unparalleled opportunities for language teachers to develop and improve their skills. He says: "Whether you join JALT officially or simply at-tend our events as a one-day member, you are guaranteed to learn things that will make you a better teacher."
JALT, which is affiliated with a number of professional teaching organisations, is much more than just an academic forum for language research. There are Special Interest Groups for primary school, junior/senior high school, and business English, as well as a focus on topics such as Study Abroad, Global Issues, Gender Awareness, and Teachers Helping Teachers.
Each local chapter hosts various invited speakers and workshops throughout the year, and has regular meetings where members can network and exchange tips with other teachers. JALT membership costs ¥10,000 per year, which includes a subscription to their bi-monthly publication The Language Teacher and their bi-annual JALT Journal of more scholarly articles. For those not wanting to commit to a full year's membership, events are open to the public for a small, one-day membership fee.


While active chapters exist in Kobe, Kyoto, Nara, and Himeji, Osaka JALT boasts the second-largest chapter in Japan with around 200 paid-up members, plus others who have signed up for the free email list via osakajalt.org or joined the Facebook group. One of Osaka JALT's main events is its annual one-day mini-conference called Back-to-School, held this year on April 14, which aims to share teaching ideas on a wide range of topics to help everyone start the new school year on a positive note.
The mini-conference is open to the public. One interesting speaker this year will be Ms Yuko Nishiyama, who will be talking about her experiences since evacuating from Fukushima after the disasters of March 11. Chapter president Bob Sanderson encourages all language teachers to attend. "With long and short presentations, poster sessions, and plenty of time to socialize, there is sure to be something for everyone," he says. "We look forward to what is sure to be a great day ."
Later in the year, Kansai-based teachers are in for another treat as JALT's main event – the national conference – will be held at the Kobe Convention Center in Portopia on October 25–28, with the theme JALT2013: Learning is a Lifelong Voyage.
As many of us come to realize when learning Japanese, simply talking in a language is not the same as teaching the language. So if you're a language teacher "with class", then do yourself a favor by adding some JALT to your job.
[box]
Ray Franklin is Osaka's JALT publicity officer.
To become a JALT member or to find out about the national conference, go to www.jalt.org. To attend the Osaka mini-conference in April, go to www.osakajalt.org
[/box]