Travel
Saigon a go-go
Call it Ho Chi Minh City or Saigon, this bustling city is exhilarating by any name.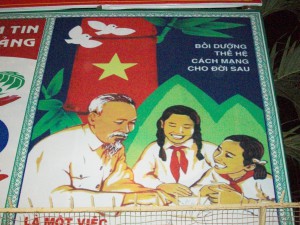 One gets an abrupt insight about the intensity of this high-octane big city when you first attempt to cross a busy street. There are few crosswalks here, and even fewer walk lights. Pedestrians ever so cautiously strike out in the midst of a huge mass of oncoming traffic with motorbike drivers weaving tightly – and frighteningly close around you. With a pounding heart, you make it breathlessly to the other side. Whew!! Welcome to Saigon.
Long known as Saigon, Vietnam's largest city was renamed Ho Chi Minh City after the late North Vietnamese leader, in 1975. (For the politically correct, locals do use both HCMC and Saigon interchangeably, so either name will do.) With a dynamic blend of an emerging new economy and rich cul-tural past flavoured with the legacy of French colonialism, HCMC has much to offer the intrigued tourist. So whether you're in town for a quick stopover, or as a longer trip to explore the rest of the country, it's worth taking time to appreciate the city's historic and modern riches. Here, in no particular order, are ten of our recommended sites.
1.The War Remnants Museum has tragic photographs of children born deformed from the use of chemical warfare and soldiers from both sides in acts of atrocities. This museum is not for the faint of heart. Like Hiroshima, it serves as a brutal reminder on the horrors of war and the toll it takes on a nation's people.
2. Notre Dame cathedral and the General Post Office are architectural wonders of classic colonial buildings built when the French occupied the city in the 1880s. Visitors will be scru-tinized under the benevolent gaze of a huge painting of the founding father of the nation, Ho Chi Minh.
3. Reunification Palace was built in 1966 to house South Vietnam's presi-dent and has remained an unchanged memorial to when Saigon surrendered to the communists in 1975.
4. Ben Thanh Market. Ah, the shop-ping here! A huge local market show-casing goods from all over Vietnam. Booths near the front entrance have government-fixed prices but you are free to bargain hard in the rest of the market. Splash out for an aoi zai(the traditional national costume) or take a lunch break at counter stalls with homemade cheap eats.Che', a refresh-ing coconut milk drink layered with sweet beans and gelatin, is the perfect complement to the ubiquitous national noodle dish of Vietnam, pho.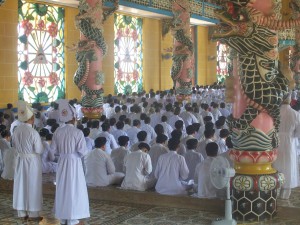 5. Built by Cantonese Buddhists in 1909, Jade Emperor Pa-goda boasts elaborate statues of deities surrounded by huge hanging spiral incense cones used for wishes and prayers.
6. Ho Chi Minh Museum features two floors of photos and artifacts reverently documenting the modest life of "Uncle Ho".
7. Quite particular to Vietnam, the Water Puppets Theatre is a charming performance of wooden puppets manipulated by bamboo poles hidden beneath a murky pool of water. The lively dolls act out folktales of yore accompanied by tradi-tional instruments and costumed singers.
8. The cu chi Tunnels, a day trip only 60 kilometres to the south, are a testament to the grit and tenacity of the Viet-namese. It is a maze of 200 kilometres of hand-dugpassage-ways where the Vietnamese survived underground, resisting French troops in the 1940s and then again the Americans in the 1970s war.
9. Cao Dai Great Temple houses an amazing fusion of Buddhism, Confucianism, Taoism, ancestor worship and ele-ments of Christianity all rolledintoonefaith,knownasCaoDaism. Approximately three hours outside Saigon, services can be viewed during lunch hour where white-robed devo-tees gather to worship.TheTempleitselfisanarchitecturalsplendor with sacred dragons curling around peppermint coloured columns and a Divine Eye overseeing the universe.
10. Mekong Delta: 2-3 day tours take travellers along the narrow waterways of the Mekong River, where one can cruise among floating markets and jungle.
[box]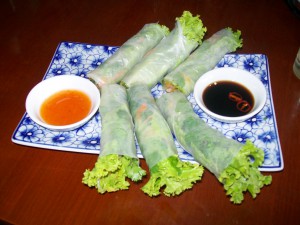 Web Resources
The following websites feature some of the most comprehensive up-to-date travel information. Lonely Planet(www.lonelyplanet.com) will not only give you a brief history of each sightseeing spot together with a handy map, but they also list what else is nearby. For example, researching the Reunification Palace turned up a local massage shop, (nothing like a foot massage after a hard day of sightseeing), the Fine Arts Museum a stone's throw away, and even a sushi bar. How easy to design a day tour of your own with local research already in place! TripAdvisor(www.tripadvisor.com) rounds everything out with travellers' opinions, photographs and ranking of top sites. It's a grassroots forum that tells all (the good and the bad) of what travellers have experienced. WikiTravel(www.wikitravel.org) has all the necessary practical bits of travel in detail such as hours, addresses etc. and more photos to peruse before you travel.
• BEST TIME TO VISIT: Saigon's average temperature of 28°C makes it hot and humid most of the year. November to March is the best season for those who want to take a break from Kansai's cold weather. May to October is their hot and rainy season. Avoid "Tet", Vietnam's Lunar New Year, in late January/early February. Like oshogatsu, businesses shut down, people return to their hometowns, and transportation prices skyrocket.
• ACCOMODATION: One of the best backpacker areas in Asia, the growing Pham Ngu Khoi area in Saigon offers clean, safe lodging centrally located for ¥1,200-3,000 per room. This bargain price often includes a full breakfast of pho and tropical fruits, AC, a fridge AND a big screen wall TV with cable channels in English. Travel agencies located nearby include Cafe Kim Tourist (www.thekimtourist.com) and The Sihn Tourist (www.thesinhtourist.vn). Both offer good value, well-organised day and city tours or trips to the Mekong Delta, and even fun motorcycle tours of the countryside, all in English.
• GETTING THERE: Several of Japan's major airlines are offering competitive pricing against the low-cost carriers. A quick search on SkyScanner (www.skyscanner.com) showed an ANA ¥62,500 RT price to SGN (Ho Chi Minh City) from KIX with JAL at ¥73,900, beating out JetStar's price of ¥75,000.
• VISAS: A tourist visa for Vietnam is necessary for most nationalities. Available at the Vietnamese Consulate in Osaka (www.vietnamconsulate-osaka.org/en) or online (www.myvietnamvisa.com). The latter allows you to pick up your visa at the HCMC airport upon arrival, paying the final fees there.
[/box]