Featured
Beyond the Castle
Himeji's iconic castle may be under reconstruction, but that just means more time to experience the area's other riches.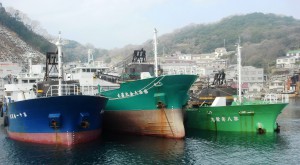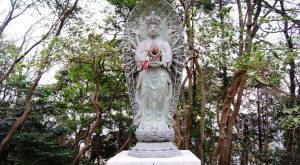 Castles have something magical about them, and the majestic white example in the city of Himeji is no exception. This UNESCO World Heritage site inspires daydreams about the lords and princesses who ruled here for over 500 years. Although a visit to Himeji Castle is a must for anybody in Japan, its most famous building – the Main Tower – is under reconstruction until 2014. But don't let that put you off; the grounds are still open and there are special visi-tor facilities for the restoration period. It's also the perfect reason to explore Himeji's other attractions.
Sakura at the castle
Once there were hundreds of majestic castles all over Japan, but only a few remain today. While the majority of these are concrete reconstructions, the 500-year-old Himeji Castle – nick-named the "White Egret" because of its brilliant white exterior and resem-blance to a bird taking flight – is still in its original wooden form.
Hiromi Yamamoto, my volunteer guide from the Himeji Goodwill Guide Kashinoki-Kai association showed me around the spacious grounds and to the inner part of the castle while narrating stories about former inhabitants and their plight.
Forty-eight lords from thirteen families have reigned here in succession from when the first castle was built in the mid 14th century until the Meiji Restoration in 1868, which did away with feudal Japan. The lords' family crests still grace the tiles on the castle walls and buildings.
Usually visitors would make their way to the top of Main Tower on foot, shuffling over wooden floors and climbing several flights of wooden stairs. The current restoration work gives you a once-only chance to be car-ried to the top by elevator from where you can enjoy a splendid "Egret's Eye View" over Himeji (www.himejijo-syuri.jp/en).
Although the Main Tower is covered, you can still enjoy the castle grounds, which will be filled this month with one thousand cherry trees in full bloom. What better view can you get for your hanami picnic than a white castle in an ocean of pink? For night owls, there is an option of viewing of illuminated cherry trees after sunset.
Tip: Check out the Mitsuyama Taisai Festival, which takes place only every 20 years, held at the Himeji's Harimanokuni Sosha Shrine until Apr 7 (www.sohsha.jp/mitsuyama.html). The main event will take place on Apr 3 at the Sannomaru-Hiroba, Sannomaru Park in front of Himeji castle.
Island fun
About 18 km off the coast of Himeji lies the hidden gem of Ieshima Islands(www.h-ieshima.jp). Still relatively unknown among foreigners, this island chain comprises a group of forty-four islands, of which only four are inhabited. A ferry will take you from Himeji Port to the main island of Ieshima in 35 minutes.
For over 400 years the island's inhabitants have been mining nearby Tangajima quarry for rocks, which have been used to build Osaka Castle and Kansai International Airport. In the port you will see large ships with cranes sporting massive iron claws. There were over one hundred of these Gatto-sen in the late 1980s, with forty still in operation. Mining is still in progress, and if you climb up to Ieshima Shrine, you will catch a glimpse of Tangajima Island and see that a third of the island has disappeared after 100 years of mining.
The other main occupation here is fishing, and one hundred fishing boats welcome you upon arrival at Ieshima Harbor. Lined up next to each other along the 2km long pier that connects the two hamlets of Miya and Maura, they make for an impressive sight.
Kazuya Nakanishi, a native of Osaka, and Jeremy Blaustein, hailing from the US, have made Ieshima their adopted home. Having launched the Ieshima Concierge project(http://nakan-ishieshima.jimdo.com) to welcome for-eign visitors, they're more than happy to walk around the island with you, guide you on a sea kayaking tour, go fishing or hire a boat and venture out for camping and bonfire on Nishijima Island's recreation ground. They can also chip in and interpret what the local obachan will tell you should you decide to enroll in their "island cooking" class. Of course, delicious fresh fish and sea-food is on the menu, and you can even cook what you caught earlier in the day.
Tip: On the last weekend of August, Ieshima hosts an annual Open Water Swim Competition between Tangajima and Ieshima islands (www.e-sports.jp/ieshima-ows).
Autumn leaves with The Last Samurai
You might have heard of the 88 temples pilgrimage route around Shikoku Island, but did you know that there is a 33 temples pilgrimage route right here Kansai? This Saigoku Sanjusansho is dedicated to the veneration of Kannon-sama, the Goddess of Mercy. Visit all 33 temples and you can be sure of salvation what-ever your frailties might have been.
Engyoji Temple on Mount Shosha(www.shosha.or.jp) in the northwest of Himeji is temple num-ber 27 on the Kannon pilgrimage route. This temple of the Tendai branch of Buddhism has been an ascetic training ground for monks for centuries. Nowadays Engyoji mostly serves as an esthetic background for blockbuster movies. Recently a Taiwanese period drama was partly filmed there and some years ago, Tom Cruise wielded his sword on site as The Last Samurai.
Statues of Kannon-sama line the path from the ropeway's up-hill station right to the Nimon Gate where two grim-looking guardians make sure that ill-minded travelers don't pass. Many pilgrims have left their prayer beads, which now decorate the hands of the deity.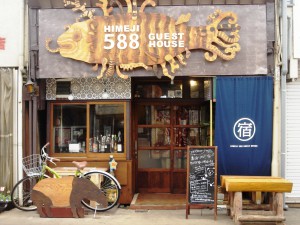 The over 1,000-year-old Engyoji Temple complex consists of a great number of buildings dotted over a large area on Mount Shosha. In the old days the center of the complex was the impressive triangular setting of Daikodo Hall, Jikido Hall and Jogyodo Hall. The first was a lecture hall where monks were educated, the second was the place where they ate and slept and in the third they would practice ascetic training. Even today ascetic training is practiced here, and eager visitors can even take part in zazen, a form of sit-ting meditation (on prior registration).
The top of the mountain is eas-ily reached by ropeway, but nature-lovers would enjoy the hike up to the top. Come autumn, Mount Shosha's Engyoji becomes a top koyo spot where people from near and far enjoy the blaze of red, yellow and orange of autumn leaves.
[box]
Information
Stay:
Himeji 588 Guesthouse: The proprietress, Kyoko Matsuoka, is a keen traveler who caters to every need of her guests.
Price: ¥2,700 per person per night 670-0012 Hyogo-ken, Himeji-shi, Honmachi shoten-gai, Honmachi 68; English spoken; (http://himeji588.com)
Eat:
Kineya: Japanese sweets shop and café that serves breakfast sets including Himeji's famous almond toast.
671-2224 Hyogo-ken, Himeji-shi, Nikaimachi 95; no English spoken; (http://kineya.net)
Café Lamp: American-style café and restaurant that serves delicious hamburgers, bagels and sandwiches.670-0012 Hyogo-ken, Himeji-shi, Honmachi 68; Some English spoken; Open: 11am–8pm
Learn:
Himeji goodwill guide Kashinoki-kai Associationprovides free guided tours of Himeji Castle in English. Three-day prior reservation necessary.
Email himejitourkashinoki@gmail.com
Getting there:
A JR Special Rapid train runs from Shin-Osaka and Osaka via Kobe to Himeji. It takes about one hour from Osaka and costs ¥1,450. There's also a Shinkansen station if you want to travel further afield from Himeji.
[/box]