Food & Drink
Gumbo and all that jazz
Bistro New Orleans is bringing the taste of Creole and Cajun food back to Osaka.
After the old America-mura haunt Savannah closed down a decade ago, Osaka was without an authentic New Orleans-style restaurant – until now. Enter Bistro New Orleans, the brainchild of a Crescent City transplant with a knack for good conversation and savory food. This is fast becoming the go-to place for those longing for real Creole and Cajun food.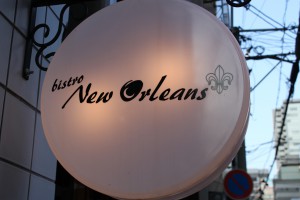 For the uninitiated, Creole and Cajun food are a unique take on French cooking, whose slow-cooked dishes are created on the backbone of the mirepoix (onion, celery, and carrots, which form the stock for cooking). In New Orleans, green peppers are used in place of carrots (root vegetables don't grow well in swamps). The mirepoix is locally known as the trinity, and forms the basis of dishes such as gumbo, jambalaya, etouffee (smothered) and shrimp creole. Cayenne pepper and thyme add the signature kick to the dishes, which can leave you with a runny nose if you overdose on the spice.
Stopping by one quiet Friday, I perched myself at a table by the windows and took in the décor: the fleur-de-lis motifs, the Saints memorabilia, and the stylized French quotation (Laissez les bon temps rouler) on the main wall. While perusing through the menu, the owner CC came over and introduced himself, asking me if I had any questions about the items on the menu. He recommended that I start off with the gumbo. When the dish arrived at the table, the scent of thyme immediately wafted from the rich-looking steam. One bite into the soup and I'd found a winner. Next, I found myself torn between sampling one of the pasta dishes or sandwiches. In the end I went with the chaurice sandwich and a side of coleslaw (¥700). The hamburger-sized sandwich with a homemade chorizo patty really packed a fiery punch. For those with a weak constituency, pay heed to the warning signs on the menu. Items marked as spicy truly are spicy. My tongue immediately started tingling after the first bite, but it was a pleasant burning sensation that permeated throughout the entire sandwich. After two dishes I was thoroughly satisfied but again I was persuaded to indulge in the bread pudding (¥600), which differs from its British cousin by using fresh fruit. The peach pudding, served with a side of vanilla ice cream did not disappoint. All in all, my introduction to the flavors and styles of New Orleans cooking was a positive one, and my only regret was not having a larger stomach to sample the catfish and hush puppies, which I ended up getting as take out.
[box]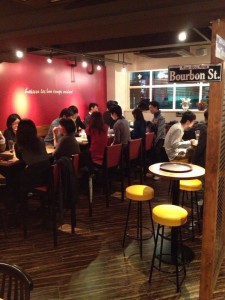 Bistro New Orleans
• Address: Kitahorie 1-15-10
• Open: 3pm–11pm daily (Closed Tuesdays)
• Food: ¥400-¥1,250
• Drinks: ¥400-¥900, bottled organic dinkel and white beer, Asahi and Asahi dark on draft. New Orleans cocktails
• Go to dish: Gumbo, chaurice sandwich, bread pudding
• Events: July 13 – Alicia Saldenha acoustic solo live
• Best bit: the food is as authentic as you can get, and you'll feel welcome even coming here on your own
• Worst bit: they don't have Po Boy sandwiches, but that's because no bakeries in Japan make New Orleans-style French baguettes
[/box]