Art
A passion for good patterns
This month's cover artist Cecilie Okada fuses Nordic design with oriental passion to create unique beauty.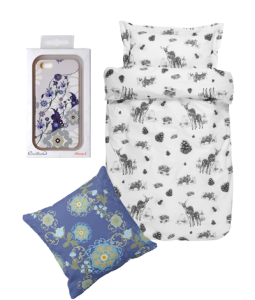 They may have been created to ferry invading warriors, but the curved intricate patterns adorning Viking longboats were one of the first things that fascinated and inspired this month's cover artist as a child.
Cecilie Okada hails from Norway, and so the Viking spirit of adventure must be in her blood. She studied visual communication in New Zealand and began her professional career in 1998, building her own business as a successful web and graphic designer and illustrator. With a Japanese husband, a need to be closer to her aging parentsin- law brought her ashore here.
In Norway, she created bed linen pattern designs for a well-known brand, but moving to Japan without a working knowledge of Japanese meant her business had to take a bold new turn. She now works in decorative design for consumer products, for example mobile phone covers, and is busy building her own brand, Cecilie O.
"My pattern collection is inspired by cultural heritage, nature and my Nordic roots," she says. "Nordic design is simple and clean, so regardless of the colors, motifs and complexity of my patterns, the Nordic qualities are always there. I think the visual language that we grow up with remains the blueprint for what we create, regardless."
While her parents-in-law live in Tokyo, Cecilie and her family are Kobebased. She both lives and works on Rokko Island, and has nothing negative to say about the area: "I love the open spaces, the ocean and especially the beautiful greenbelt. I love the hiking opportunities in the mountains behind Kobe, and the closeness to amazing Kyoto and metropolitan Osaka. There is always some event to attend if I want to, and the opportunities for building networks are many. I have an office in Kobe Fashion Mart, that I share with Jacqueline Okuma, who is a seasoned curator of international art exhibitions and cultural events. We inspire each other. It is convenient to live on a small island where everything is close by."
Aside from Viking ships she saw as a child, a big influence on Cecilie's artistic development has been the illustrator Edmund Dulac. "I fell for his work when I was a teenager and the love affair has never ceased. He was inspired by Persian miniature art and the Far East, and illustrated fairy tales in the early 1900s."
A sense of elegance and subtle beauty is a good way to describe Cecilie's work too; she has an online zazzle shop where a hoard of everyday items have been given a touch of her style. Because I love blues and purples, I'm drawn by the Oriental Purple pattern – giant flowers popping out against muted greens. I can see why her style is gaining fans in Japan, with its love To see more please check www.cecilieo.com or contact Cecilie at cecilie@cecilieo.com of nature. But even more than that, Japanese people love cute characters, so Cecilie's brand is making a smart next move this winter.
"In Japan this winter, you'll find my Nordic patterns and illustration on various products for the Japanese character Pickles the Frog, with Cecilie O branding. Another highlight this year is pattern design for various products for the Chi Mei Museum in Taiwan, who has the largest collection of Western art in Asia."
From Norway to Japan, now Taiwan – could Cecilie O be just beginning her course for world domination? Maybe those Viking ships have something to answer for after all.