Art
Spain's storytelling supremo
This month's cover features original characters created by trilingual children's book artist David Molinero, one half of Dabiz & Junko Books. KS asked him all about it.
Kansai Scene: What brought you to Japan?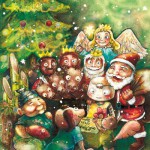 David Molinero: I was born in the Basque Country, an area of northern Spain near the town of Guernica. The town immortalised by Picasso. After studying art in Basque University and in Italy (Bologna), I was lucky enough to get a grant to come to Japan in 2006 and undertake research for my PhD thesis. It took 5 years to complete and focused on technology in art. It was a great experience but something wasn't right. I decided to throw out my smartphone and other gadgets and return to more traditional techniques, like classical watercolour paints. I rediscovered my real passion. It was at that point that my wife and I decided to start Dabiz & Junko books – to self-publish our own original titles. We wanted to sell directly, face to face to our customers. Something that big publishers can't do. One year later and we already have three titles and the fourth one in the oven. We have books in dual English/Japanese or Spanish/ Japanese, but the next book is going to be an extended book with audio in different English pronunciations.
KS: Where do you live now in Kansai and what do you like/dislike about it?
DM: Now I live in Ibaraki. I really like that I can see the mountains from my window. I really need to see some green because Osaka is a very big city and its buildings are all too monotone. I really need green and blue. The only thing I miss is that the city needs more public areas where you can sit down and meet the local people. I really enjoy painting outside.
KS: How would you describe your style?
DM: My style is very flexible. The paintings I do for children's books and the ones I create for exhibitions or for myself are very different. I enjoy changing my style and experimenting with different techniques, like for example mixing egg white with paint and seeing how the pigment moves on the paper or adding soil and glue with the paint. I like to relinquish control over the paint and give space to chaos. I prefer watercolor as my basic medium, since it is impossible to truly take control over it. When it dries the result is always different to the original painting.
KS: Who are some artists you admire or aspire to be like?
DM: I like almost all the classical artists such as Dali, Schielle, Picasso, Mucha etc. I also like the Japanese artists Takagi Masakatsu, Hiraki Sawa and Chikako Bando too. I also enjoy other disciplines of art like sculpture, dance, performance, video art, etc. I find inspiration everywhere.
KS: The cover features characters from your storybook series, can you tell us a little about them?
DM: They are Galli, Pepe and Makina. A funny family composed of a dog, a squirrel and a robot. They are a really modern family. But we didn't think so much about it when we created them. They were in the first book and we started to develop them later. We devise stories for them, and they naturally show their emotional reactions. I feel like I'm starting to know them better.
You can find out more about David, read some free online books or buy books published by David and Junko at: www.dabizjunkobooks.com